John D. Rockefeller Sr.
Birth Name:
John Davison Rockefeller
Birth Place:
Richford, New York
Place of Death:
The Casements, Ormond Beach, Florida
Cause of Death:
Arteriosclerosis
Cemetery Name:
Lakeview Cemetery
Claim to Fame:
Business and Finance
There's rich, there's wealthy, and then there's John D. Rockefeller. Considered by many to be the most financially-prosperous individual in modern history with an estimated $900,000,000 bank balance (unadjusted for inflation) in the early 1910s, Rockefeller made his massive fortune by dominating the oil industry. While Rockefeller was prone to controversy—he was accused of being a monopoly in the fuel business—he was also a generous philanthropist, donating over a half-billion dollars in his lifetime (and that's also unadjusted for inflation).
---
Fun Fact:
Due to be drafted to serve the Union in the Civil War in 1863, the 23-year-old Rockefeller did what many men of means had done: He paid for someone to serve in his place. This practice was allowed by the U.S. government, which granted draftees the ability to offer up a substitute. No record exists of who the man who took Rockefeller's spot was. His brother, Frank, chose to serve at age 16, telling a recruiting sergeant he was 18. Despite being wounded in battle, he survived.
Cemetery Information:
Final Resting Place:
Lakeview Cemetery
12316 Euclid Avenue
Cleveland, Ohio, 44160
USA
North America
Map: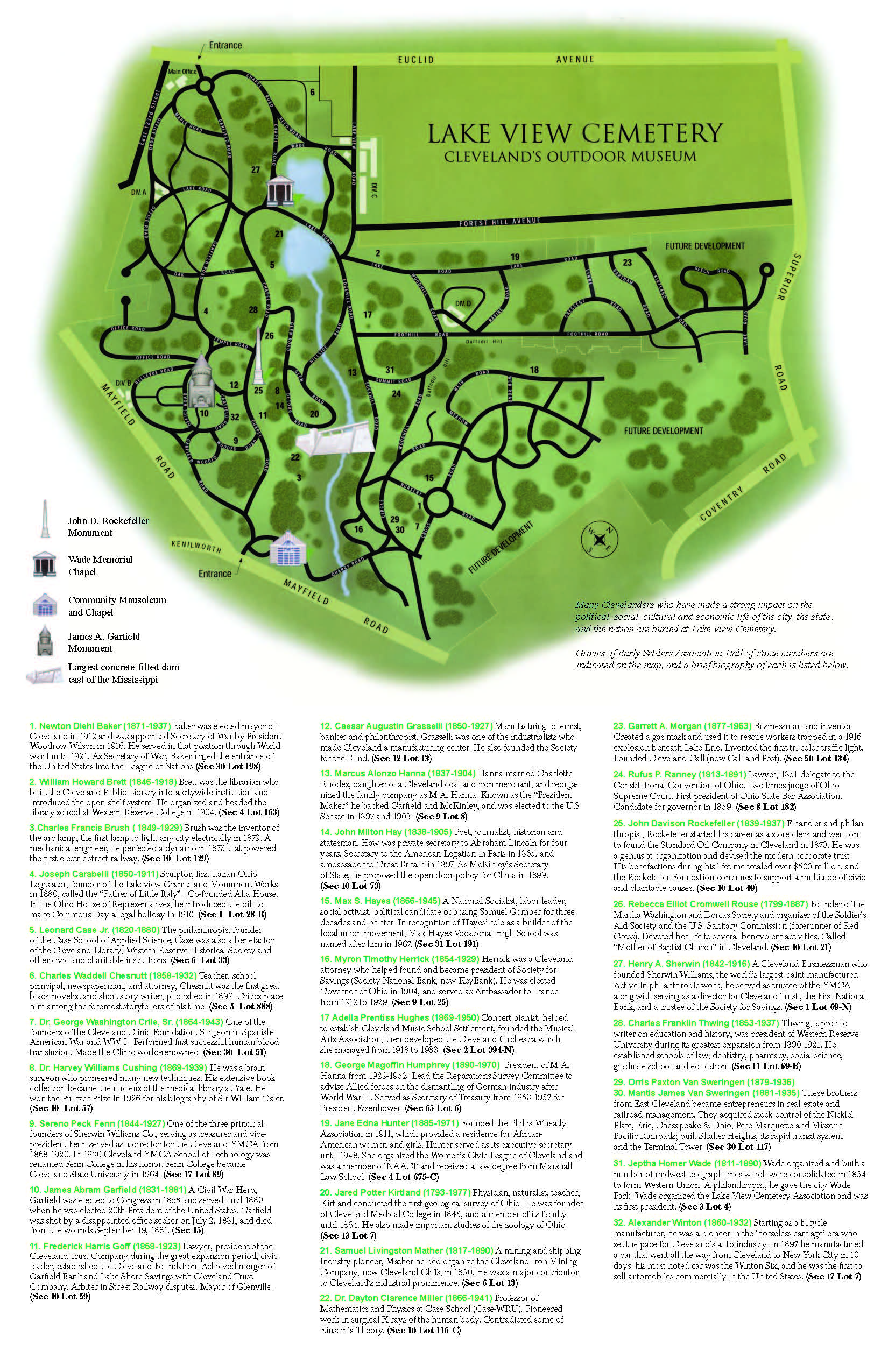 Grave Location:
Section 10
Grave Location Description
In the section behind the James A. Garfield Memorial. Just look above the tree line for the tallest monument in the cemetery.
Grave Location GPS
41.51132251, -81.59148066
---
Visiting The Grave:
Photos:
Read More About John D. Rockefeller Sr.:
Videos Featuring John D. Rockefeller Sr.:
See More:
Back to Top