Heavy D
AKA:
The Overweight Lover
Birth Name:
Dwight Arrington Myers
Birth Place:
Mandeville, Jamaica
Death Date:
November 8, 2011
Place of Death:
Cedars-Sinai Medical Center, Los Angeles, California
Cause of Death:
Pulmonary embolism
Cemetery Name:
Ferncliff Cemetery
Heavy D was a Jamaican-born American rapper, record producer, singer and actor who was among a handful of hip-hop stars from the 1980s who successfully established a lasting career. Having created a string of infectious, party-time hits with Heavy D & the Boyz including Now That We Found Love and Mr. Big Stuff, he was able to extend his reach into the commercial mainstream through collaborations with BB King and Michael Jackson, and subsequently exhibited bankable skills as both a businessman and actor. Although he was past his commercial peak as a musician, his last album, Love Opus showed that he had not entirely run out of creative juice.
---
And the rest of the story …
The sudden collapse outside of his Beverly Hills home and death of Heavy D was caused by a pulmonary embolism caused by deep vein thrombosis. The most likely cause was due to a blood clot that probably formed in his leg during a flight from London to Los Angeles, and which made its way fatally to his lung.
When Heavy D was found outside his home (Le Faubourg – St. Louis, 425 N Maple Drive, Beverly Hills, California) on November 8th, collapsed but conscious, the clot in his lungs was likely restricting blood flow and putting severe pressure on his heart. Craig Harvey, chief coroner investigator, told the New York Daily News, "He had reportedly been in London for about six weeks and had returned to LA within the preceding week or so." The 344 lb rapper was found to have deep leg vein thrombosis, pointing to the formation of a clot during the long flight. He died later that day at Cedars-Sinai Medical Center
Air travel, as well as obesity, are common causes of thrombosis.
Cemetery Information:
Final Resting Place:
Ferncliff Cemetery
280 Secor Road
Hartsdale, New York, 10530
USA
North America
Map: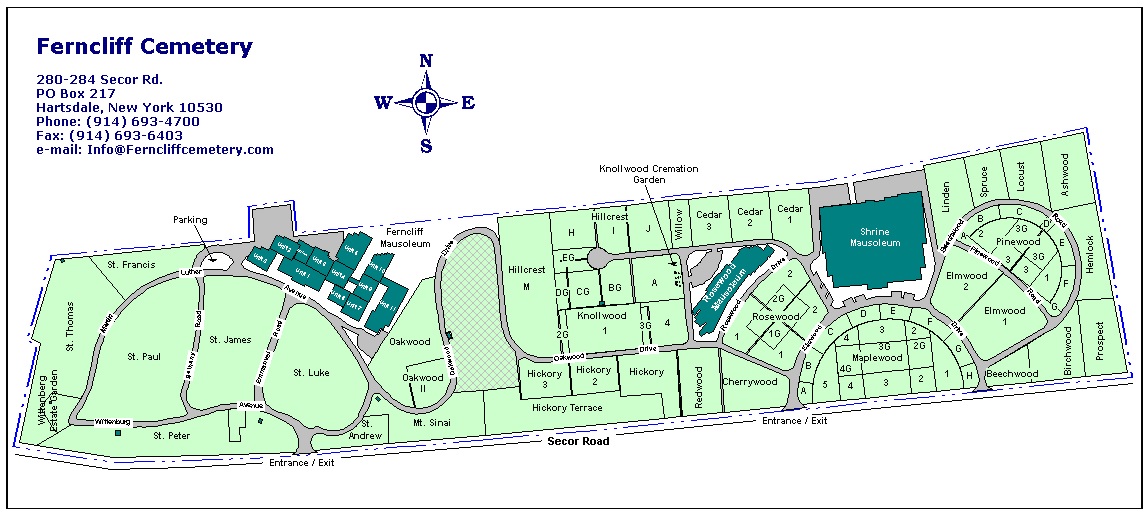 Cemetery map of Ferncliff Cemetery in Hartsdale, New York.
Grave Location:
Rosewood Mausoleum, Unit 5C, Tier SSS, Crypt 41
Grave Location Description
Park behind the Rosewood Mausoleum. As you enter the mausoleum you are on the top floor. Walk around the staircase and take the second left and continue down the hallway until it ends. Turn right and then left through a small hallway and the final resting place of Heavy D is right in front of you on the bottom row.
Grave Location GPS
41.0282161192, -73.8301456363
Photos:
Read More About Heavy D:
Videos Featuring Heavy D:
See More:
Back to Top