Helen Woodford Ruth
Birth Name:
Margaret Helen Woodford
Birth Date:
October 20, 1897
Birth Place:
Boston, Massachusetts
Death Date:
January 11, 1929
Place of Death:
35 Quincy Street, Watertown, Massachusetts
Cause of Death:
Suffocation from a house fire
Cemetery Name:
Mount Calvary Cemetery
Babe Ruth met Helen Woodford in 1914 when she served him breakfast while she worked as a waitress at Landers' Coffee Shop in Boston. They were married in the fall, and Helen would make periodic public appearances with The Babe. Although Yankee (and former Red Sox) slugger Babe Ruth and Helen maintained publicly that they were still married, neighbors on Quincy Street knew her as Helen R. Kinder, the wife of Dr. Edward Kinder, a Tufts-educated dentist. Kinder told his family that they were married in Montreal, and Helen Kinder's name appeared on the home's deed and the mortgage taken out in 1927. Neighbors reported occasionally seeing a young girl, who turned out to be Helen and Babe's daughter, Dorothy. However soon after moving in with Kinder, Dorothy was sent to live in a boarding school in Wellesley run by nuns. On Jan. 11, 1929, Babe's wife, Helen, was killed in a house fire in Watertown, Massachusetts. Helen lived in the house with a dentist, Edward H. Kinder. Helen and Babe were separated, but not divorced. Neighbors knew Helen as Mrs. Kinder, and had no idea she was Babe's wife until the Woodford family saw her picture in the newspaper and made a positive identification.
---
Fun Facts
For years it has always been assumed that Helen Ruth died at home located at 47 Quincy Street in Watertown. Recently it was determined that when the fire alarm was called in from Fire Box 425 at 10:04 p.m. Captain John J. Kelly of the Watertown Fire Department fought his way up the stairs, crawling on his bands and knees through smoke and flames to find a woman facedown on the bedroom floor. Helen "Kinder" Ruth was in her nightclothes, lying by the door. The Watertown Sun reported that Kelly reached her body with the help of Driver James Devaney and Police Officer George Clinton. Initially, news accounts said that she died at the scene, but the Watertown Police report said she lived for 12 hours afterward, and was brought to a neighbors home at 35 Quincy Street by Watertown Firefighters and Police officers where she passed away.
The initial cause of the fire as stated by Watertown Fire Chief John. W. O'Hearn, was "defective wiring and overloading of wires," according to the Watertown Sun. In the book The Big Fella, author Leavy writes that the fire started in the living room, and was caused by "amateur wiring," which included spliced wires being attached by tape and no solder. The Sun story reported that "Fuse plugs were found in use up to 30 amps where they should not have been over 10, and when a short circuit occurred these plugs held the resistance, heating the wires and starting a fire … where the source was found in a partition below in the room in which Mrs. Ruth was found."
Cemetery Information:
Final Resting Place:
Mount Calvary Cemetery
366 Cummins Highway
Roslindale, Massachusetts, 02131
USA
North America
Map: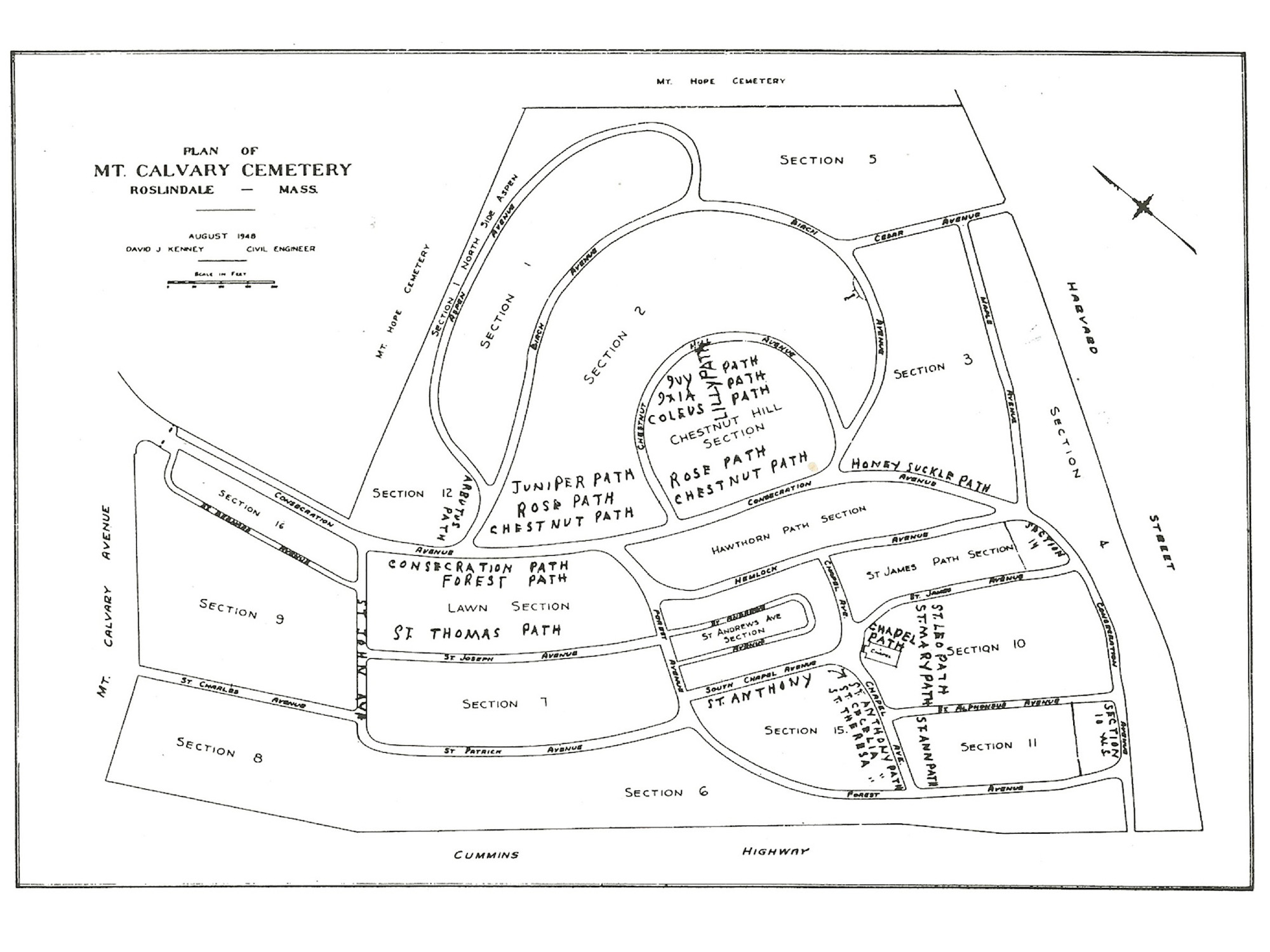 Grave Location:
Section 10, Row 7, Grave 7
Grave Location Description
As you enter the cemetery look for either Consecration Avenue or Forest Avenue. Follow either road to the corner of the cemetery closest to the Cummins Highway exit gate (which is always locked). Look for Section 11 and go to the end of this section at the intersection of Consecration Avenue and Forest Avenue. At the end of Section 11 is actually a small strip of Section 10 (yea … I know it's confusing as Section 10 is right next to Section 11). Look 7 graves in and 7 rows from the road you will find the final resting place of the former Mrs. Babe Ruth, Helen Ruth.
Grave Location GPS
42.2752268177, -71.109504862
---
Visiting The Grave:
Photos:
Read More About Helen Woodford Ruth:
Videos Featuring Helen Woodford Ruth:
See More:
Back to Top