Irving Lazar
Birth Date:
March 28, 1907
Birth Place:
New York, New York
Death Date:
December 30, 1993
Place of Death:
1840 Carla Ridge, Beverly Hills, California
Cause of Death:
Complications stemming from diabetes and kidney failure
Cemetery Name:
Pierce Brothers Westwood Village Memorial Park Cemetery
Claim to Fame:
Show Business
Irving "Swifty" Lazar was the legendary Hollywood talent agent whose image as a dapper, elfin deal-maker with Coke-bottle glasses and bald dome made him a caricaturist's dream represent some of the greatest talent in Hollywood including Humphrey Bogart, Cole Porter, Ernest Hemingway, Faye Dunaway, Richard M. Nixon, Noel Coward, Tennessee Williams, John Cheever, and John Huston (to name a few). Mr. Lazar, who wore trademark oversize dark eyeglasses, called himself the Prince of Pitch (he hated "Swifty") who won record fees for his clients when such mega-deals were unheard of including the sale of Truman Capote's novel "In Cold Blood" for $500,000, the musical "Camelot" for $1.4 million and he sold Neil Simon's play "The Odd Couple" when it was only a five-sentence summary. He also started the tradition for annual Oscar-night parties with his own private annual Oscar-night dinner party at Spago.
---
If you were to look at Swifty's …. err I mean Irving Lazar's Rolodex, it would include:
Cary Grant     Cher     Clifford Odets     Cole Porter     Ernest Hemingway
Gene Kelly     Humphrey Bogart     Ira Gershwin     Irwin Shaw
Joan Collins     Lauren Bacall     Madonna     Moss Hart     Noël Coward
Richard Nixon     Tennessee Williams     Truman Capote    Walter Matthau
Cemetery Information:
Final Resting Place:
Pierce Brothers Westwood Village Memorial Park Cemetery
1218 Glendon Avenue
Los Angeles, California, 90028
USA
North America
Map: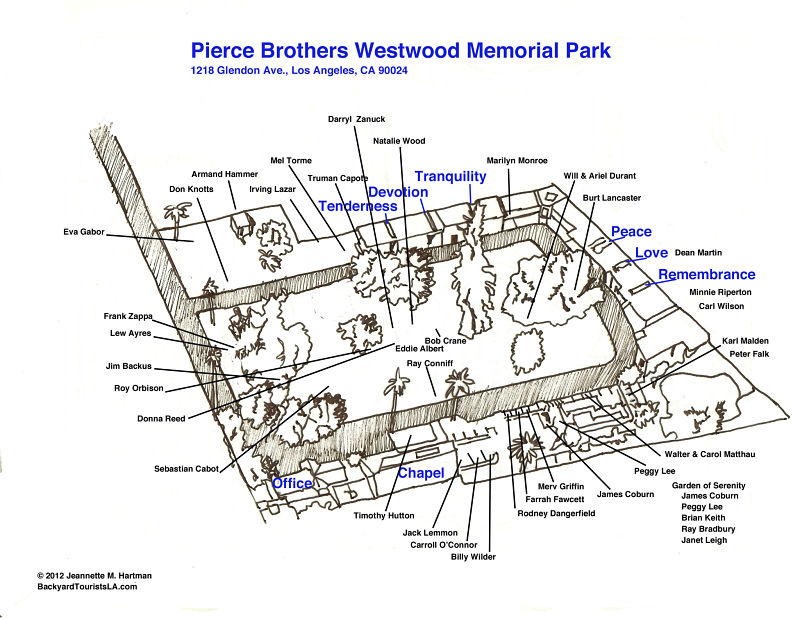 Copyright 2012 Jeannette M. Hartman
Grave Location Description
As you enter the cemetery drive over towards the chapel and park. Walk across the lawn area away from the chapel towards the large "Armand Hammer" mausoleum. Look to your right and along the hedge line that borders the cemetery you will find Don't Call Me Swifty Lazar.
Grave Location GPS
34.05866577475338, -118.44135341126754
Photos:
Read More About Irving Lazar:
Videos Featuring Irving Lazar:
See More:
Back to Top