J. P. Morgan
Birth Name:
John Pierpont Morgan Sr.
Birth Date:
April 17, 1837
Birth Place:
167-169 Asylum Street, Hartford, Connecticut
Death Date:
March 31, 1913 (aged 75)
Place of Death:
The St. Regis Hotel, Rome, Italy
Cause of Death:
Acute attack of gastro enteritis
Cemetery Name:
Cedar Hill Cemetery
Claim to Fame:
Business and Finance
J.P. Morgan was a titan of American business. In the late 19th and early 20th centuries his position and connections put him squarely in the middle of the development of American industry. Of his generation John Pierpont Morgan (1837-1913) was the most powerful banker, industrialist and art collector in America. Born in Connecticut, he was the third generation of a banking dynasty that he would go on to dwarf with his financial acumen and bullish instinct. His father Junius Spencer Morgan was a partner in a London-based merchant bank. Another ancestor, James Pierpont, founded Yale University. At the height of his powers in the 1890s, Morgan was said to control one sixth of America's railway lines. In 1895 he and a consortium of bankers rescued America's Gold Standard loaning the federal government more than $60 million. In addition to the bank that bore his name, Morgan invested in and subsequently bought the Carnegie Steel Company, Edison General Electric and the United States Steel Corporation. He also acquired the New York Times newspaper and founded the Metropolitan Club in New York when the Union Club blackballed his friend John King. Deeply offended, he instructed the architects 'build me a club fit for gentlemen. Forget the expense'. However, Morgan was not content just in the banking world – he had many interests elsewhere. Adolph Ochs, publisher of the Chattanooga Times, secured a loan with J.P. Morgan's help and managed to save the New York Times. His personal and business interests extended to steel and railroads. He purchased U.S. Steel from Andrew Carnegie and merged it with a few other firms to create United States Steel in 1901. Over 100 years later that firm is still going strong.
---
Fun Facts
The financier's other interests included a world-famous collection of photographs of Native American Indians and a fleet of yachts. It was he who coined the phrase 'if you have to ask the price, you can't afford it'. As a fatalistic aside, Morgan had tickets to sail on RMS Titanic's maiden voyage in 1912 but decided instead to remain on the French Riviera at Aix-Les-Bains.
The list of companies he had an impact on is extensive. However he is best remembered as being the founder of J.P. Morgan & Co. and International Mercantile Marine, co-founding General Electric, International Harvester, U.S. Steel and organizing the Morgan "money trust" which dominated Aetna, General Electric, International Mercantile Marine Company, Pullman Palace Car Company, U.S. Steel, Western Union, and 21 railroads.
Cemetery Information:
Final Resting Place:
Cedar Hill Cemetery
453 Fairfield Avenue
Hartford, Connecticut, 06114
USA
North America
Map: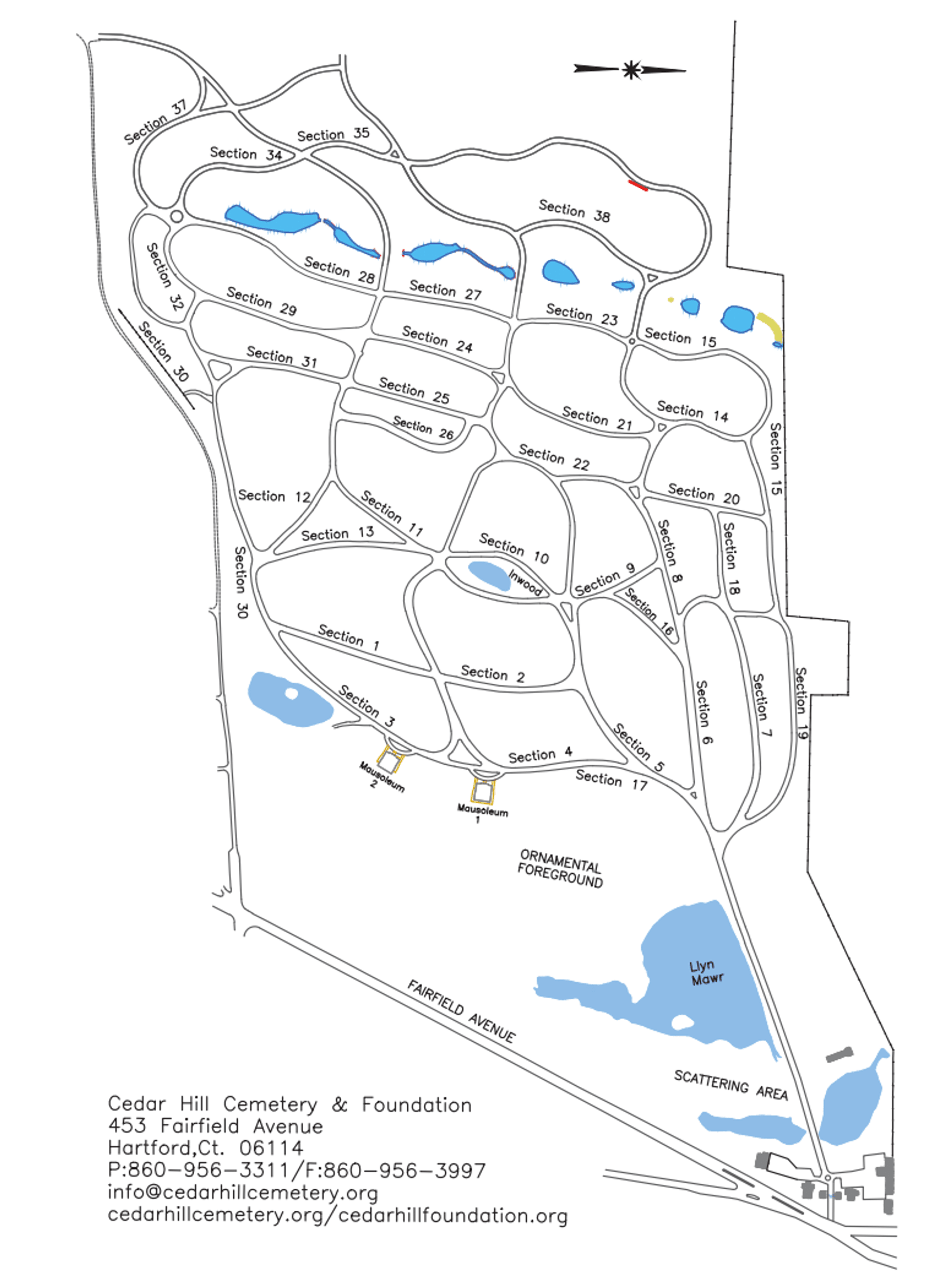 Map of Cedar Hill Cemetery in Hartford, Connecticut
Grave Location:
Section 11, Lot 1
Grave Location Description
As you enter the cemetery take a hard left and stay to the left. At the intersection of Sections 30, 12 and 13, take a hard right and drive to the intersection of Sections 13 and 11. You would be hard-pressed not to see the Morgan memorial from the road in Section 11 with multiple generations of Morgans surrounding the monument.
Grave Location GPS
41.7217293,-72.7010803
---
Visiting The Grave:
Photos:
Read More About J. P. Morgan:
Videos Featuring J. P. Morgan:
See More:
Back to Top