James A. Garfield
Birth Name:
James Abram Garfield
Birth Date:
November 19, 1931
Birth Place:
Moreland Hills, Ohio
Death Date:
September 19, 1881
Place of Death:
Franklyn's Cottage, Elberon, New Jersey
Cause of Death:
Heart attack, ruptured splenic artery with massive hemorrhage, septic blood poisoning
Cemetery Name:
Lake View Cemetery
Claim to Fame:
World Leaders
James A. Garfield was the 20th president of the United States, serving from March to September 1881. Garfield was shot by Charles J. Guiteau (a disappointed and delusional office seeker) at the Baltimore and Potomac Railroad Station in Washington D.C. four months into his presidency. Interesting to note that Garfield did not actually died from the gunshot, but rather from infections introduced by his doctors. He died two months later on September 19, 1881 and Guiteau was executed for Garfield's murder in June 1882.
---
Fun Fact
Focused on finding and removing the bullet from President Garfield, Bliss and the other doctors stuck their unwashed fingers in the wound and probed around, all for naught and without applying the numbing power of ether anesthetic. In late 19th century America, such a grimy search was a common medical practice for treating gunshot wounds. A key principle behind the probing was to remove the bullet, because it was thought that leaving buckshot in a person's body led to problems ranging from "morbid poisoning" to nerve and organ damage. Indeed, this was the same method the doctors pursued in 1865 after John Wilkes Booth shot Abraham Lincoln in the head.
Over the next 90 days Garfield suffered from a scorching fever, relentless chills, and increasing confusion. The doctors tortured the president with more digital probing and many surgical attempts to widen the three-inch deep wound into a 20-inch-long incision, beginning at his ribs and extending to his groin. It soon became a super-infected, pus-ridden, gash of human flesh.
The assigned causes of death included a fatal heart attack, the rupture of the splenic artery, which resulted in a massive hemorrhage, and, more broadly, septic blood poisoning caused by his doctors.
Cemetery Information:
Final Resting Place:
Lake View Cemetery
12316 Euclid Avenue
Cleveland, Ohio, 44106
USA
North America
Map: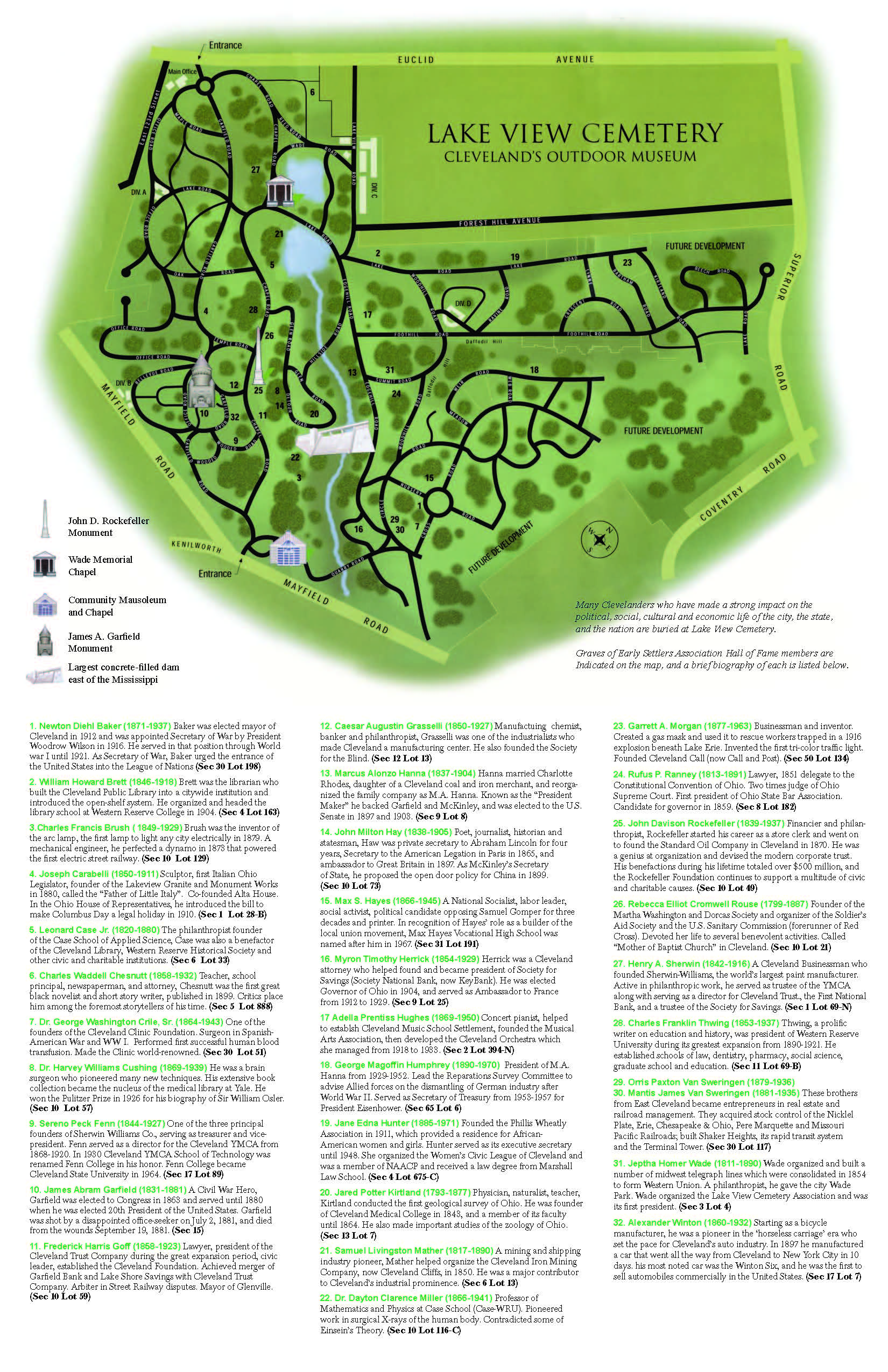 Map of Lake View Cemetery in Cleveland, Ohio
Grave Location:
James A. Garfield Memorial, Section 15
Grave Location Description
Designed by architect George Keller, the Garfield Monument was dedicated on Memorial Day, 1890. The Garfield Monument stands 180 feet tall and is constructed of Berea Sandstone. Around the exterior of the balcony are five, terra cotta panels by Casper Bubel, with over 110 figures all life size, depicting Garfield's life and death. The panels include Garfield as a teacher, as Major General in the Civil War, an orator, taking the oath of office and lying in state in the rotunda of the Capital in Washington DC.
The Memorial Hall includes rich, gold mosaics, beautifully colored marble, stained glass windows and deep-red granite columns. The stained glass windows and window like panes represent the original 13 colonies, plus the state of Ohio, along with panels depicting War and Peace. Standing in the main floor is a statue of the President sculpted by Alexander Doyle.
Venture up 64 steps from the lobby to the outdoor balcony. On a clear day you can see 40 miles of the Lake Erie shore. The cemetery is called Lake View Cemetery due to the magnificent view that one can see of Lake Erie from the outdoor balcony.
Grave Location GPS
41.51033705, -81.59168567
---
Visiting The Grave:
Photos:
Read More About James A. Garfield:
Videos Featuring James A. Garfield:
See More:
Back to Top