Joe Profaci
Birth Name:
Giuseppe Profaci
Birth Date:
October 2, 1897
Birth Place:
Villabate, Sicily, Italy
Place of Death:
Southside Hospital, Bay Shore, New York
Cause of Death:
Liver cancer
Cemetery Name:
St. John Cemetery
Claim to Fame:
Crime and their Victims
Giuseppe "Joe" Profaci was an Italian-born New York City La Cosa Nostra boss who was the founder of the Profaci crime family. Established in 1928, this was the last of the Five Families to be organized. He was the family's boss for over three decades. On December 5, 1928, after the murder of Brooklyn boss Salvatore D'Aquila in 1928, Profaci attended the infamous mob meeting in Cleveland, Ohio that would make him an organized crime boss in Brooklyn to maintain calm among the Brooklyn gangs. In addition to his illegal enterprises such as protection rackets and extortion, Profaci continued with his olive oil company making him a wealthy man both legally and illegally. When Profaci died from liver cancer in 1962, his second in command would take charge, Joe Magliocco. A year after taking control of the family Magliocco made plans with Joseph Bonanno to assassinate several rivals such as Tommy Lucchese, Carlo Gambino, and Stefano Magaddino in order to get control of the entire syndicate. Joe Columbo stepped up to The Commission and turned in Magliocco and Bonanno. Magliocco was forced out of the family and Joe Columbo took over the reins of the Profaci crime family and renamed it the Columbo Family.
---
Fun Fact
Profaci owned a large house in Bensonhurst, Brooklyn, a home in Miami Beach, Florida, and an 328-acre estate near Hightstown, New Jersey, which previously belonged to President Theodore Roosevelt. Profaci's estate had its own airstrip and a chapel with an altar that replicated one in St. Peter's Basilica in Rome.
Cemetery Information:
Final Resting Place:
St. John Cemetery
80-01 Metropolitan Avenue
Middle Village, New York, 11379
USA
North America
Map: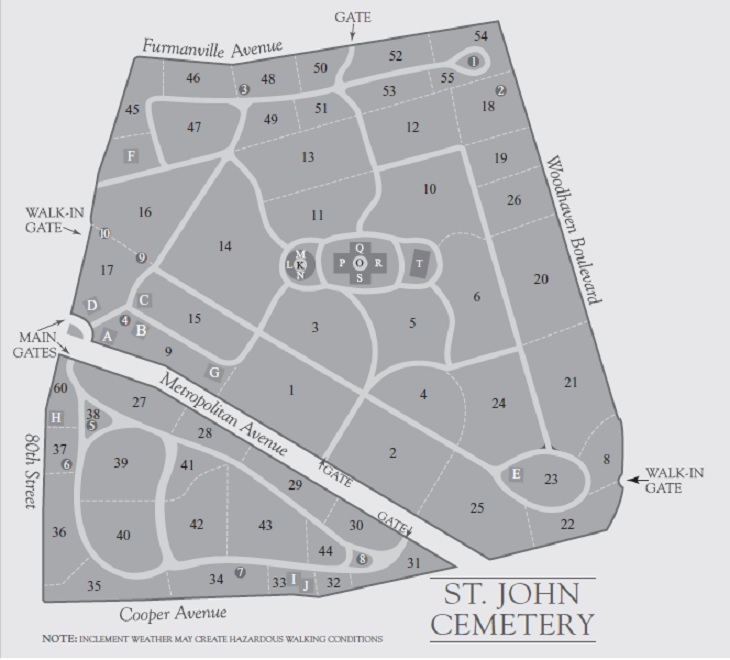 Grave Location:
Section 11, Range A
Grave Location Description
As you enter the main cemetery grounds drive towards the mausoleum structures. Across the street from the round mausoleum is Section 14 with former mob boss Salvatore Maranzano across the street from the entrance of the round mausoleum (Resurrection Mausoleum and 2 rows into the section). Keep driving around the mausoleum until you come to the other entrance to the Resurrection Mausoleum and here across the street in Section 11 you will see Joe Profaci's rather enormous mausoleum bordering the road.
Grave Location GPS
40.716121437, -73.867771748
Photos:
Read More About Joe Profaci:
Videos Featuring Joe Profaci:
See More:
Back to Top