Joseph Colombo
Birth Name:
Joseph Anthony Colombo Sr.
Birth Date:
June 16, 1923
Birth Place:
New York, New York
Place of Death:
St. Luke's Hospital, Newburgh, New York
Cause of Death:
Cardiac arrest related to shooting
Cemetery Name:
St. John Cemetery
Claim to Fame:
Crime and their Victims
Joseph Colombo Sr. became the boss of the Colombo crime family, one of five families associated with the American Mafia in New York City. Joseph Colombo's father Anthony was an early member of the Profaci crime family, forerunner of the family that would eventually bear his name. After Anthony Colombo was found strangled to death in a car with his mistress, a young Joe dropped out to of high school to join the U.S. Coast Guard. He was diagnosed with neurosis and discharged from the service and resumed a normal lifestyle with jobs that included ten years as a longshoreman and six years as a meat salesman. Eventually Joe Columbo drifted back into the life of organized crime and Colombo followed his father into the Profaci family becoming an enforcer and quickly promoted to Caporegime. Separate from his crime family, Colombo went on to create the Italian-American Civil Rights League in 1970, hosting the first Italian Unity Day rally in Columbus Circle later that year. On June 28, 1971, Colombo was shot three times at the second annual rally by Jerome A. Johnson. The shooting left Colombo paralyzed and he died seven years later of cardiac arrest. Many members of the Colombo family claim Joe Gallo, mobster of the Profaci crime family, was to blame for the shooting due to his falling out with Colombo.
---
Fun Fact
Joe Colombo became boss of the Profaci crime family in the 1964 after ratting his boss, Joe Magliocco, out to the Mafia commission. When Profaci died in 1962, his second in command Magliocco along with J0seph Bonanno hatched a plot knock off the bosses of the Gambino, Lucchese, and Genovese families and take control of all organized crime on the East coast. Magliocco and Bonnano were punished with lifetime banishment from New York and all underworld activities. His reward for avoiding a five-family bloody mob war? Joe Colombo was named the boss of the Profaci crime family which he promptly renamed after himself.
When Joe Colombo was gunned down and left almost totally paralyzed at a 1971 league rally in Columbus Circle, it was reported that he was in a coma when he arrived at the hospital and later died. However many publications have assumed he was in a coma for seven years. This is false. After the shooting and several operations to remove the bullet and stabilize his condition, Columbo was moved to his vacation home at his nearby five‐acre estate in Blooming Grove. During those seven years Colombo was described as being able to move only the forefinger and thumb of his right hand. A year later, he was reported able to utter a few words and recognize people and was at times awake and aware of his surroundings.
Cemetery Information:
Final Resting Place:
St. John Cemetery
80-01 Metropolitan Avenue
Middle Village, New York, 11379
USA
North America
Map: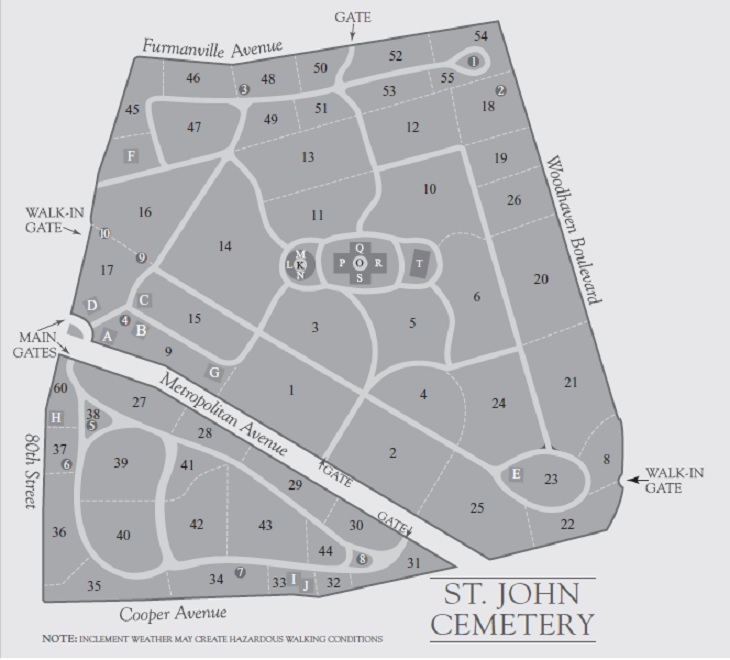 Grave Location:
Section 36, Range F, Plot 2, Grave 1
Grave Location Description
As you enter the cemetery annex through the main gate at the corner of 80th Street and Metropolitan Avenue across from the main cemetery, drive slowly straight ahead. As you pass Section 60 and 37 on your right look for the M. Di Bella mausoleum on the road. Walk 50 feet off the road directly behind the Bella mausoleum and you will find the final resting place of Joseph Columbo with bushes on both sides of this upright monument with an angel carved into the stone.
Grave Location GPS
40.71092734, -73.87030111
Photos:
Read More About Joseph Colombo:
Videos Featuring Joseph Colombo:
See More:
Back to Top