WARNING: EXPLICIT MATERIAL
Judd Gray
Birth Name:
Henry Judd Gray
Birth Place:
Cortland, New York,
Death Date:
January 12, 1928
Place of Death:
Sing Sing Prison, Ossining, New York
Cause of Death:
Executed by electrocution
Cemetery Name:
Rosedale Cemetery
Claim to Fame:
Crime and their Victims
Judd Gray was a corset salesman and Ruth Brown Snyder's lover and accomplice in the badly planned murder of her husband, Albert Snyder. The bored housewife from Queens, New York who, after 7 or so unsuccessful attempts, finally succeeded in killing her husband Albert Snyder with the assistance of her lover Henry Judd Gray using a combination dumb bell beat-down and strangulation. Although found guilt and executed in Sing Sing Prison, that is not what made this pathetic couple famous. During the execution photographer Tom Howard of the Chicago Tribune, with a small plate camera strapped to his ankle, took the infamous picture just as the electricity was running through Ruth Snyder's body that was published the next day in the New York Daily News. As one crime reporter said during the trial, the Snyder-Gray murder was a "cheap crime involving cheap people".
---
Not-So-Fun Facts
On the day of the execution, Ruth Brown Snyder was pronounced dead at 11:09 a.m. and her body was removed. As her body was carried from the execution chamber just mere seconds later, Judd Gray was brought in. The reporters remembered his "jaunty walk" from the trial and noted that he seemed calm. He had told the Warden that morning that his wife had written a letter to him, forgiving him, and he was "ready to go." His lips moved in a silent prayer but no words could be discerned. He was pronounced dead at 11:15 a.m.
Ruth had previously made several attempts to kill her husband, including twice trying to kill him via disconnecting the gas line on their oven and again trying via running their car in the garage with the garage door closed in hopes of filling the house with carbon monoxide. Another time she poisoned his bootlegged whiskey, but it resulted in it tasting awful, so he dumped it out. (Incidentally, around this same time the U.S. government tried the same trick to stop people from drinking, resulting in the deaths of over 10,000 Americans. When this was revealed, Congress debated whether to ramp the program up to get rid of more undesirables, but better sense ultimately prevailed.)  In one instance while Albert was sick, Ruth also added various drugs to the medicine he was taking, hoping the combination would kill him.  She was unsuccessful in all attempts … well except for the final attempt using a combination of strangulation, beating and chloroform.
Cemetery Information:
Final Resting Place:
Rosedale Cemetery
408 Orange Road
Montclair, New Jersey, 07042
USA
North America
Map: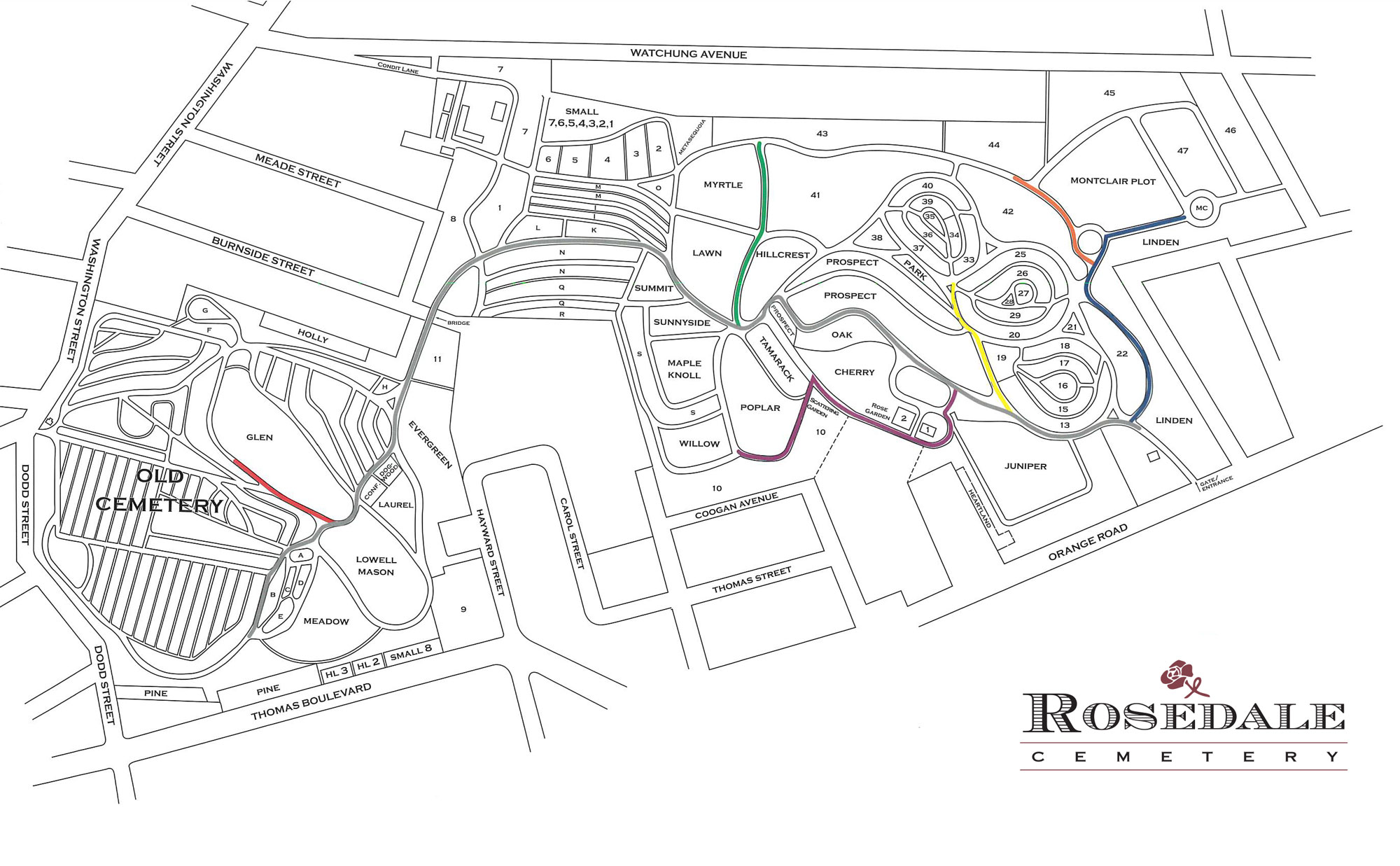 Grave Location:
Lindon Plot, Lot 200
Grave Location Description
As you enter the cemetery, drive straight ahead and turn right at the first opportunity. Stay to the right along the cemetery border and at the first roundabout, turn right. As you drive to the next roundabout park exactly in the middle and on your right you will find the Gray family monument on the road on the right. And to the left the grave of the first man executed in New Jersey by electrocution – Henry Judd Gray.
Grave Location GPS
40.7917824, -74.22209919
Photos:
Read More About Judd Gray:
Videos Featuring Judd Gray:
See More:
Back to Top