Katharine Hepburn
Birth Name:
Katharine Houghton Hepburn
Birth Place:
Hartford, Connecticut
Death Date:
June 29, 2003
Place of Death:
10 Mohegan Avenue, Fenwick, Connecticut
Cause of Death:
Cardiac arrest
Cemetery Name:
Cedar Hill Cemetery
Claim to Fame:
Show Business
Katharine Hepburn was an American actress whose career as a Hollywood leading lady spanned over six decades. She was known for her headstrong independence, spirited personality, and outspokenness, cultivating a screen persona that matched this public image, and regularly playing strong-willed, sophisticated women. Her work was in a range of genres, from screwball comedy to literary drama, and earned her various accolades, including four Academy Awards for Best Actress—a record for any performer. After a brief lull in her early career, Hepburn continued to be articulate and outspoken, transitioning to more mature roles in films as varied as "Summertime," "Suddenly Last Summer," and, notably, 1962's "Long Day's Journey into Night," considered by many her dramatic high water mark. Hepburn challenged herself in the latter half of her life as she tackled Shakespearean stage productions and a range of literary roles. She found a niche playing mature, independent, and sometimes unmarried women such as in The African Queen (1951), a persona the public embraced. Hepburn received three more Academy Awards for her performances in Guess Who's Coming to Dinner (1967), The Lion in Winter (1968), and On Golden Pond (1981). In the 1970s, she began appearing in television films, which later became her focus. She made her final screen appearance at the age of 87. After a period of inactivity and ill health, Hepburn died in 2003 at the age of 96.
---
Fun Facts
Katharine Hepburn was known for being fiercely private and would not give interviews or talk to fans for much of her career. She distanced herself from the celebrity lifestyle, uninterested in a social scene she saw as tedious and superficial. She rarely appeared in public, even avoiding restaurants and once wrestled a camera out of a photographer's hand when he took a picture without asking. The protective attitude toward her private life thawed as she aged beginning with a two-hour-long interview on The Dick Cavett Show in 1973.
In 1936, while she was touring Jane Eyre, Hepburn began a relationship with entrepreneur Howard Hughes. She had been introduced to him a year earlier by their mutual friend Cary Grant. Hughes wished to marry her, and the tabloids reported their impending nuptials, but Hepburn stayed focused on resurrecting her career.
The most significant relationship of Hepburn's life was with Spencer Tracy, her co-star in nine films. The relationship has subsequently been publicized as one of Hollywood's legendary love affairs. Meeting in 1941, when she was 34 and he was 41, Tracy was initially wary of Hepburn, unimpressed by her dirty fingernails and suspecting that she was a lesbian, but Hepburn said she "knew right away that [she] found him irresistible". Tracy remained married throughout their relationship (although he and his wife Louise had been living separate lives since the 1930s and there was never an official split and neither party pursued a divorce). With Tracy determined to conceal the relationship, they were careful not to be seen in public together and maintained separate residences. Tracy was an alcoholic and was frequently depressed; Hepburn described him as "tortured" and she devoted herself to making his life easier. Reports from people who saw them together describe how Hepburn's entire demeanor changed when around Tracy. She mothered and obeyed him, and Tracy became heavily dependent on her. Tracy's health declined in the 1960s, and Hepburn took a five-year break in her career to care for him. She moved into Tracy's house for this period and was with him when he died on June 10, 1967.
Cemetery Information:
Final Resting Place:
Cedar Hill Cemetery
453 Fairfield Avenue
Hartford, Connecticut, 06114
USA
North America
Map: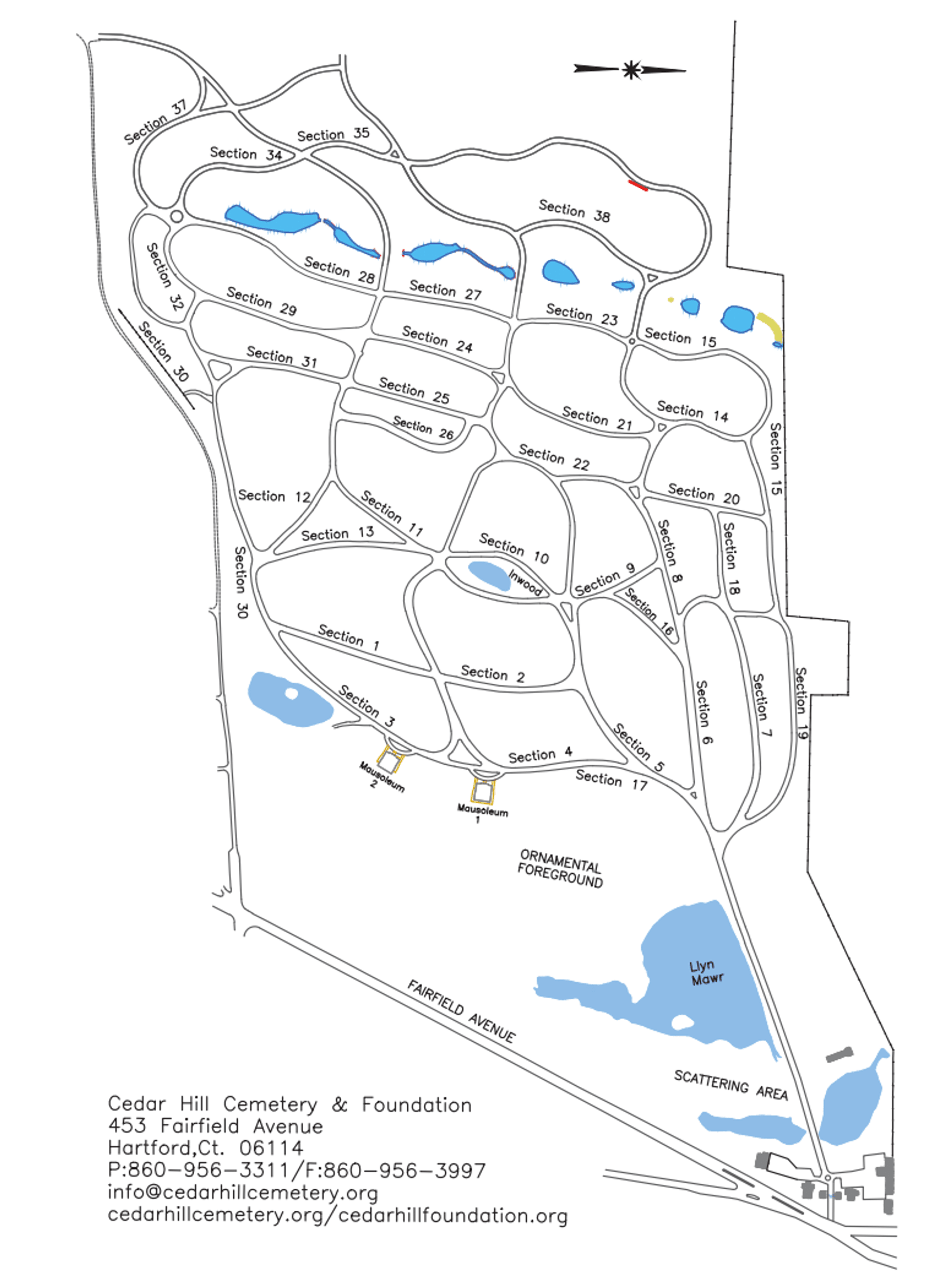 Map of Cedar Hill Cemetery in Hartford, Connecticut
Grave Location:
Section 10, Lot 132
Grave Location Description
As you enter the cemetery stay to the right of the flag pole and continue straight – gently veering to the left. Park in the middle of Section 10 on your left and Section 22 on your right. Celebrated actress Katharine Hepburn will be on your left 3 rows from the road.
Grave Location GPS
41.72275195598107, -72.70156969023732
Photos:
Read More About Katharine Hepburn:
Videos Featuring Katharine Hepburn:
See More:
Back to Top