Kim Fowley
Birth Name:
Kim Vincent Fowley
Birth Date:
July 21, 1939
Birth Place:
Los Angeles, California
Death Date:
January 15, 2015
Place of Death:
Hollywood, California
Cause of Death:
Bladder cancer
Cemetery Name:
Hollywood Forever Cemetery
Hunter S. Thompson once said "The music business is a cruel and shallow money trench, a long plastic hallway where thieves and pimps run free, and good men die like dogs. There's also a negative side." A more apt description of former Runaways manager and sexual predator Kim Fowley could not be found. This is the negative side. Exhibit A: Kim Fowley. American record producer, singer, songwriter, and the manager of The Runaways, the first successful teenage all-female band in the 1970s. Kim Fowley is also best known for his role behind a string of novelty and cult pop rock singles in the 1960s. In 2015, Jackie Fuchs (formerly Jackie Fox of The Runaways) claimed that Fowley had raped her in 1975 while he was involved with the band. Other named accusers, some of whom were minors at the time, have alleged Fowley raped or sexually assaulted them.
---
In their LA Weekly's Top 10 List of the Biggest Assholes in the Music Business, Kim Fowley came in #2 just behind Phil Spector (no surprise here). In their write-up, they described Kim Fowley as such:
"Despite his mystifyingly ballyhooed cachet as some kind of underworld rock & roll overlord, producer-manager-songwriter-hustler Kim Fowley was little more than a reliable Hollywood annoyance, a money-obsessed egomaniac with relentlessly ugly taste and, despite innumerable credits with everyone from Alice Cooper to Helen Reddy, a largely undistinguished professional track record. Fowley was all about artifice, not art, and although he considered himself to be an oracular fount of rock & roll knowledge, he was a tiresome blowhard who only cared about making as many quick and dirty dollars, at whoever's expense, as he could. And, of course, he was a pedophile and rapist, indisputable facts verified by countless victim accounts and, most publicly, the horrifying Runaways/Jackie Fox assault brouhaha — a charge so appalling that the befuddled behavior of the cadre of spineless apologists who stood by Fowley is still unbelievable."
.
That's right, Joan Jett and Cherie Currie watched while Kim Fowley raped Jackie Fox (now Jackie Fuchs – well respected entertainment lawyer) and then Jett gave the eulogy at his funeral. And when Joan Jett denies it, remember there are witnesses. If there is any justice in this world, Fowley died a slow and excruciating death from bladder cancer.
Cemetery Information:
Final Resting Place:
Hollywood Forever Cemetery
6000 Santa Monica Blvd.
Los Angeles, California, 90038
USA
North America
Map: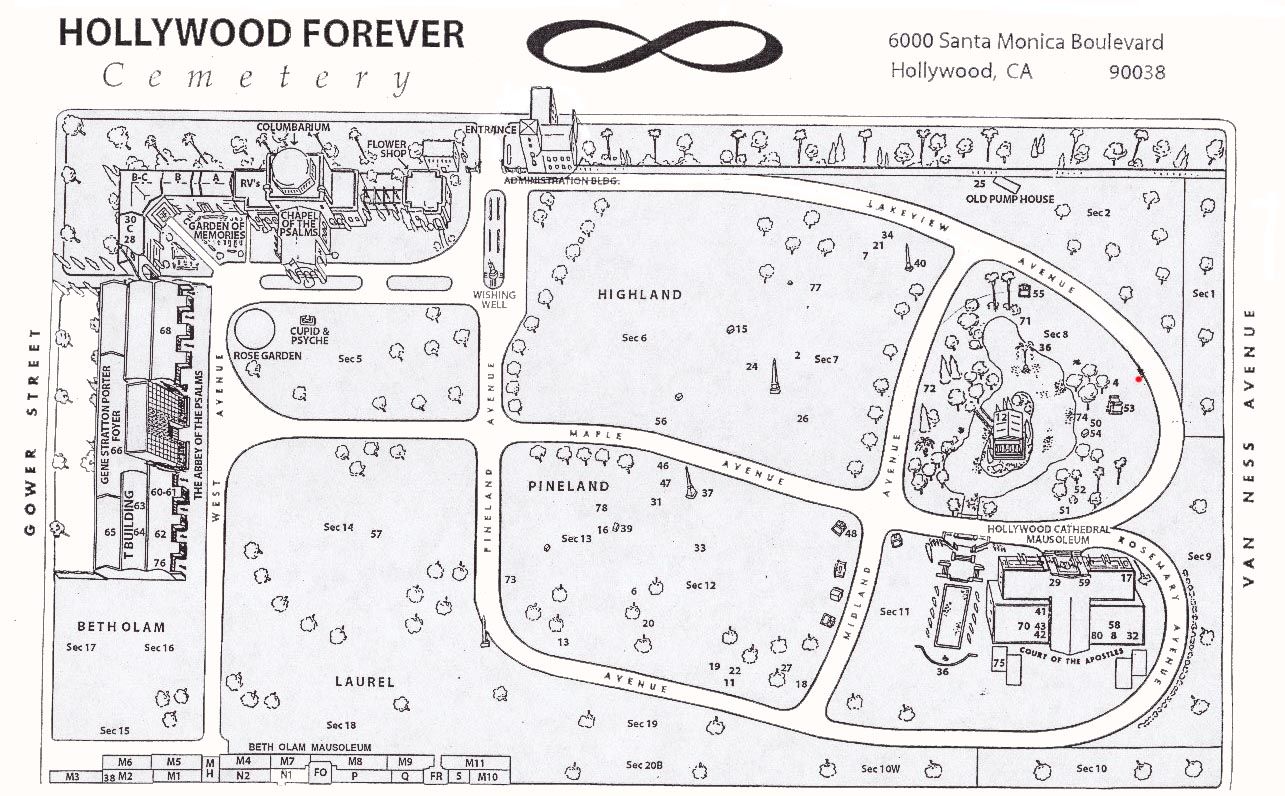 Map of Hollywood Forever Cemetery in Los Angeles, California.
Grave Location:
Section 2
Grave Location Description
From the cemetery entrance take the first left and drive to the next intersection of Midland Avenue and Lakeview Avenue. From there walk over to the Cecil B. DeMille crypt and across the street from the Garden of Legends is Section 2. The Manager From Hell and sexual predator Kim Fowley can be found about 50 feet off of Lakeview Avenue.
Grave Location GPS
34.09029898168, -118.3165614600
Photos:
Read More About Kim Fowley:
Videos Featuring Kim Fowley:
See More:
Back to Top