WARNING: EXPLICIT MATERIAL
Louis Alves
Birth Name:
Louis S. Alves
Birth Date:
October 1, 1969
Birth Place:
Providence, Rhode Island
Death Date:
February 20, 2003
Place of Death:
211 Cowesett Avenue, West Warwick, Rhode Island
Cause of Death:
The Station Nightclub fire
Cemetery Name:
Mount Saint Mary's Cemetery
On February 20, 2003 music fan Louis Alves attended a concert at the Station Nightclub in West Warwick, Rhode Island. After opening bands Trip and Fathead finished their sets, the glam band Great White took the stage just after 11:00 PM and began performing their opening number, "Desert Moon". During the performance, pyrotechnics set off by tour manager Daniel Biechele ignited the flammable acoustic foam. Within 6 minutes the entire club was engulfed in flames, killing 100 people and injuring 230. Louis Alves was one of those unfortunate souls who did not make it out of the club.
---
What We Know
Actually the band that started the fire, Great White, was in actuality Jack Russell's Great White with only two original members.
The Station Nightclub maximum capacity was cited as 404, however a total of 462 people were in attendance that fateful night.
Two members of the band Fathead, cousins Keith and Steven Mancini, as well as Great White guitarist Ty Longley died in the fire.
In the Rhode Island court of law, the blame was placed mostly upon club owners Jeffrey and Michael Derderian along with Great White band manager Daniel Michael Biechele. They were the ones who were indicted and convicted of involuntary manslaughter. The club owners had installed sound-proofing foam that was highly flammable about a year before the show. After a short stint in prison, they have all been released.
Cemetery Information:
Final Resting Place:
Mount Saint Mary's Cemetery
661 Prospect Street
Pawtucket, Rhode Island, 02860
USA
North America
Map: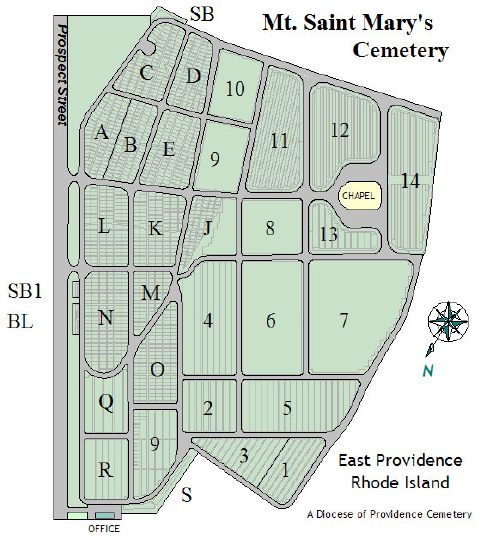 Map of Mount Saint Mary's Cemetery in Pawtucket, Rhode Island
Grave Location:
Section 7, Lot 991, Grave 2
Grave Location Description
As you make your way to the back of the cemetery, drive on the right side of the chapel towards the back and turn right and park at the intersection of Sections 13, 14 and 7. Louis Alves' monument is located about 10 rows from the back of Section 7 and 3 spaces from the road.
Grave Location GPS
41.85565054541958, -71.36831085770562
---
Visiting The Grave:
Photos:
Read More About Louis Alves:
Videos Featuring Louis Alves:
See More:
Back to Top