Ludwig van Beethoven
Birth Name:
Ludwig van Beethoven
Birth Date:
December 17, 1770
Birth Place:
Bonn, Germany
Death Date:
March 26, 1827
Place of Death:
Schwarzspanierhaus, Vienna, Austria
Cause of Death:
Liver disease, viral hepatitis and alcohol consumption
Cemetery Name:
Der Wiener Zentralfriedhof
Ludwig van Beethoven was a German composer and pianist who remains one of the most admired composers in the history of Western music. His works rank among the most performed of the classical music repertoire and span the transition from the Classical period to the Romantic era in classical music. His career has conventionally been divided into early, middle, and late periods. His early period, during which he forged his craft, is typically considered to have lasted until 1802. From 1802 to around 1812, his middle period showed an individual development from the styles of Joseph Haydn and Wolfgang Amadeus Mozart, and is sometimes characterized as heroic. During this time, he began to grow increasingly deaf. In his late period, from 1812 to 1827, he extended his innovations in musical form and expression. Nearly 200 years since his passing Beethoven's works remain mainstays of the classical music repertoire.
---
Fun Facts
Ludwig van Beethoven had not one, not two but three burials after his death. The composer died on the 26th of March, 1827 in the Schwarzspanierhaus and was buried a couple of days later in the Währinger Ortsfriedhof. In 1863 the authorities decided to repair the burial site and exhumed Beethoven's body and put it in a new and better metal coffin before burying him again. A decade later the Währinger Ortsfriedhof cemetery was closed so it was decided to move the legendary composer to his current address. It is interesting to note that his monument that adorns his grave is an exact replica of his original gravesite.
Beethoven's hearing loss did not prevent him from composing music, but it made playing at concerts—an important source of income at this phase of his life—increasingly difficult. (It also contributed substantially to his social withdrawal.) Friends remarked that Beethoven could still hear speech and music normally until 1812. Beethoven never became totally deaf; in his final years he was still able to distinguish low tones and sudden loud sounds.
After Beethoven moved to Vienna in his early 20s, he started taking lessons with Franz Joseph Haydn, often called the father of the symphony. Haydn also taught Mozart, one of Beethoven's early idols
Nobody really know Beethoven's final words, although his friends and biographers have recorded many different versions including "Pity, pity — too late," or "Applaud, my friends, the comedy is over" and "I shall hear in heaven," a reference to his deafness.
Cemetery Information:
Final Resting Place:
Der Wiener Zentralfriedhof
1110 Wien
Simmeringer Hauptstraße 234, Vienna,
Austria
Europe
Map: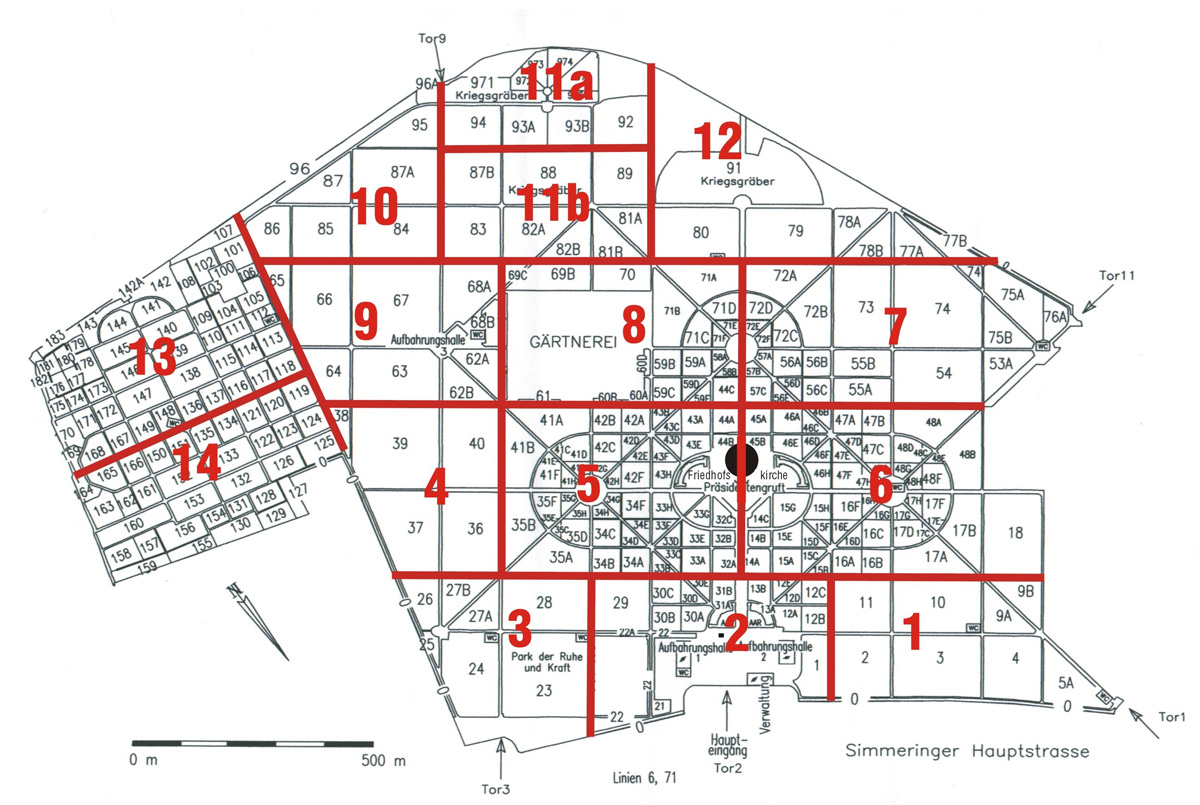 Map of Der Wiener Zentralfriedhof (Central Cemetery) in Vienna, Austria
Grave Location:
Gruppe 32 A, Grab Nr. 29
Grave Location Description
You can find the grave very easily if you enter the cemetery through that main entrance, which is called Tor (Gate) 2. Once inside, go straight on, through the middle of the stone arcade ahead of you, towards the large Jugendstil church in the distance. Just keep your eyes on the left hand side to eventually spot the grave of the legendary composer about 100 feet off the road. Nearby neighbors include Schubert, Brahms, and various members of the Strauss family. Across the paved path is a memorial to some guy named Mozart.
Grave Location GPS
48.1520232, 16.4401262
---
Visiting The Grave:
Photos:
Read More About Ludwig van Beethoven:
Videos Featuring Ludwig van Beethoven:
See More:
Back to Top