Marc Bolan
Birth Date:
September 30, 1947
Birth Place:
Stoke Newington, London, England
Death Date:
September 16, 1977
Place of Death:
near Gipsy Lane on Queens Ride, Barnes, London
Cause of Death:
Automobile accident
Cemetery Name:
Golders Green Crematorium
As the lead singer, songwriter and guitarist for T Rex, Marc Bolan captivated generations with his strutting music and hyper-sexual charisma. Sporting makeup, glitter, a top hat with flowing locks of gorgeous hair, Bolan was on the forefront of glam rock with such classics as Jeepster, 20th Century Boy and, of course, Bang a Gong. Even 50 years since his tragic death Marc Bolan remains one of the most iconic figureheads in the history of British music.
Cemetery Information:
Final Resting Place:
Golders Green Crematorium
62 Hoop Lane
London, , NW11 7NL
United Kingdom
Europe
Map: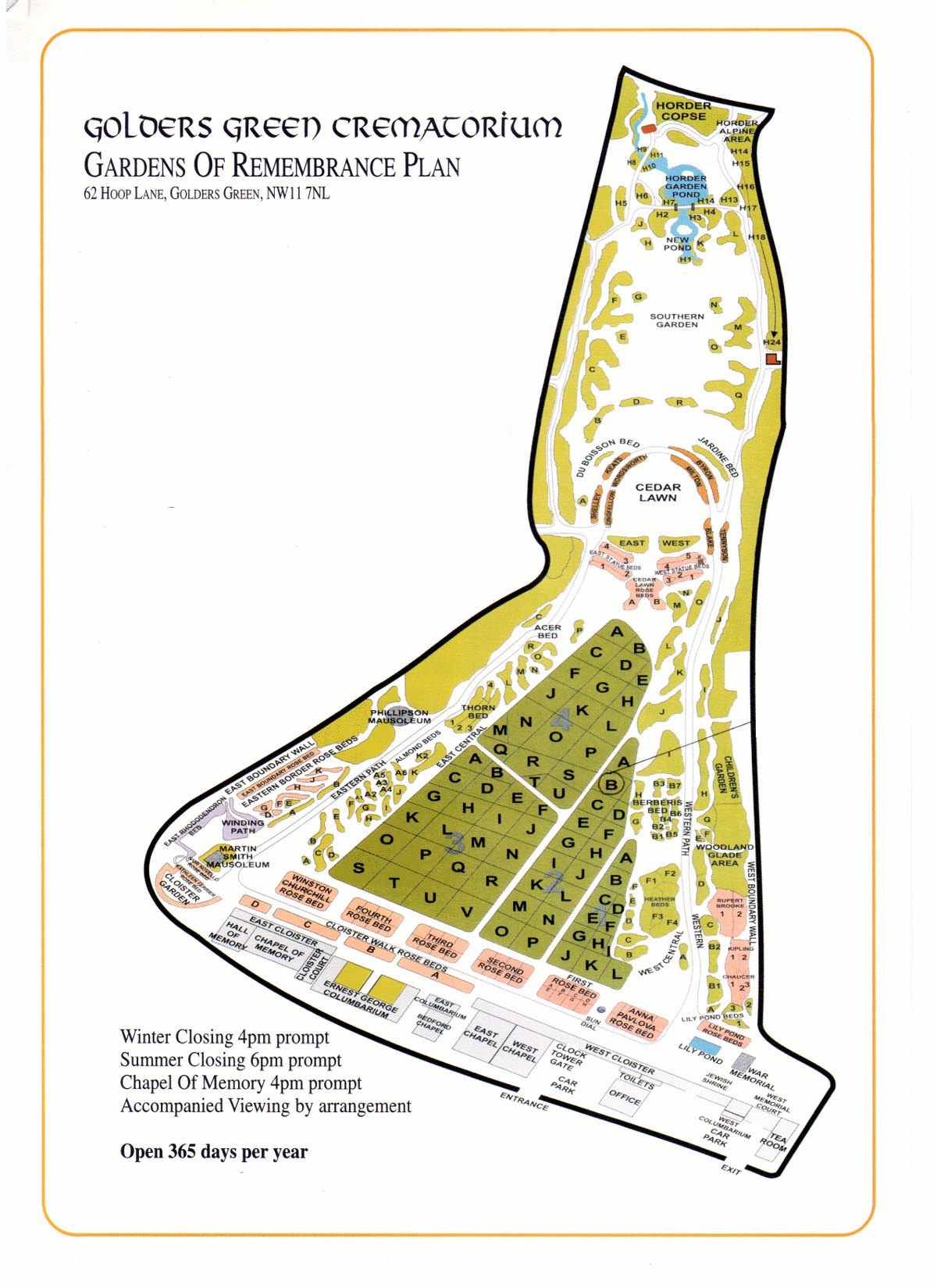 Cemetery map of Golders Green Crematorium in London, England.
Grave Location:
West Statue Rose Bed, Section 5, Plot E, Number 48569
Grave Location Description
West Statue Rose Beds are in the middle of the cemetery where the cemetery is at it's narrowest point (just below the Cedar Lawn Section). You may have problems locating the Feld Family marker including Marc and his parents due to constant theft of the memorial. Just look for the large monument that seems out of place and look to your right along the grass.
There is also a Marc Bolan bench complete with a carved swan as the back rest near the gravesite along the paved pathway.
Inside the Chapel of Memory Columbarium at Golders Green you will also find another Mark Bolan cenotaph from Barbara.
Finally his most photographed memorial plaques can be found side by side in the West Memorial Court of the crematorium. And yes, that is Keith Moon of the Who to the left of Marc's memorial.
---
Visiting The Grave:
Photos:
Read More About Marc Bolan:
Videos Featuring Marc Bolan:
See More:
Back to Top