Michael Bloomfield
Birth Name:
Michael Bernard Bloomfield
Birth Date:
July 28, 1943
Birth Place:
Chicago, Illinois,
Death Date:
February 15, 1981
Place of Death:
Forest Hill neighborhood, San Francisco, California
Cause of Death:
Cocaine and methamphetamine poisoning
Cemetery Name:
Hillside Memorial Park
Michael Bloomfield was an American guitarist and composer who became one of the first popular music superstars of the 1960s to earn his reputation almost entirely on his instrumental prowess, as he rarely sang before 1969. Respected for his guitar playing, Bloomfield knew and played with many of Chicago's legendary blues musicians such as as Sleepy John Estes, Yank Rachell, Little Brother Montgomery, Luther "Guitar Junior" Johnson, Howlin' Wolf and Muddy Waters before achieving his own fame and was instrumental in popularizing blues music in the mid-1960s. In 1965, he played on Bob Dylan's Highway 61 Revisited, including the single "Like a Rolling Stone", and performed with Dylan at that year's Newport Folk Festival. Bloomfield was ranked No. 22 on Rolling Stone's list of "100 Greatest Guitarists of All Time" in 2003 and No. 42 by the same magazine in 2011. He was inducted into the Blues Hall of Fame in 2012 and, as a member of the Paul Butterfield Blues Band, was inducted into the Rock and Roll Hall of Fame in 2015.
---
The Mysterious Death of Michael Bloomfield
The 70s found him evermore reclusive. He played sporadically in San Francisco with old buddies Gravenites and Naftalin. There was an ill-advised Electric Flag reunion, a short-lived band called KGB and, bizarrely, scores for porn movies like Hot Nazis and Rampaging Dental Assistants.
In his personal life, Bloomfield battled crippling demons: intense insomnia ("He wouldn't get any sleep," Al Kooper recalled) and heroin addiction that at times robbed him of both his ability and his desire to play. "Shooting junk made everything else unimportant, null and void, nolo contendere," he said at one point. "My playing fell apart. I just didn't want to play." So it came as quite a shock when his body was discovered Sunday morning at 11:00 am parked in a well-to-do neighborhood, all four doors locked in his car, dead of a cocaine and methamphetamine poisoning with an empty bottle of Valium on the passenger seat of his Chevrolet Impala. There was no suicide note found and no indication of a struggle.
Cemetery Information:
Final Resting Place:
Hillside Memorial Park
6001 W Centinela Ave
Culver City, California, 90045
USA
North America
Map: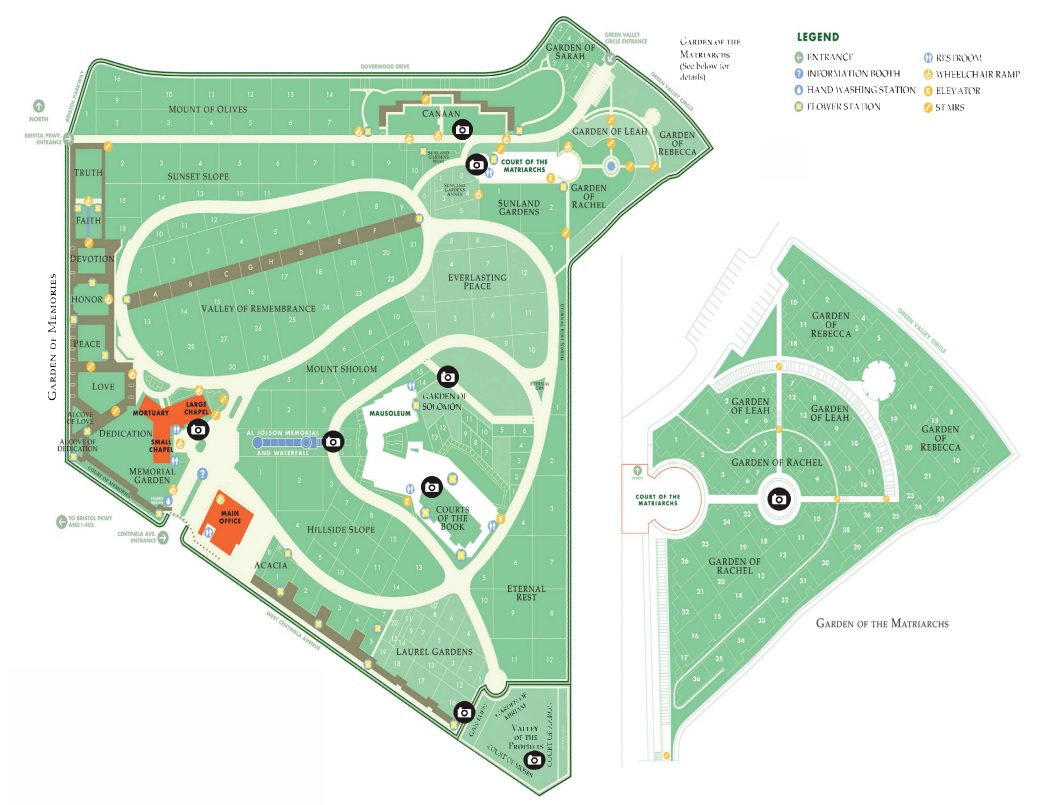 Grave Location:
Sanctuary of Meditation, Crypt 314
Grave Location Description
As you enter the gates of the cemetery, turn right just past the office and drive to the top of the hill. With the Al Jolson crypt and waterfall to your left, turn right and walk into Courts of the Book Mausoleum. Veer left into the north wing from the rotunda and then turn right into the Corridor of Love. Walk ahead and turn right into the Sanctuary of Meditation and you will find the final resting place of Michael Bloomfield on the third row from the bottom and two columns from the end of the corridor.
Grave Location GPS
33.979990, -118.388910
Photos:
Read More About Michael Bloomfield:
Videos Featuring Michael Bloomfield:
See More:
Back to Top