Napoleon Bonaparte
Birth Name:
Napoleon Bonaparte
Birth Date:
August 15, 1769
Birth Place:
Ajaccio, Corsica, Kingdom of France
Place of Death:
Longwood, Saint Helena, British Empire
Cause of Death:
Stomach Cancer
Cemetery Name:
Les Invalides
Claim to Fame:
World Leaders
Napoleon Bonaparte was a French military general, the first emperor of France and one of the world's greatest military leaders. Napoleon revolutionized military organization and training, sponsored the Napoleonic Code, reorganized education and established the long-lived Concordat with the papacy. In case your Napoleonic history is rusty, in addition to military achievements, his civilian achievements include a civil code, the Legion of Honor, large-scale works, a commercial code, court of audit, University of France, Council of State, pacification of the nation, administrative centralization, and Concordat (a treaty between the Vatican and secular government). It has often been said by historians and scholars - Napoleon was "the most competent human who ever lived."
---
Fun Fact
It has been proved that Napoleon suffered for years with gallstones and died as a result of complications from a malignant stomach tumour – without Hudson Lowe or Montholon having to poison him. Thankfully a new conspiracy theory about his body's disappearance has appeared lately. The proponents of the theory that an unknown corpse was substituted for Napoleon's – such as the body of his butler, Cirpriani, who died at Longwood – have such fertile imaginations for discovering new "proofs" of this theory that it is once again necessary to put a stop to this hypothesising using the tools of historical accuracy and cold, hard fantasy-free logic. So one more time – Napoleon I is truly buried at Les Invalides.
Some believe that the horse skeleton is that of Marengo – Napoleon's favorite Arabian horse. Actually the real skeleton, which is usually on display at London's National Army Museum, was too fragile to display hanging from the ceiling so a composite model was created and Memento Marengo is what now hangs from the ceiling of the Dôme church.
Cemetery Information:
Final Resting Place:
Les Invalides
129 Rue de Grenelle
Paris, 7th arrondissement, 75007
France
Europe
Map: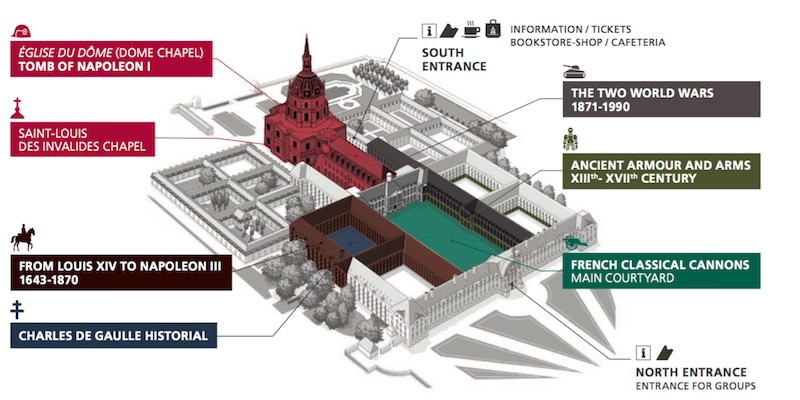 Map courtesy of Paris Insider's Guide
Grave Location:
Dôme des Invalides
Grave Location Description
Napoleon Bonaparte's tomb is placed in the chapel of Saint-Jérôme, a side chapel of the Dome church, part of the Les Invalides. The entrance is on the upper level. There, you're surrounded by murals, gold detailing, and sculptures. To get a closer look at the tomb, head downstairs. You'll be met at the bottom of the crypt by two giant statues. The door to the crypt is made from canon from Austerlitz, one of Napoleon's most famous victories. Napoleon's tomb takes center stage, lying directly under Les Invalides' dome.
Grave Location GPS
48.855021, 2.312417
---
Visiting The Grave:
Photos:
Read More About Napoleon Bonaparte:
Videos Featuring Napoleon Bonaparte:
See More:
Back to Top