WARNING: EXPLICIT MATERIAL
Nicole Brown Simpson
Birth Place:
Frankfurt, West Germany
Death Date:
June 12, 1994
Place of Death:
875 South Bundy Drive in Brentwood, Los Angeles, California.
Cause of Death:
Stabbed seven times in the neck and scalp; 5.5 inch slit across her throat which severed both carotid arteries and breached her jugular veins
Cemetery Name:
Ascension Cemetery
Claim to Fame:
Crime and their Victims
Nicole Brown Simpson was the ex-wife of former professional football player and occasional actor O. J. Simpson, to whom she was married from 1985 to 1992, and the mother of their two children, Sydney and Justin. She was killed in front of her condo in Los Angeles, California, on June 12, 1994, along with her friend, restaurant waiter Ron Goldman. Simpson, who had a legal history of physically abusing, stalking and making death threats toward Brown, was arrested and charged with both killings. Despite a controversial and highly publicized criminal trial with both circumstantial and physical evidence that linked Simpson to the killings, Simpson was acquitted of all charges, though he was later found liable for both deaths in a civil lawsuit in 1997.
---
To give you the idea of the brutality of the crime that O.J. Simpson was found "not guilty" of, the autopsy determined that Brown had been stabbed seven times in the neck and scalp, and had a 14 cm-long (5.5 inches) gash across her throat, which had severed both her left and right carotid arteries and breached her right and left jugular veins. The wound on Brown's neck was so severe it had penetrated a depth of 1.9 cm (0.75 inches) into her cervical vertebrae, nearly decapitating her. She also had defensive wounds on her hands.
It's hard to believe, but though Denise Brown continued to assert that Simpson murdered Nicole, Lou and Juditha Brown both expressed their support for Simpson and their relief that he would be reunited with his children.
Cemetery Information:
Final Resting Place:
Ascension Cemetery
24754 Trabuco Road
Lake Forest, California, 92630
USA
North America
Map: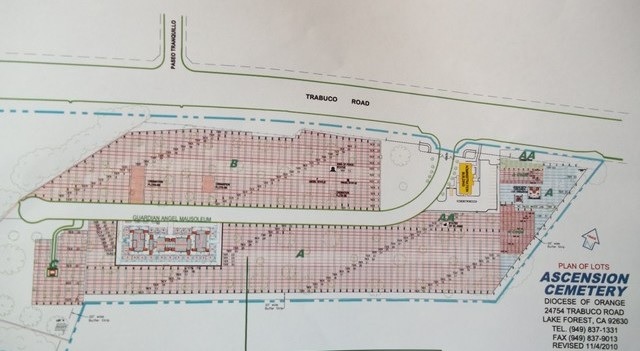 Map of Ascension Cemetery in Lake Forest, California
Grave Location:
Section A, Tier 17, Grave 97
Grave Location Description
When you enter the gate the road will curve to the right. Almost at the end, look on the left for "80", and park there. Every grave going downhill is grave 80. The 15th row down is George Burns (but not THAT George Burns). Turn left, and count 17 markers. The graves are very well marked.
Grave Location GPS
33.651406, -117.696292
---
Visiting The Grave:
Photos:
Read More About Nicole Brown Simpson:
Videos Featuring Nicole Brown Simpson:
See More:
Back to Top