WARNING: EXPLICIT MATERIAL
Roy DeMeo
Birth Name:
Roy Albert DeMeo
Birth Date:
September 7, 1940
Birth Place:
New York, New York
Death Date:
January 10, 1983
Place of Death:
Patrick "Patty" Testa Home, Brooklyn, New York
Cause of Death:
Homicide - gunshot wounds
Cemetery Name:
St. John Cemetery
Claim to Fame:
Crime and their Victims
Roy DeMeo's rise from teen-age loan shark in Brooklyn to capo in the Gambino crime family, leading a crew known as the DeMeo gang that did contract murders and ran the biggest auto theft rings in New York history. The crew's headquarters was the Gemini Club in Brooklyn, where they disposed of the bodies by draining them of blood in the shower and then slicing them into pieces, to put in garbage bags. It became known as the "Gemini method" and appalled even seasoned mobsters, including Paul Castellano, who succeeded Gambino as boss of New York's largest crime family in 1976. In 1983, Roy DeMeo began being investigated by federal prosecutors. He was killed that year, and law enforcement officials and Al DeMeo agree that the killers were members of Roy's own crew, who feared that Roy would cooperate with the feds. When it was all said and done, Roy DeMeo most likely actively participated in 38 murders and his crew was credited with at least another 100 killings. The exact number will never be known as most bodies were never recovered.
---
Who Killed Roy DeMeo
Short answer – his own crew.
Long answer – On January 10, 1983 Roy DeMeo attended a meeting at the home of Patrick "Patty" Testa's home. Most believe that fellow crew members  Nino Gaggi, Patty Testa, Anthony Senta and Joseph Testa were present and participated in the contract killing ordered by Paul Castellano of DeMeo. However in the book by Philip Carlo on Anthony Casso's life it states that Gaggi wasn't present and that DeMeo was seated about to drink a cup of coffee when the other 3 opened fire on him. Other stories emerged that Richard "The Iceman" Kuklinski carried out the hit but most disregard his ever-changing story.
Still others say that DeMeo was lured to a garage in Brooklyn used by the car ring where the 42-year-old DeMeo met with his trusted comrade and mentor, Anthony "Nino" Gaggi, a Gambino capo 15 years his senior. He'd known Nino since 1965 however Nino had to obey Castellano's hit command. No sooner had DeMeo removed his jacket than Nino opened fire.
Turns out the original contract to kill Roy DeMeo given to John Gotti along with Gene Gotti and Frank DeCicco. But they all passed on the contract as they feared DeMeo and his crew.
Cemetery Information:
Final Resting Place:
St. John Cemetery
80-01 Metropolitan Avenue
Middle Village, New York, 11379
USA
North America
Map: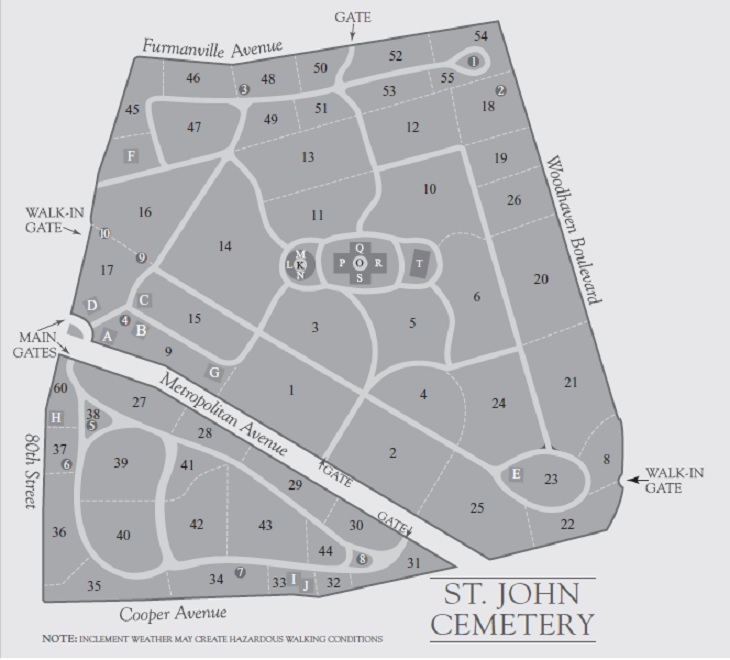 Map of St. John Cemetery in Queens, New York
Grave Location:
Section 14, Range A, Plot 32
Grave Location Description
As you drive around Section 14 look for the black, mid-sized upright monument with a cross and four unpronounceable names along the road and the final resting place of Roy DeMeo is directly behind that monument.
Grave Location GPS
40.71545903, -73.87000208
Photos:
Read More About Roy DeMeo:
Videos Featuring Roy DeMeo:
See More:
Back to Top