Samuel Colt
Birth Date:
July 19, 1814
Birth Place:
Hartford, Connecticut
Death Date:
January 10, 1862
Place of Death:
Armsmear, 80 Wethersfield Avenue, Hartford, Connecticut
Cause of Death:
Complications of gout
Cemetery Name:
Cedar Hill Cemetery
Claim to Fame:
Business and Finance
Samuel Colt was an inventor, industrialist, and businessman who established Colt's Patent Fire-Arms Manufacturing Company (now Colt's Manufacturing Company) in Hartford, Connecticut and made the mass production of revolvers commercially viable. Colt's first two business ventures were producing firearms in Paterson, New Jersey, and making underwater mines; both ended in disappointment. His business affairs improved rapidly after 1847, when the Texas Rangers ordered 1,000 revolvers during the American war with Mexico. Later, his firearms were used widely during the settling of the western frontier. Colt's success came from his sophisticated manufacturing methods such as the use of interchangeable parts which helped him become one of the first to use the assembly line efficiently. Moreover, his innovative use of art, celebrity endorsements, and corporate gifts to promote his wares made him a pioneer of advertising, product placement, and mass marketing. Colt died in 1862 as one of the wealthiest men in America worth in excess of $440 million in today's money.
Cemetery Information:
Final Resting Place:
Cedar Hill Cemetery
453 Fairfield Avenue
Hartford, Connecticut, 06114
USA
North America
Map: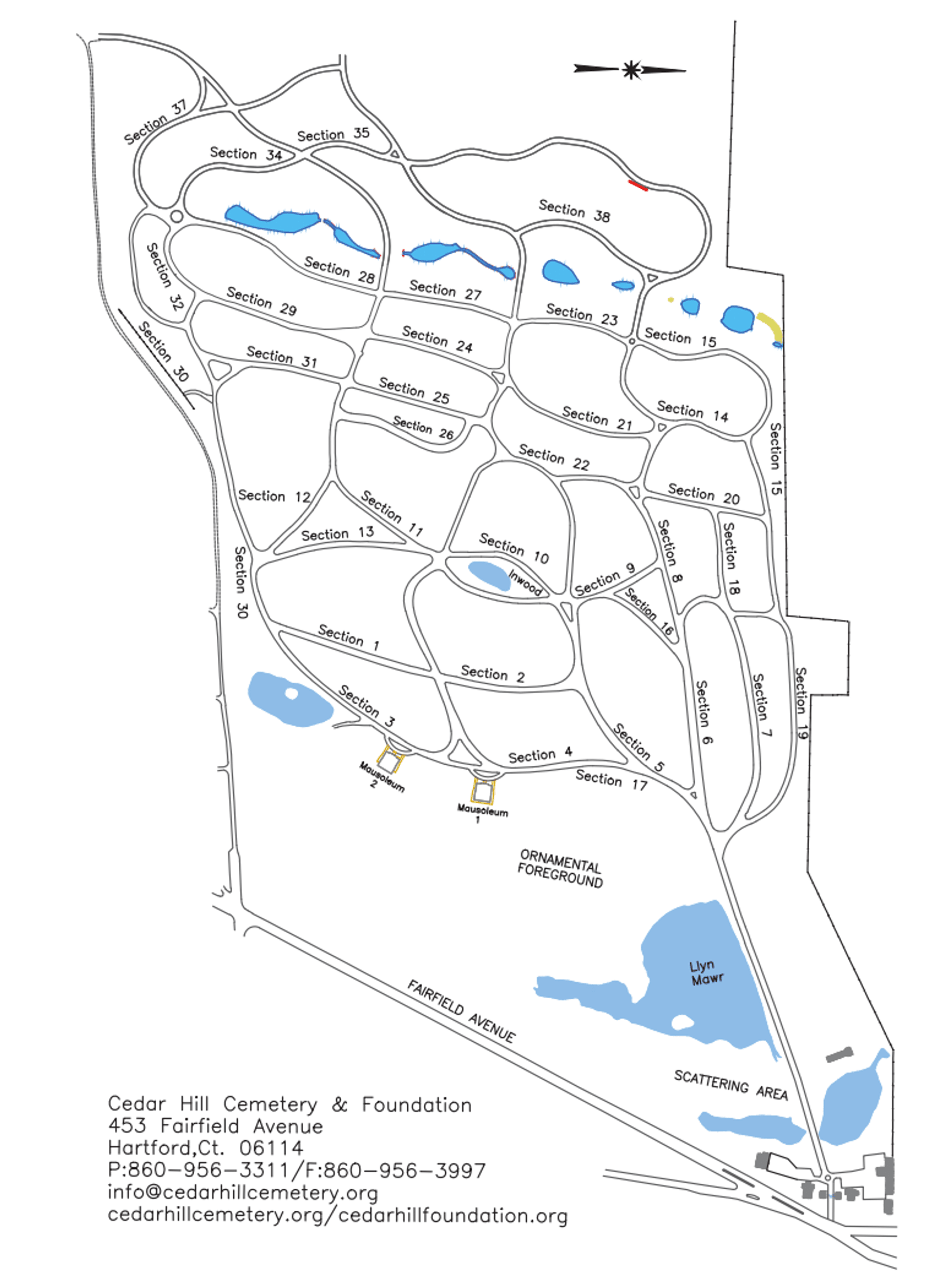 Map of Cedar Hill Cemetery in Hartford, Connecticut
Grave Location:
Section 2, Lot 2, Grave 1
Grave Location Description
As you enter the cemetery through the narrow gate continue on with the lake on your left. After the lake ends turn left at the first opportunity. Drive to the second intersection on the right and turn right (there is an outdoor mausoleum on your left). Drive to the next section and look to your left for the tall monument marking the final resting place of Samuel Colt.
Grave Location GPS
41.7220940, -72.6991610
---
Visiting The Grave:
Photos:
Read More About Samuel Colt:
Videos Featuring Samuel Colt:
See More:
Back to Top