Walt Hazzard
Birth Name:
Walter Raphael Hazzard Jr.
Birth Date:
April 15, 1942
Birth Place:
Wilmington, Delaware
Death Date:
November 18, 2011
Place of Death:
UCLA Medical Center, Los Angeles, California
Cause of Death:
Complications following heart surgery
Cemetery Name:
Rose Hills Memorial Park
Walter Hazzard was an American professional basketball player and college basketball coach. Hazzard attended Overbrook High School in Philadelphia, where his teams went 89–3 and he was named the city's player of the year when he was a senior. He played in college for the UCLA Bruins and was a member of their first national championship team in 1964 - the same year Hazzard also won a gold medal that year with the US national team at the 1964 Summer Olympics. UCLA's first undefeated season in 1963–64 was in no small part due to Hazzard, his backcourt partner Gail Goodrich, and coach John Wooden. The team won its first NCAA Championship, and Hazzard was selected by the Associated Press as the tournament's Most Valuable Player. Hazzard began his pro career in the National Basketball Association (NBA) with the Los Angeles Lakers, who selected him a territorial pick in the 1964 NBA draft. While playing for the SuperSonics in their inaugural 1967–68 season, Hazzard scored a career high 24.0 points per game, averaged 6.2 assists per game, and was selected to play in the 1968 NBA All-Star Game. After his playing career ended, he was the head coach at UCLA during the 1980s.
---
Fun Facts
Hazzard and his wife Jaleesa had four children: Yakub, Jalal, Rasheed, and Khalil, the latter being a record producer, well known in hip hop circles by the stage name DJ Khalil.
On March 22, 1996, Hazzard was hospitalized following a stroke. Although he made a substantial recovery over the ensuing years, his health never returned in full and subsequent to his illness he was much less active in the public sphere. Shortly after the stroke, Lakers owner Jerry Buss promised Hazzard's family that he would remain on the team's payroll as long as Buss owned the team. Hazzard remained a Lakers employee for the rest of his life.
Cemetery Information:
Final Resting Place:
Rose Hills Memorial Park
3888 Workman Mill Road
Whittier, California, 90601
USA
North America
Map: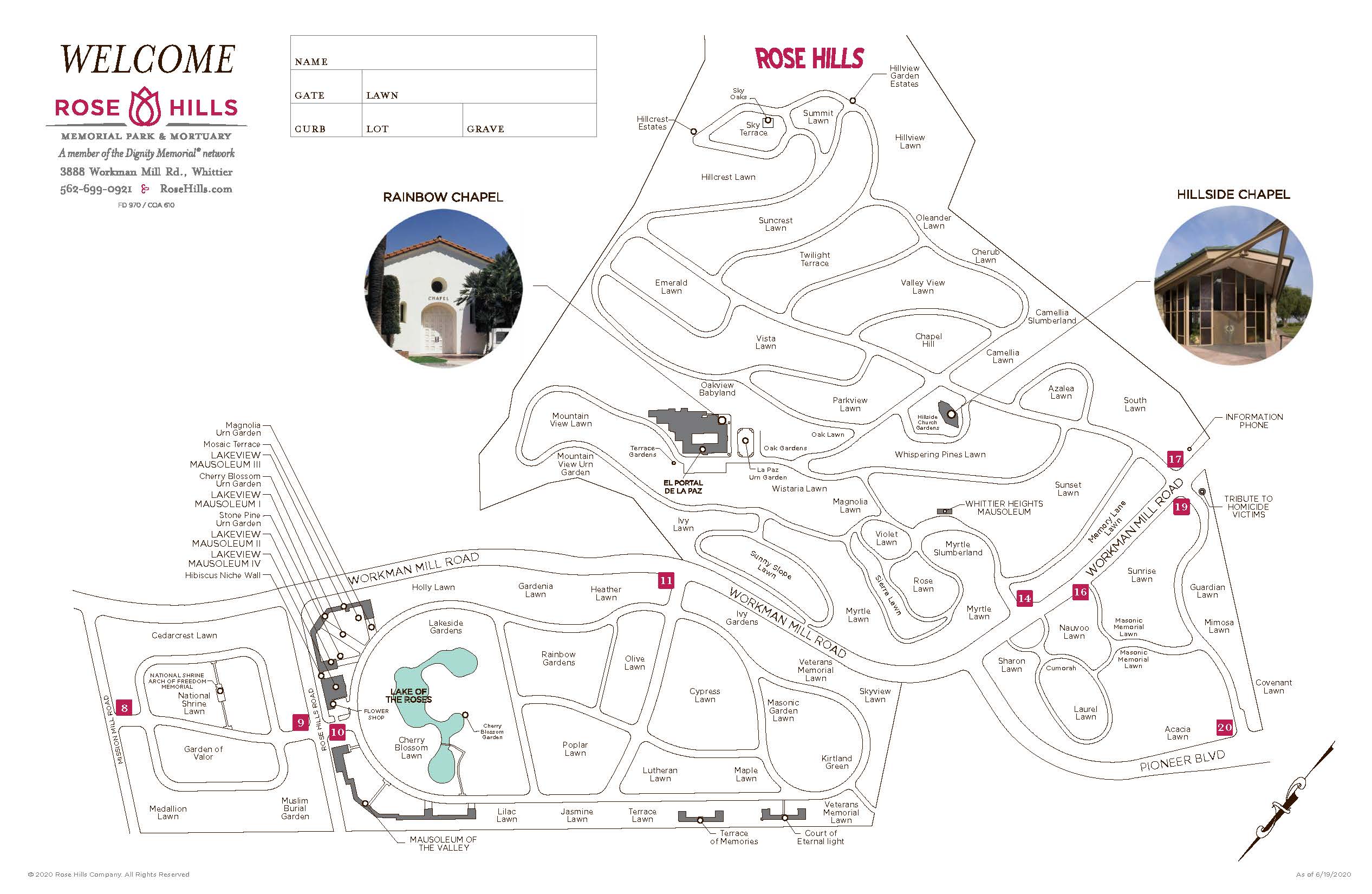 Map of Rose Hill Memorial Park in Whittier, California
Grave Location:
Muslim Burial Garden, Gate 9, Section 1, Lot 1207, Grave 1
Grave Location Description
Enter the annex to the cemetery through Gate 9 (across from the flower shop). Drive a short distance and turn left at the first chance. Drive straight ahead to the curve in the road park at 114/121 on the curb. Walk toward the hedge and go through the gap in the hedge there is only 1 opening). The rows are diagonal, but walk straight ahead to the 4th row to the final resting place of Walt Hazzard.
Grave Location GPS
34.0156528,-118.0485646
Photos:
Read More About Walt Hazzard:
Videos Featuring Walt Hazzard:
Back to Top