Joe Dugan
Birth Name:
Joseph A. Dugan
Birth Place:
Mahanoy City, Pennsylvania
Place of Death:
Norwood Hospital, Norwood, Massachusetts
Cause of Death:
Pneumonia following a stroke
Cemetery Name:
Mount Calvary Cemetery
After a slow start with Connie Mack's Philadelphia Athletics baseball team, Jumping Joe Dugan eventually made his way to the fabled New York Yankees where he developed into one of the greatest defensive third baseman and played in five World Series with the Yankees. Despite his solid record, he never made it into the Baseball Hall of Fame.
---
Fun Fact
Jumping Joe Dugan did not get his nickname for his athletic leaping ability. Rather, due to his sensitive nature, he would take unauthorized leaves from the team for a couple of days if he felt insulted or attacked in anyway. Consequently opposing team fans would taunt the famed third baseman with cries of "I want to go home!"
When Connie Mack made a visit to the Dugan family to recruit the young baseball standout, Joe Dugan, Mack, himself the son of Irish immigrants, made a surprise recruiting visit thinking he could charm the family and  made his pitch. Then, he left added incentive on the kitchen table in the form of five one-hundred dollar bills. The understanding was that when Joe was ready to sign, it would be with Philadelphia. Dugan, who enjoyed recounting the story, recalled his father's jubilation. "For $500 you can take the whole family!" Joe's father exclaimed.
In 1929 when Helen Woodford Ruth (Babe Ruth's first wife) died in a housefire in Watertown, Massachusetts, the day of the fire, Babe Ruth was in New York working out at a gym in Manhattan. On Jan. 12, 1929, he received word of Helen's death while at a party in the Westchester home of his teammate Joe Dugan.
Cemetery Information:
Final Resting Place:
Mount Calvary Cemetery
366 Cummins Highway
Roslindale, Massachusetts, 02131
USA
North America
Map: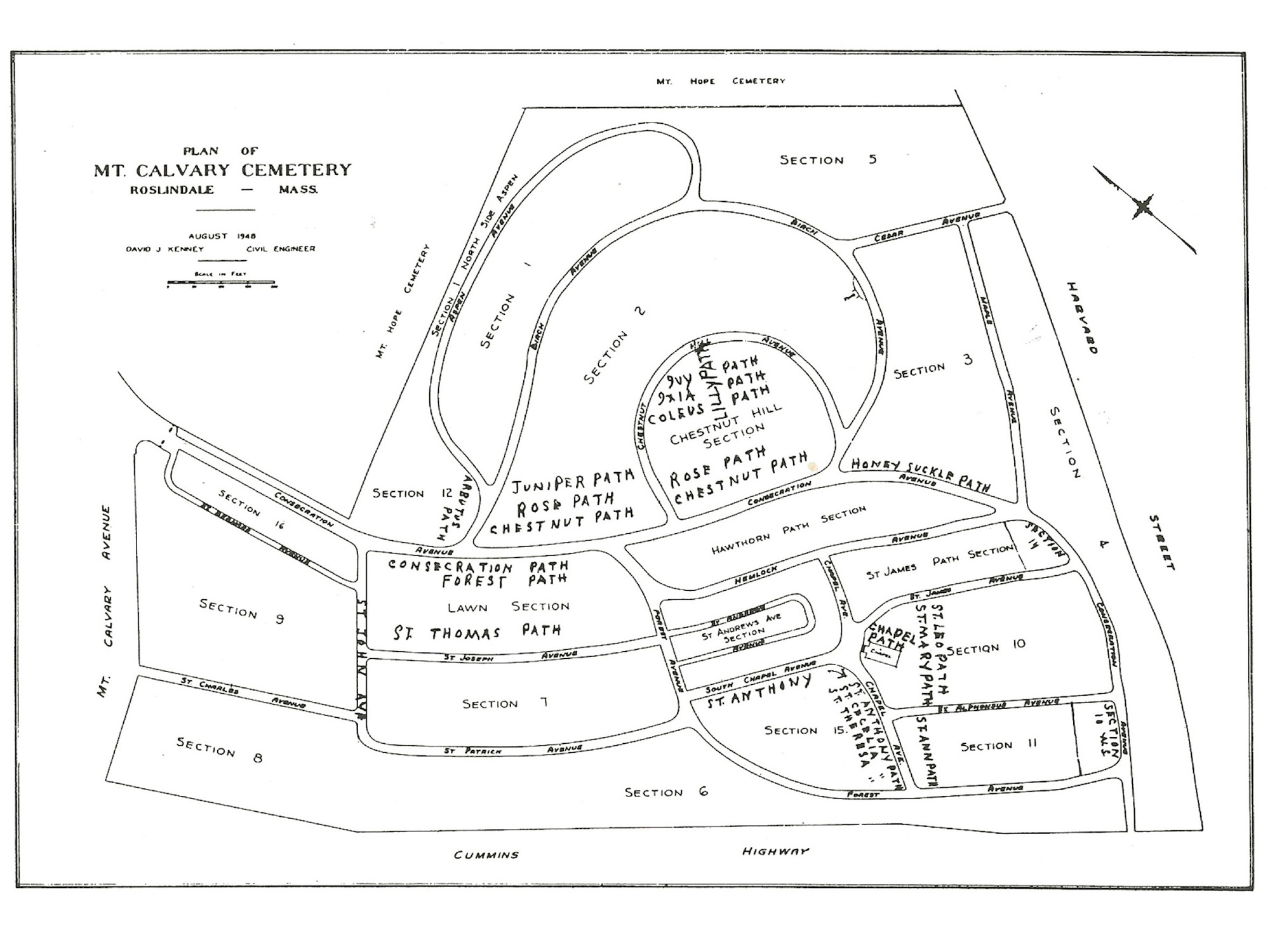 Map of Mount Calvary Cemetery in Roslindale, Massachusetts
Grave Location:
Section 19, Grave 241
Grave Location Description
From Cummins Highway turn at the office onto Mt. Calvary Avenue and take the second entrance on your right. Park near the entrance and that is Section 19 bordering Consecration Avenue. Walk approximately 12 rows up the center of Section 19 (it's a narrow strip of graves) and you will easily find Jumping Joe Dugan's final resting place.
Grave Location GPS
42.27893031, -71.11340242
---
Visiting The Grave:
Photos:
Read More About Joe Dugan:
Videos Featuring Joe Dugan:
See More:
Back to Top