Will White
Birth Name:
William Henry White
Birth Date:
October 11, 1854
Birth Place:
Canton, New York
Death Date:
August 31, 1911
Place of Death:
Port Carling, Ontario, Canada
Cemetery Name:
Forest Lawn Cemetery
William "Whoop-La" White was an American baseball pitcher and manager from 1875 to 1889. He played all or parts of 10 seasons in Major League Baseball, primarily for the Cincinnati Reds in the National League (1878–1879) and the Cincinnati Red Stockings in the American Association (1882–1886). He had three 40-win, and one 40-loss, seasons in Cincinnati. During the 1882 and 1883 seasons, he led the American Association in wins, compiling an 83–34 win–loss record and a 1.84 earned run average (ERA). Over the course of 10 major league seasons, White compiled a 229–166 record with a 2.28 ERA. His career ERA ranks ninth on the all-time list of Major League Baseball career ERA leaders. White also set a number of major league pitching records and still holds several. His 1879 totals of 75 complete games, 75 games started, 680 innings pitched, and 2,906 batters faced remain major league records. Overlooked no longer, he was named to the National Baseball Hall of Fame in 2013. Will never became quite as famous as his older brother, but his accomplishments in his short career were as impressive as those of several Hall of Fame pitchers. He has been compared to Addie Joss, Dizzy Dean and Sandy Koufax, all of whom are in Cooperstown.1 He won more major league games than any of that immortal trio and had a better earned run average than either Dean or Koufax.
---
Fun and Not-So-Fun Facts
Will White accomplished another major league first. He was the first, and for many years the only, major league player to wear eyeglasses on the baseball field. In a later account of White's early years, The Sporting Life wrote: "White was about the only pitcher of consequence who wore glasses. He had great control of the ball, and he could land one over the plate whenever he wanted to notwithstanding he was handicapped by weak eyes."
In 1877, White's older brother, Deacon White, was playing at first base for the Boston Red Caps of the National League. Deacon, by then an established veteran, brought Will with him to Boston for a tryout. Will was given a three-game tryout with the Red Caps, making his major league debut on July 20, 1877, at age 22. Deacon White, went on to play catcher (reportedly without a glove) for the Cleveland Forest Citys, Boston Red Caps, Chicago Cubs, Cincinnati Reds, Buffalo Bisons, Detroit Wolverines, and the Pittsburgh Pirates, from 1871 to 1890, and was elected long after-the-fact to the Major League Baseball Hall of Fame in 2013. Will also had a cousin, Elmer White, who was an outfielder for a single season (1871) during baseball's very early days.
Will White was not a typical ballplayer for his era. In a time when many ballplayers were heavy drinkers, who sometimes showed up with hangovers after a night on the town, White did not waste his money on women and drink. Instead he invested not in a saloon, but in a tea shop on Market Street in downtown Cincinnati, where he worked behind the counter in the offseason.
White died in August 1911 at his summer home in Port Carling, Ontario, Canada. The cause of death was drowning when,  according to one account, he was teaching his niece to swim and suffered a heart attack while in the water and died.
Cemetery Information:
Final Resting Place:
Forest Lawn Cemetery
1990 Main Road
Buffalo, New York, 14208
USA
North America
Map: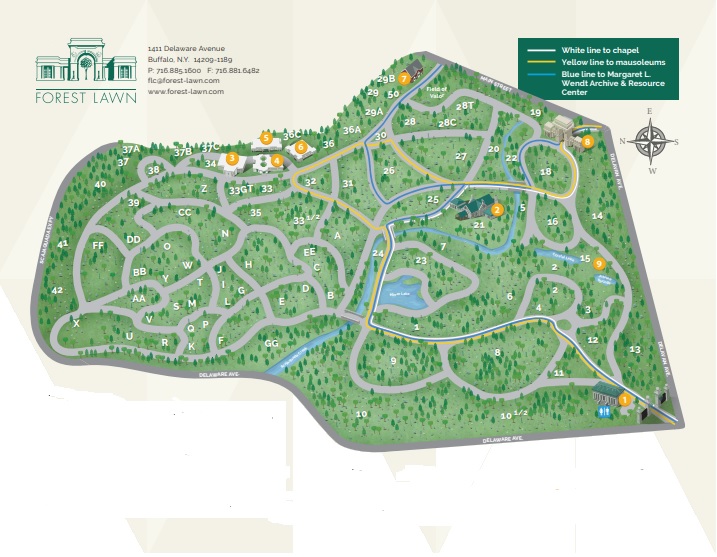 Grave Location:
Section 15, Lot 58, Grave 1
Grave Location Description
As you enter the main entrance of the cemetery take the first right and drive three sections and turn left at Section 15. Drive 200 feet to the Section 15 sign on your left. Count 8 graves to the left of the sign and 6 rows into the section towards the lake. Look for the Klein monument and directly behind your will find the final resting place of baseball semi-legend Will White along with his wife and daughter.
Grave Location GPS
42.922954363763196, -78.86197971354055
Photos:
Read More About Will White:
Videos Featuring Will White:
See More:
Back to Top