Angelo Genna
Birth Date:
February 3, 1898
Birth Place:
Marsala, Sicily, Italy
Place of Death:
Evangelical Deaconess Hospital, Chicago, Illinois
Cause of Death:
Homicide - gunshot wounds
Cemetery Name:
Mount Carmel Catholic Cemetery
Claim to Fame:
Crime and their Victims
Angelo Genna ran the Genna Brothers crime family which was involved primarily in bootlegging during the Prohibition era of the 1920s. Angelo Genna, with the blessing of Johnny Torrio, masterminded the hit on Dean O'Brion (mob boss of the North Side Gang) in his flower shop. In retaliation Genna met the same fate on May 26, 1925, when Bugs Moran, Vincent "The Schemer" Drucci, and Hymie Weiss shot and wounded Genna numerous times during a high-speed car chase. Genna died later that night without revealing who shot him.
---
Fun Fact
Just one month after Angelo Genna was gunned-down by the North Side Gang, two more Genna brothers met similar fates.  On June 13, 1925, Mike "The Devil" Genna was gunned down by police after a shootout with the North Siders. Antonio "Gentleman" Genna was shot to death on July 8, 1925 in an ambush. The remaining three brothers Jim, Sam, and Pete all fled Chicago and all died of routine, non-bullet related health issues.
Cemetery Information:
Final Resting Place:
Mount Carmel Catholic Cemetery
1400 S. Wolf Road
Hillside, Illinois, 60162
USA
North America
Map: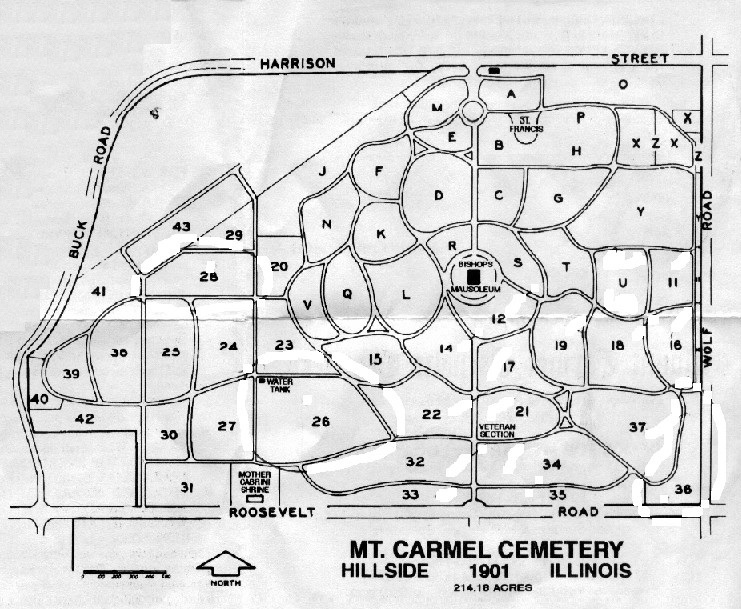 Grave Location:
Section 17
Grave Location Description
On the road in Section 17 directly across from Section 14. Interesting to note that all six Terrible Genna Brothers are buried together in this family mausoleum.
Grave Location GPS
41.8649253, -87.9071128
Photos:
Read More About Angelo Genna:
Videos Featuring Angelo Genna:
See More:
Back to Top