WARNING: EXPLICIT MATERIAL
Anton Schuessler Jr.
Birth Name:
Anton Schuessler Jr.
Birth Date:
November 12, 1943
Birth Place:
Chicago, Illinois
Death Date:
October 16, 1955
Place of Death:
Robinson Woods Forest Preserve, Chicago, Illinois
Cemetery Name:
Saint Joseph Cemetery
Claim to Fame:
Crime and their Victims
Anton Schuessler Jr. was a young boy who was brutally raped and murdered with his brother John Schuessler and friend Robert Peterson in 1955. The crime scene where the bodies where found was largely contaminated by investigators and photographers who destroyed important evidence. This murder case remained unsolved for 40 years until stable handyman Kenneth Hansen became a suspect (along with his boss Silas Jayne) thanks to evidence that was unearthed as a result of an investigation into another sensational cold case - the 1977 murder of candy-company heiress Helen Vorhees Brach.
---
One thing that all of these murders have in common… Silas Jayne. Silas Jayne is suspected being directly responsible for or ordering the murders of:
— the 1955 disappearance and murder of John Schuessler, aged 13, his brother Anton Jr., aged 11, and their friend Robert Peterson, aged 14
— the 1977 disappearance and murder of Brach's candy heiress Helen Brach
— the 1965 murder of Cheryl Lynn Rude of a car bombing
— the 1966 disappearance and murder of Ann Miller, 21, Patricia Blough, 19, and Renee Bruhl, 20 (these women may have been witnesses to the planting of the car bomb that killed 22-year-old Cheryl Lynn Rude)
— 1969 murder of Frank Michelle Jr. (Silas successfully claimed self-defense despite the fact that Michelle was shot nine times, and with three different weapons: an M1 carbine and .22- and .38-caliber pistols, and Silas reportedly boasted of crushing the man's testicles, using vise-grip pliers)
— In 1973, Jayne went to prison for the murder of his half brother, George Jayne, who he had hired a hitman to kill George Jayne
Cemetery Information:
Final Resting Place:
Saint Joseph Cemetery
3100 North Thatcher Avenue
River Grove, Illinois, 60171-1099
USA
North America
Map: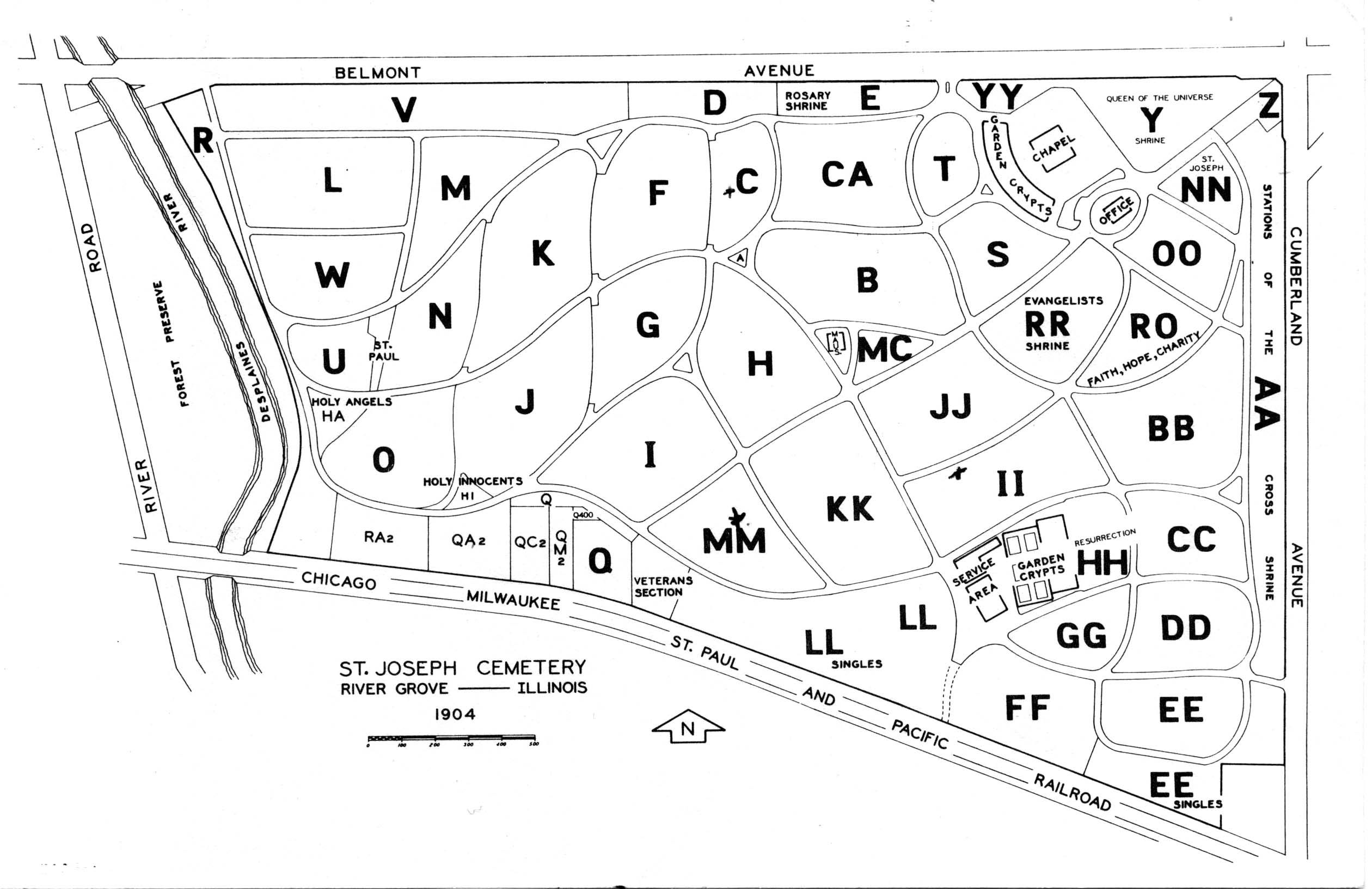 Grave Location:
Section L, Lot #237
Grave Location Description
Anton Schuessler Jr. is buried in Section L which is in the northwest corner of the cemetery, near Belmont Avenue and Desplaines River. The location of the grave is about a 7 minute drive (0.3 miles) from the northeast entrance on Belmont Avenue. After entering the cemetery turn right and head due west for 0.2 miles. At the intersection, make a slight right to continue heading due west for another 0.1 miles. The grave is in the northeast section of Section L.
Grave Location GPS
41.936554, -87.846268
---
Visiting The Grave:
Photos:
Read More About Anton Schuessler Jr.:
Videos Featuring Anton Schuessler Jr.:
See More:
Back to Top