Antonio Salieri
Birth Name:
Antonio Salieri
Birth Date:
August 18, 1750
Birth Place:
Legnago, Republic of Venice
Place of Death:
Vienna Allgemeine Krankenhaus, Vienna, Austria
Cause of Death:
Effects of dementia caused by a head wound
Cemetery Name:
Der Wiener Zentralfriedhof
Antonio Salieri was an Italian classical composer, conductor, and teacher. Salieri was a pivotal figure in the development of late 18th-century opera. As a student of Florian Leopold Gassmann, and a protégé of Christoph Willibald Gluck, Salieri was a cosmopolitan composer who wrote operas in three languages. Salieri helped to develop and shape many of the features of operatic compositional vocabulary, and his music was a powerful influence on contemporary composers. Appointed the director of the Italian opera by the Habsburg court, a post he held from 1774 until 1792, Salieri dominated Italian-language opera in Vienna. During his career, he also spent time writing works for opera houses in Paris, Rome, and Venice, and his dramatic works were widely performed throughout Europe during his lifetime. Even as his works dropped from performance, and he wrote no new operas after 1804, he still remained one of the most important and sought-after teachers of his generation, and his influence was felt in every aspect of Vienna's musical life. Franz Liszt, Franz Schubert, Ludwig van Beethoven, Anton Eberl, Johann Nepomuk Hummel and Franz Xaver Wolfgang Mozart were among the most famous of his pupils. In the last year of his life he struggled with health issues related to a head injury and passed away at the age of 74.
---
The Antonio Salieri Rumour
Although he was one of the most important Viennese composers of his time, he is mainly remembered today as the villain in Peter Shaeffer's 1979 play Amadeus. The play, which was later made into a film of the same name in 1984, presents Salieri as a mediocre musician who becomes Wolfgang Amadeus Mozart's archenemy out of jealousy. After sabotaging Mozart's career and having a role in his death, Salieri eventually ends up in an insane asylum following a suicide attempt. In a futile effort to be remembered, Salieri leaves behind a confession that he had poisoned the great composer but eventually dies in obscurity.
Fortunately for Salieri's legacy, none of this is true.
While the movie is entertaining on it's own merits. Antonio Salieri did not poison Mozart, he was not a mediocre musician, Salieri and Mozart were not bitter enemies (actually they had a cordial relationship), Salieri did not make a deathbed confession and he did not die in an insane asylum. Yet despite all the inaccuracies in the movie, Antonio Salieri did enjoy a resurgence of interest in his music, was subject of increasing academic study, and a small number of his operas have returned to the stage. In addition, there is now a Salieri Opera Festival sponsored by the Fondazione Culturale Antonio Salieri and dedicated to rediscovering his work and those of his contemporaries.  In 2001, his triple concerto was used in the soundtrack of The Last Castle, featuring Robert Redford and James Gandolfini.
Cemetery Information:
Final Resting Place:
Der Wiener Zentralfriedhof
1110 Wien
Simmeringer Hauptstraße 234, Vienna,
Austria
Europe
Map: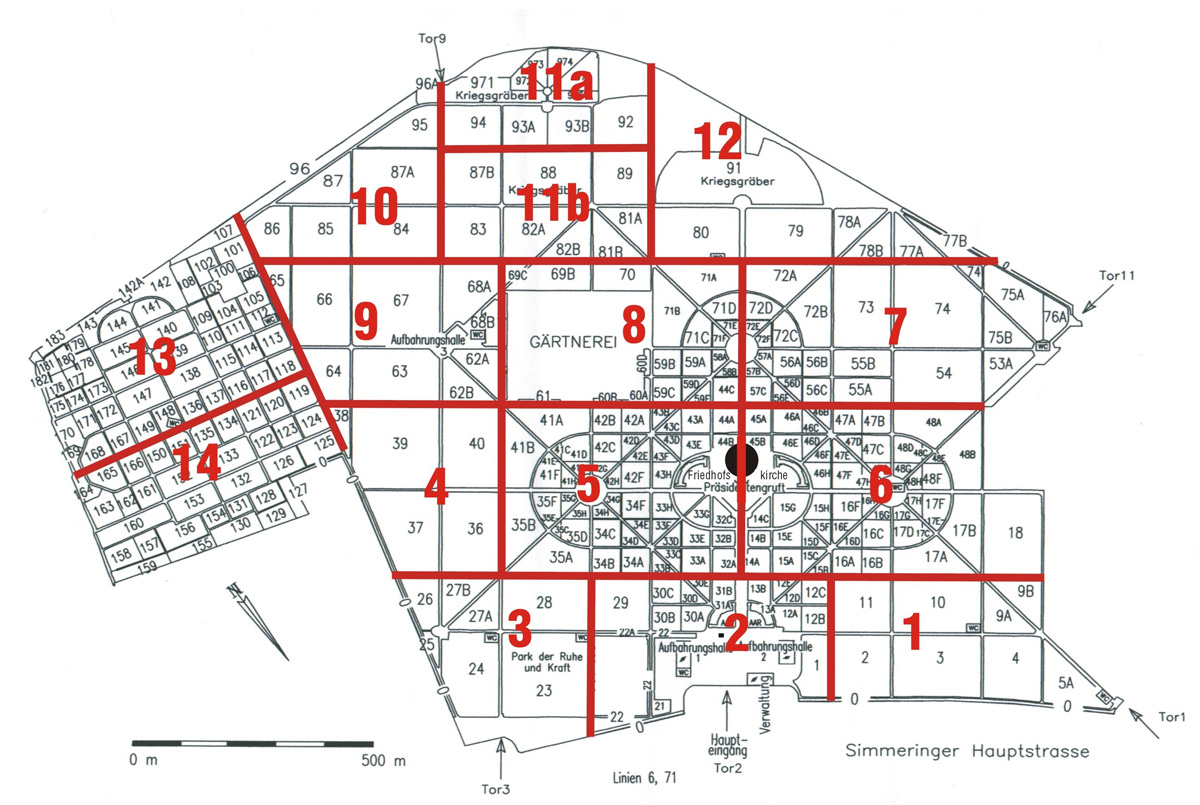 Map of der Wiener Zentralfriedhof in Vienna, Austria
Grave Location:
Gruppe 0, Reihe 1, Grab Nr. 54
Grave Location Description
As you enter the cemetery through Tor 2 (Gate 2) drive straight ahead past the stripped crosswalk and take the second left turn. Drive towards the Zentralfriedhof Hall 1 on your left and when you come to the end of the building, turn left and drive to the end of the road. Take a right when the road ends at the perimeter of the cemetery grounds and drive to the intersection where the road splits and park your car. Look to your left for the final resting place along the wall of Antonio Salieri.
Grave Location GPS
48.1536241,16.4446710
Photos:
Read More About Antonio Salieri:
Videos Featuring Antonio Salieri:
See More:
Back to Top