Birth Name:
Audie Leon Murphy
Birth Date:
June 20, 1925
Birth Place:
Kingston, Texas
Place of Death:
Brush Mountain, Roanoke, Virginia
Cause of Death:
Plane crash
Cemetery Name:
Arlington National Cemetery
Claim to Fame:
Show Business
He wanted to join the Marines, but he was too short. The paratroopers wouldn't have him, either. Reluctantly, he settled on the infantry, and ultimately became one of the most decorated heroes of World War II. He was Audie Murphy, the baby-faced Texas farm boy who became an American legend. Dropping out of school in the fifth grade to earn money picking cotton, he was 16 years old when his mother died and watched as his siblings as they were doled out to an orphanage or to relatives. Seeking an escape from this difficult life, Murphy enlisted in the Army in 1942 — falsifying his birth certificate so that he appeared to be 18, one year older than he actually was. By the end of World War II, Murphy had become one of the nation's most-decorated soldiers, earning an unparalleled 28 medals (including three from France and one from Belgium). Murphy had been wounded three times during the war. In May 1945, when victory was declared in Europe, he had still not reached his 21st birthday. In 1949 Audie Murphy published his acclaimed autobiography, To Hell and Bank, then spent the next 21 years in Hollywood, most famously portraying himself in the movie of the same name. Mostly he played Westerns. Despite a steady stream of income, Murphy's horseracing addiction led to financial difficulties, though he refused to appear in commercials for alcohol and cigarettes, thinking it a bad influence on children.
---
Fun Facts
His final residence when he passed away was 4201 Toluca Road in West Hollywood, California 91602.
Cemetery Information:
Final Resting Place:
Arlington National Cemetery
1 Memorial Avenue
Arlington, Virginia, 22211
USA
North America
Map: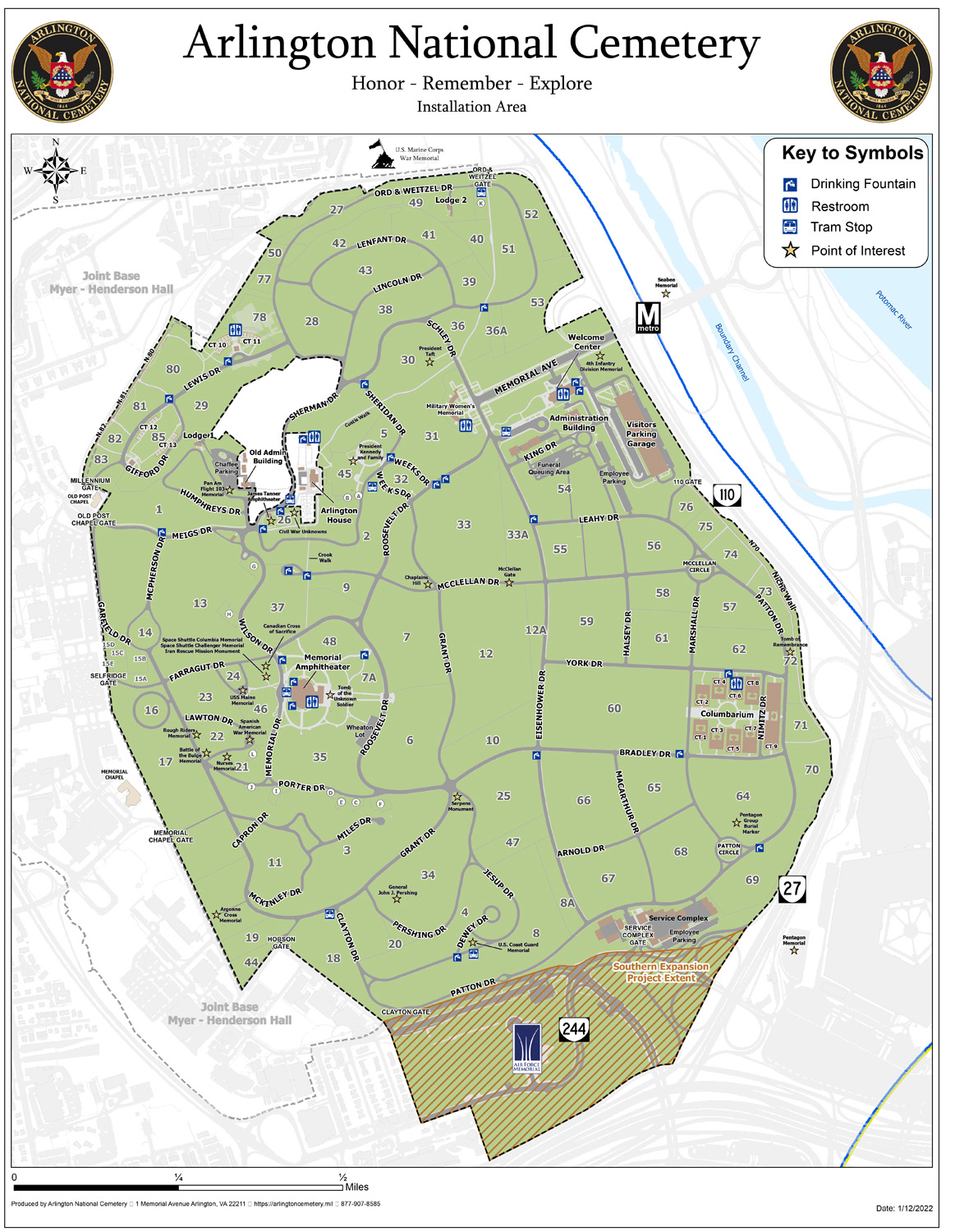 Map of Arlington National Cemetery in Washington D.C.
Grave Location:
Section 46, Grave 366-11
Grave Location Description
Audie Murphy is buried in Section 46 about 50 feet off Memorial Drive, just across from the Memorial Amphitheater. A special flagstone walkway has been constructed to accommodate the large number of people who stop to pay their respects to this hero.
Grave Location GPS
38.8760300, -77.0738754
Photos:
Read More About :
Videos Featuring :
See More:
Back to Top