WARNING: EXPLICIT MATERIAL
Jayne Mansfield
Birth Name:
Vera Jayne Palmer
Birth Date:
April 19, 1933
Birth Place:
Bryn Mawr, Pennsylvania
Death Date:
June 29, 1967
Place of Death:
One mile west of the New Rigolets Bridge on Hwy 90, Slidell, Louisiana,
Cause of Death:
Brain trauma sustained in automobile crash
Cemetery Name:
Fairview Cemetery
Claim to Fame:
Show Business
Jayne Mansfield was an American actress, singer, model, nightclub entertainer, and Playboy Playmate. A sex symbol of the 1950s and early 1960s while under contract at 20th Century Fox, Mansfield was known for her well-publicized personal life and publicity stunts. Her film career was short-lived, but she had several box-office successes and won a Theatre World Award and a Golden Globe Award. Mansfield enjoyed success in the role of fictional actress Rita Marlowe in the Broadway play Will Success Spoil Rock Hunter? (1955–1956), which she reprised in the film adaptation of the same name (1957). Her other film roles include the musical comedy The Girl Can't Help It (1956), the drama The Wayward Bus (1957), the neo-noir Too Hot to Handle (1960), and the sex comedy Promises! Promises! (1963); the latter established Mansfield as the first major American actress to perform in a nude scene in a post-silent era film. Mansfield took her professional name from her first husband, public relations professional Paul Mansfield. She married three times, each marriage ending in divorce, and had five children. She was allegedly intimately involved with numerous men, including Robert and John F. Kennedy, her attorney Samuel S. Brody, and Las Vegas entertainer Nelson Sardelli. In 1967, Mansfield was in Biloxi, Mississippi, for an engagement at the Gus Stevens Supper Club. After two appearances on the evening of June 28, Mansfield, Sam Brody (her attorney and companion), their driver Ronnie Harrison (age 20), and three of her children – Miklós, Zoltán, and Mariska – left Biloxi after midnight in a 1966 Buick Electra 225. Their destination was New Orleans, where Mansfield was to appear on WDSU's Midday Show the next day. At about 2:25 a.m. on June 29, on U.S. Highway 90, 1 mile west of the Rigolets Bridge, the Buick crashed at high speed into the rear of a 'Johnson' tractor-trailer that had slowed down for an approaching insecticide fog-spraying truck which was flashing a red light. The three adults in the front seat died instantly. The children, asleep in the rear seat, survived with minor injuries.
---
The Rest of the Story …
Despite all the rumors, Jayne Mansfield was not decapitated. Those widely circulated police photos show a bloody wig at the accident site. Jaynes body was intact if not severely traumatized.
Also there was no fog or mosquito spray – that was a myth just like the "beheading".  The spray truck was not spraying. The police report and eyewitnesses said visibility was good.
Sam Brody died by having his forehead pushed-in along its width by his head hitting the metal-reinforced dashboard (no seatbelt requirements in those days and in any case only two front lap belts – might have kept Jayne in the car if she'd been wearing one). Ronnie Harrison the driver (who had a child on the way) had his skull crushed by the non-collapsible steering wheel, which also caused internal injuries with bleeding.
After the horrible accident that took Jayne's life, you probably have seen one of those reflector-tape adorned bars hanging below the tractor-trailer in front of you at a red light or out on the highway. Turns out it's known as a Mansfield bar, and it didn't used to appear on truck trailers. It's designed to help prevent you from recreating its namesake's death. So in some small way, Jayne Mansfield is probably responsible for saving hundreds of lives over the years.
Cemetery Information:
Final Resting Place:
Fairview Cemetery
1138 Middletown Road
Pen Argyl, Pennsylvania, 18072
USA
North America
Map: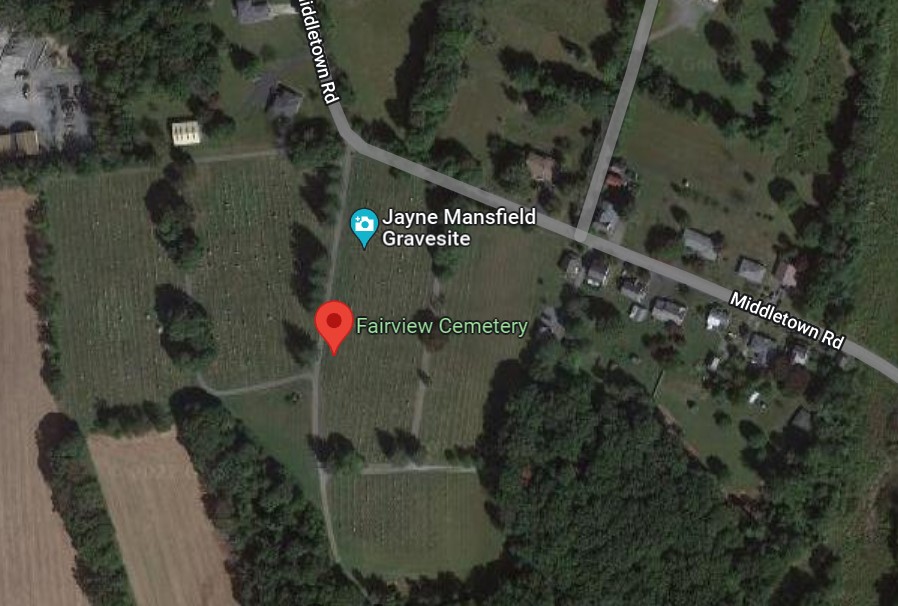 Map of Fairview Cemetery in Pen Argyl, Pennsylvania (copyright 2022 Google)
Grave Location:
Section S
Grave Location Description
As you enter the cemetery drive to the second tree on your left and park. Walk 16 rows into the center section on your right and you will see the 6-foot heart-shaped monument that marks the final resting place of the lovely Jayne Mansfield.
Grave Location GPS
40.86227139630447, -75.24002922417297
---
Visiting The Grave:
Photos:
Read More About Jayne Mansfield:
Videos Featuring Jayne Mansfield:
See More:
Back to Top