Barbara Hutton
AKA:
Poor Little Rich Girl
Birth Name:
Barbara Woolworth Hutton
Birth Date:
November 14, 1912
Birth Place:
New York, New York
Place of Death:
Penthouse Suite, The Beverly Wilshire Hotel, Beverly Hills, California
Cause of Death:
Heart attack
Cemetery Name:
Woodlawn Cemetery
Claim to Fame:
Business and Finance
Barbara Woolworth Hutton was born in New York City on 14 November 1912, the daughter of Edna and Franklyn Hutton and the granddaughter of Frank Winfield Woolworth, founder of the phenomenally successful chain of retail "five and dime" stores named Woolworths. Her mother died when she was only four years old and, until his death in 1919, Barbara Hutton was cared for by her grandfather. Subsequently her life became even more unsettled as she was moved from one relative to another, her father always ready with material but not the emotional support and love for which she longed. This disorganised start to her life obviously had a strong impact on her as an adult. The only stable aspect of her lifeappears to have been the vast fortune she inherited from her grandparents and her mother: before she was in her teens, she had well over $28 million in trust, and this was to be nearly doubled by the time she came of age. She partied, travelled, and lived a life of excessive excitement and self-indulgence, but even after seven marriages, she was still the 'poor little rich girl' of Noël Coward's 1920s song, never finding the contentment she craved. After a lifetime of society balls and parties around the world and seven failed marriages, Barbara, nearly blind at 66, died bedridden and alone of a heart attack in 1979 in the penthouse of The Beverly Wilshire Hotel. She had $3,500 in the bank.
---
Fun Facts
When Woolworth heiress Barbara Hutton died in 1979, she reportedly left very little money in her estate, but when her will was probated it revealed that she had retained many of her most important jewels. As there has never been an entire auction of her jewels and only a few of her most famous pieces have appeared in the sales rooms since 1985 it is hard to estimate the total value of her jewelry collection. However in 2014 her prized Cartier jadeite bead, ruby and diamond necklace sold for more than $27.4 million at Sotheby's Hong Kong Magnificent Jewels and Jadeite Auction. That's $27.4 million for a single necklace.
Her debut, or coming-out party, was held in December 1930, the first year of the Depression, at a cost of some $60,000. It took place in three venues: the first was a tea party at the home of her uncle, Edward Hutton and his wife, Marjorie Merriweather Post. Her aunt disapproved of her lavish lifestyle and tried to convince her that in such a difficult time, these public displays of wealth were highly inappropriate. As orchestras played and the scent of thousands of flowers filled the air, Barbara Hutton officially entered the world of society, but not without her critics. From this point forward she was always referred to as "Poor Little Rich Girl" in the press and society pages.
And if we are keeping score, Barbara Hutton married seven times:
1933: Alexis Mdivani, a self-styled Georgian prince, divorced 1935
1935: Count Kurt Heinrich Eberhard Erdmann Georg von Haugwitz-Hardenberg-Reventlow, divorced 1938
1942: Cary Grant, divorced 1945
1947: Prince Igor Troubetzkoy, divorced 1951
1953: Porfirio Rubirosa, divorced 1954
1955: Baron Gottfried Alexander Maximilian Walter Kurt von Cramm, divorced 1959
1964: Pierre Raymond Doan, divorced 1966
Cemetery Information:
Final Resting Place:
Woodlawn Cemetery
4199 Webster Avenue
Bronx, New York, 10470
USA
North America
Map: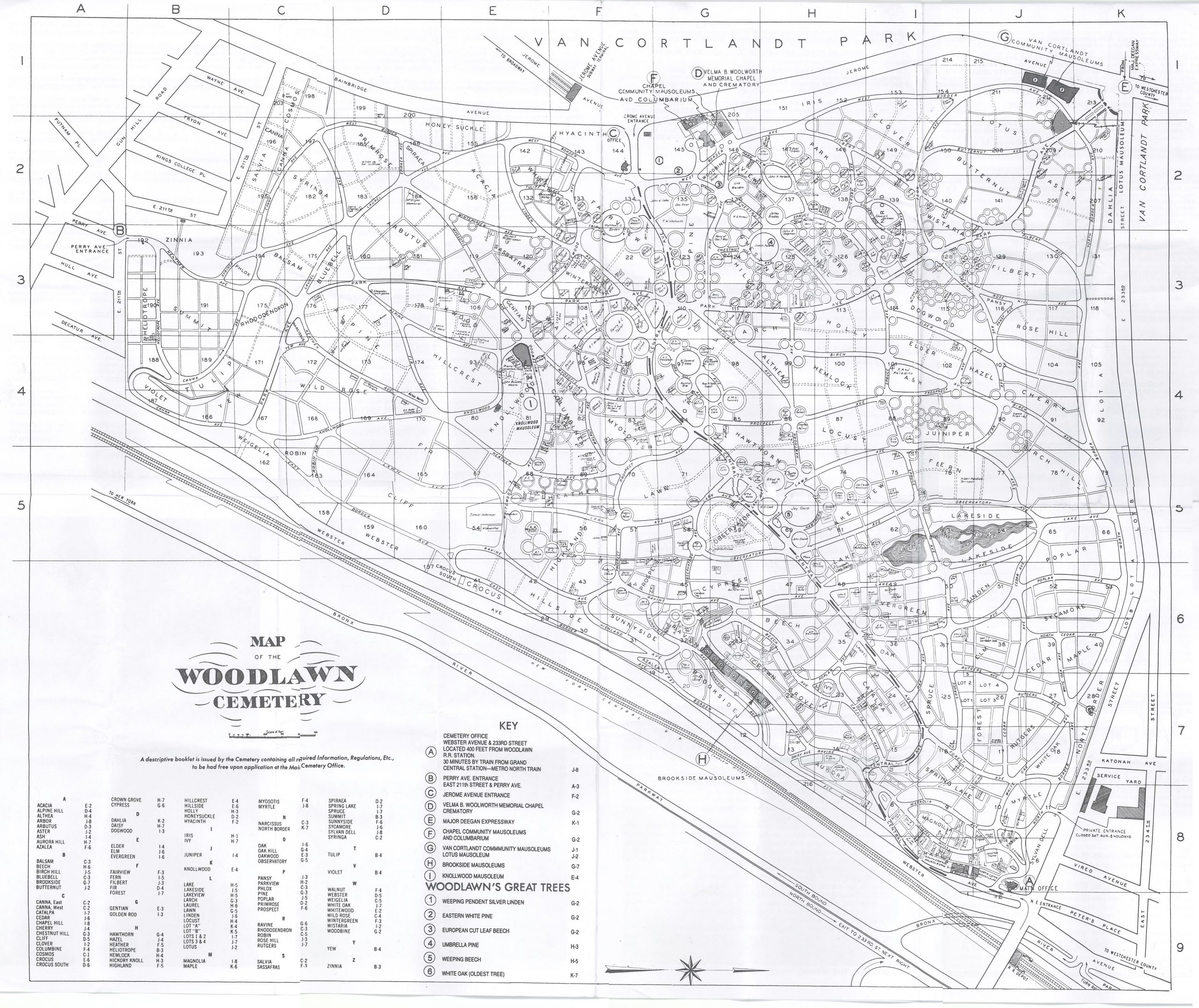 Grave Location:
Pine Plot, Section 135, Woolworth Mausoleum
Grave Location Description
From the Jerome Avenue entrance, drive straight ahead on Central Avenue (it's the painted road that runs through the center of the cemetery) and shortly after you cross West Border Avenue you will see the large Woolworth Mausoleum on your left about 80 feet from the road.
Grave Location GPS
40.8886888, -73.87586407
---
Visiting The Grave:
Photos:
Read More About Barbara Hutton:
Videos Featuring Barbara Hutton:
See More:
Back to Top