Frank Winfield Woolworth
Birth Name:
Frank Winfield Woolworth
Birth Date:
April 13, 1852
Birth Place:
Rodman, New York
Death Date:
April 8, 1919
Place of Death:
77 Crescent Beach Road, Glen Cove, New York
Cause of Death:
Tooth infection
Cemetery Name:
Woodlawn Cemetery
Claim to Fame:
Business and Finance
F. W. Woolworth was an American entrepreneur, the founder of F. W. Woolworth Company, and the operator of variety stores known as "Five-and-Dimes" (5- and 10-cent stores or dime stores) which featured a selection of low-priced merchandise. He pioneered the now-common practices of buying merchandise directly from manufacturers and fixing the selling prices on items, rather than haggling. He was also the first to use self-service display cases, so that customers could examine what they wanted to buy without the help of a sales clerk
---
Fun Fact
Frank Woolworth had an absolute hatred of going to the dentist, a prejudice that led to his death in April 1919, when he died suddenly due to a tooth infection at his Glen Cove Estate. Unbelievably, he died with his will unsigned, and all the money (about $30 million) went to his wife Jennie.
Sadly at the time of Frank's death, Jennie was having problems all her own, having been declared 'mentally feeble' and legally incompetent by this time. "DEMENTED WIFE GETS ALL" screamed an not-so-subtle New York Times headline. However historians now believe it appears from the description of her condition that Mrs. Woolworth was suffering from Alzheimer's.
Cemetery Information:
Final Resting Place:
Woodlawn Cemetery
4199 Webster Avenue
Bronx, New York, 10470
USA
North America
Map: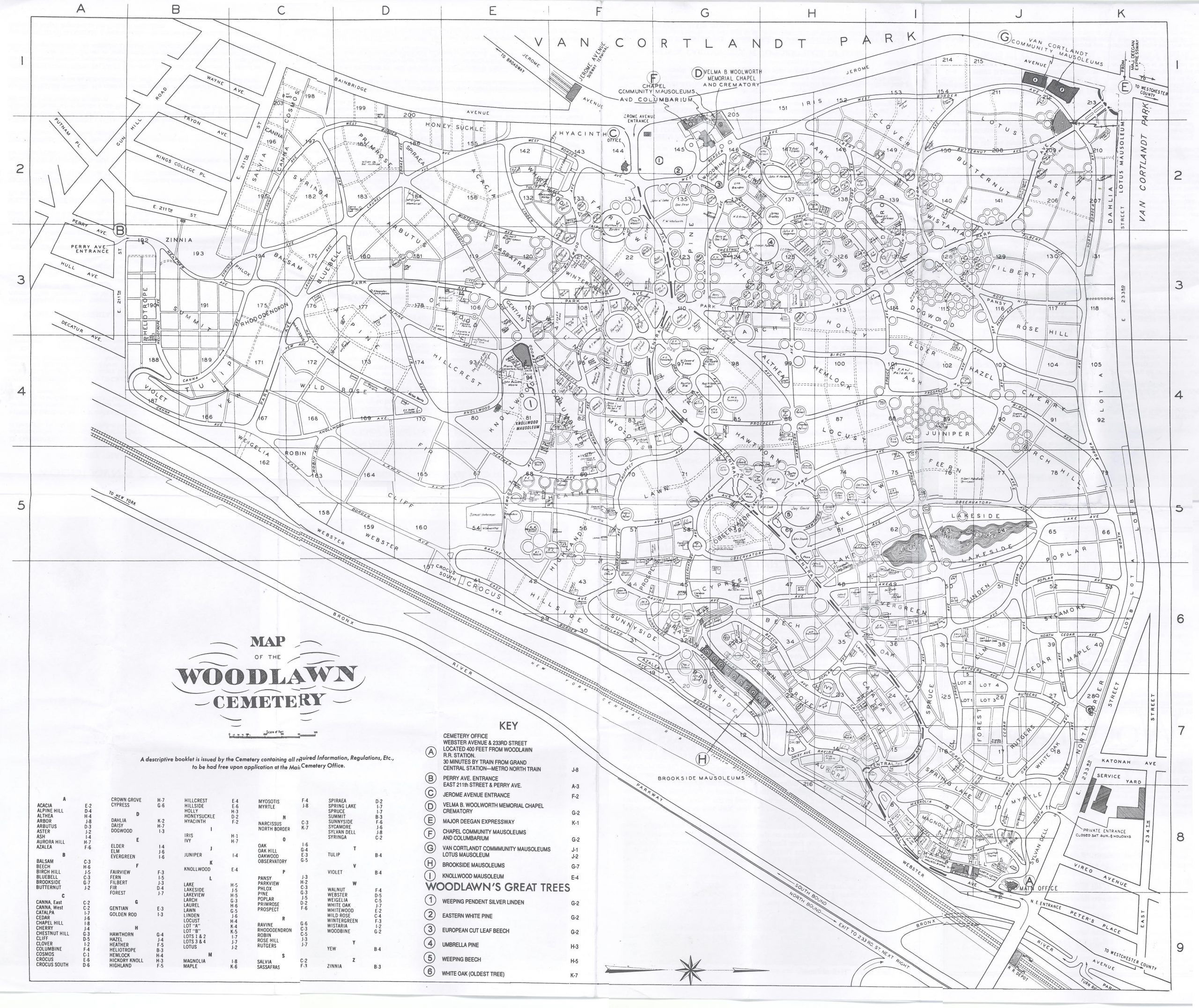 Cemetery map of Woodlawn Cemetery in The Bronx, New York
Grave Location:
Pine Plot, Section 135, Woolworth Mausoleum
Grave Location Description
From the Jerome Avenue entrance, drive straight ahead on Central Avenue (it's the painted road that runs through the center of the cemetery) and shortly after you cross West Border Avenue you will see the large Woolworth Mausoleum on your left about 80 feet from the road.
Grave Location GPS
40.8886888, -73.87586407
---
Visiting The Grave:
Photos:
Read More About Frank Winfield Woolworth:
Videos Featuring Frank Winfield Woolworth:
See More:
Back to Top