Berry Oakley
Birth Name:
Raymond Berry Oakley III
Birth Date:
April 4, 1948
Birth Place:
Chicago, Illinois
Death Date:
November 11, 1972
Place of Death:
Middle Georgia Medical Center, Macon, Georgia
Cause of Death:
Fractured skull due to motorcycle accident
Cemetery Name:
Rose Hill Cemetery
Berry Oakley, an original founding member of the Allman Brothers Band and was an instrumental part of the early Allman Brothers sound, with his bass chords defining some of the band's most popular songs like "Whipping Post", " "Mountain Jam", "Les Brers", and countless others. During his all-too-short tenure with the band Berry contributed to some of their most important records, including The Allman Brothers Band (1969), Idlewild South (1970), At Fillmore East (1971), Eat a Peach (1972), and the first two tracks of Brothers and Sisters (1973). And while the classic ABB lineup only lasted three years, Berry Oakley was ranked number 46 on Bass Player magazine's list of "The 100 Greatest Bass Players of All Time". Sadly one year after losing Duane Allman to a fatal motorcycle crash, on November 11, 1972, Berry was riding with Kim Payne (a member of the road crew) when Payne took his Triumph motorcycle into a curve too fast and hit a Macon City bus. Oakley said he was okay after the accident, declined medical treatment, and caught a ride home. Three hours later, he was rushed back to the hospital, delirious and in pain, and died of cerebral swelling caused by a fractured skull.
---
Fun Facts
H&H Restaurant is a Macon, Georgia institution with the dining room walls covered in Allman Brothers Band memorabilia including one of the awards from their Filmore East album. As the story goes when the ABB were recording their first album at Capricorn Records, the struggling musicians put their money together for two meals that they shared. Co-founder Mama Louise felt sorry for the hungry musicians and served the whole table with their own meal. Thus began a life-long friendship with the band.
If rock and roll excess was a competition, the Allman Brothers Band would win hands down. As Greg Allman once recounted, the ABB did a 41-day tour with each show paying $80,000. With over $3.0 million in proceeds, the band barely broke even given all the excessive drug use (they really loved Columbian Snow Candy), trashed hotel rooms, the purchase of a private jet … it got so out of hand the roadies even had their own roadies.
When Berry passed away at the hospital after the fatal motorcycle crash, the attending physician noted that even if Berry had gone directly to the hospital rather than waiting 3 hours at home after the accident he would of passed away due to the extensive injuries.
When Duane Allman passed away 13-months prior to the death of Berry, his body was in cold storage while Gregg was deciding what to do as a memorial to his fallen brother. When Berry died, they made the decision to bury the two musicians side by side. Today, Berry, Duane, Greg and Butch Trucks are all buried together at Rose Hill Cemetery.
In 1998 the sister of Berry Oakley, Candace Oakley, erected an 8-foot and ugly, horrible chain-link fence topped with razor wire around the graves. Because the cemetery is owned by the city the fence was taken down shortly after. But that didn't stop Candance and her husband from yelling, screaming and chasing off visitors who just wanted to pay their respects to Duane and Berry. Fortunately after years of harassment the city installed a tasteful black iron fence and brickwork for all visitors to enjoy Macon, Georgia's #1 tourist attraction.
Cemetery Information:
Final Resting Place:
Rose Hill Cemetery
1071 Riverside Drive
Macon, Georgia, 31201
USA
North America
Map: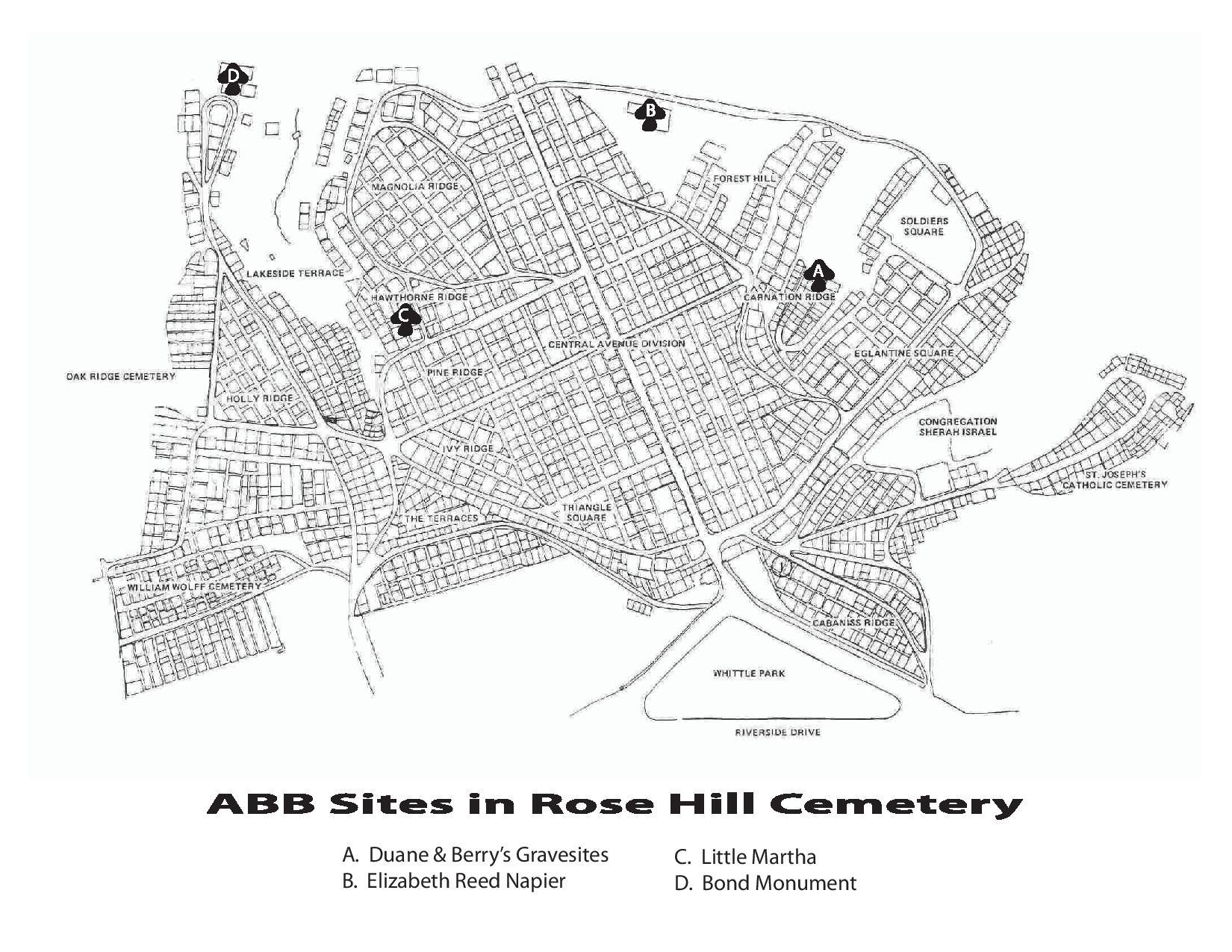 Map of Rose Hill Cemetery in Macon, Georgia
Grave Location:
Carnation Ridge
Grave Location Description
As you enter the historic gates of the cemetery, take the first right turn. Drive 300 feet and then turn left at the first opportunity. Drive slowly another 300 feet and then look down the hill to your right and you will see the four graves of the former members of the Allman Brothers Band: Butch Trucks, Gregg Allman, Duane Allman and Berry Oakley.
Grave Location GPS
32.847291491504855, -83.63154680736858
Photos:
Read More About Berry Oakley:
Videos Featuring Berry Oakley:
See More:
Back to Top