Dave Brockie
Birth Name:
David Murray Brockie
Birth Date:
August 30, 1963
Birth Place:
Ottawa, Ontario, Canada
Death Date:
March 23, 2014
Place of Death:
4816 W Seminary Avenue, Richmond, Virginia
Cause of Death:
Heroin overdose
Cemetery Name:
Hollywood Cemetery
Dave Brockie was a Canadian-American musician, songwriter, performer and mastermind / lead singer of the heavy metal band GWAR, in which he performed as Oderus Urungus. If you've never seen or heard GWAR, then imagine if KISS had a love child with Alice Cooper using sperm donation from Leatherface from the Texas Chainsaw Massacre. And even then you're only at 50% of what GWAR brings to the table. Brockie formed GWAR in 1984 as a joke side project to his Richmond band Death Piggy. With the help of several co-conspirators, the group became an outlet for Brockie's wildly creative and outrageous imagination. Band members dressed in elaborate and grotesque latex costumes, took on stage names (Brockie was known as Oderus Urungus) and created elaborate shows that saw characters eviscerated and audiences spattered with fake blood. After the 1988 debut Hell-O, which leaned in a punk rock direction and was produced by New York institution Mark Kramer, GWAR switched to a more metal-oriented style on the 1990 follow-up, Scumdogs of the Universe. Aided greatly by the heavily-played video for "Sick Of You," the group was quickly embraced by the metal crowd and Scumdogs went on to become the band's biggest-selling album. Exposure on the hit TV series Beavis And Butt-Head only heightened GWAR's profile in the early 1990s, and the band would go on to be a mainstay in the American metal scene for the next two decades.
---
Fun Facts
Brockie portrayed Oderus Urungus, Gwar's lead singer, from GWAR's inception in 1984 until his death. Oderus appeared as an intergalactic humanoid barbarian with devil horns and a meaty-looking face, and carried a long sword named "Unt Lick" and a cuttlefish around his loins.
The passing of Dave Brockie from a heroin overdose at his home in Richmond makes him the last original member of GWAR. But don't worry – GWAR continues to tour with the goal of ruining every town they visit as they are still an epic live band as they were in their heyday.
Oh … and another thing. Contrary to popular myth, the final cremains of Dave Brockie were not set on fire in a Viking funeral on a Richmond, Virginia lake. However they did provide a proper Viking funeral for the singer's Oderus Urungus character. While it is true his monument at Hollywood Cemetery is a cenotaph, his cremains remain with his father on his fireplace mantel while they figure out how to honor Dave's wishes.
Cemetery Information:
Final Resting Place:
Hollywood Cemetery
412 South Cherry Street
Richmond, Virginia, 23220
United States
North America
Map: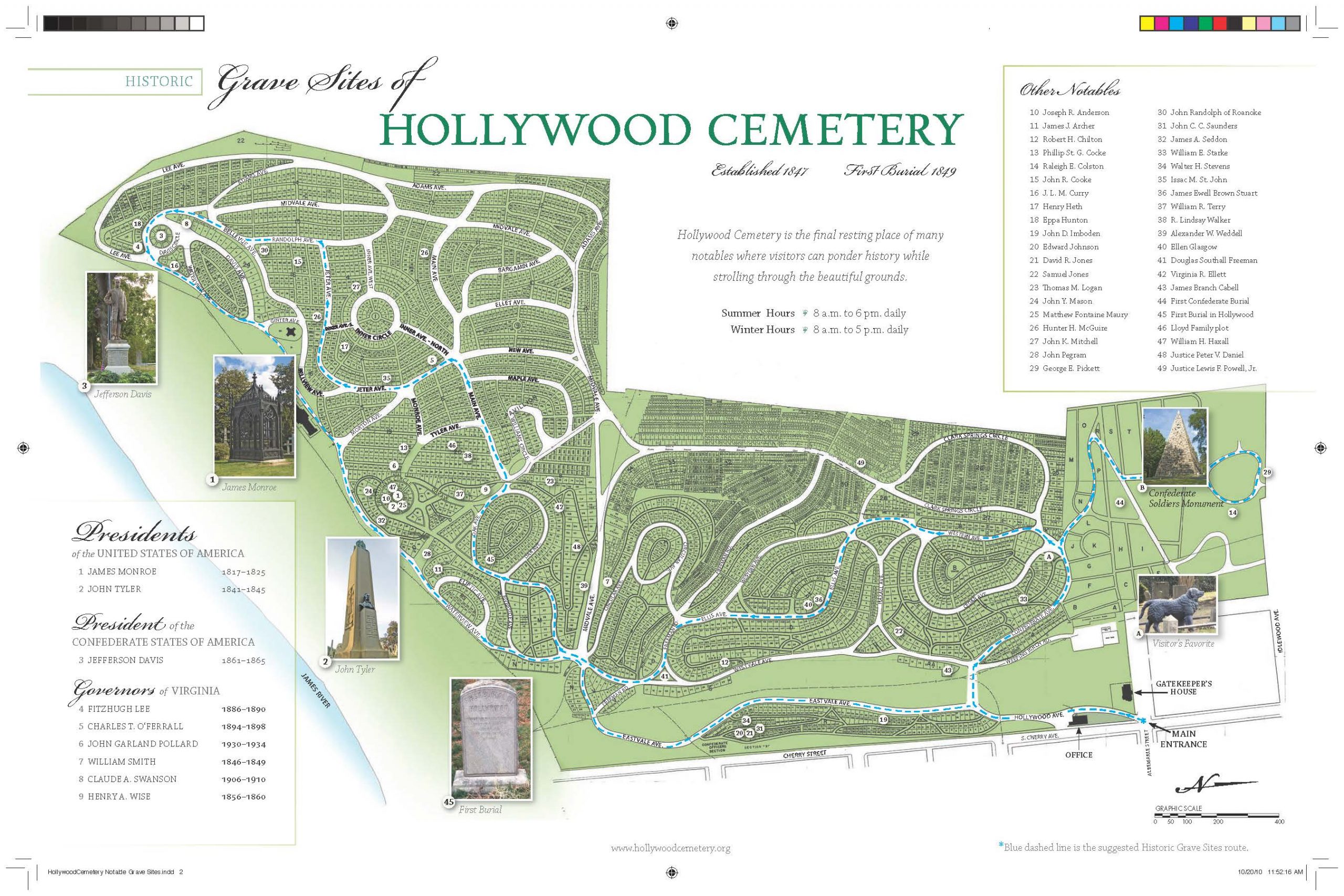 Map of Hollywood Cemetery in Richmond, Virginia
Grave Location:
Section C, Lot 49
Grave Location Description
As you enter the cemetery, drive straight through the gates and continue for 400 feet on Hollywood Avenue. Turn right at the first intersection and drive over the bridge and make an immediate right into the dirt parking lot. Walk over to the intersection of Westvale Avenue and Confederate Avenue and stand at the "Confederate Avenue" road sign. Looking up the hill with your back to the bridge, look slightly to your right and up 100 feet from the road for a broken marble obelisk. Now look to the left for the large flat monument to heavy metal musician, artist and singer for GWAR Dave Brockie. There is also a bench nearby honoring his memory.
Grave Location GPS
37.539033, -77.454057
---
Visiting The Grave:
Photos:
Read More About Dave Brockie:
Videos Featuring Dave Brockie:
See More:
Back to Top