Gene Vincent
Birth Name:
Vincent Eugene Craddock
Birth Date:
February 11, 1935
Birth Place:
Norfolk, Virginia
Death Date:
October 12, 1971
Place of Death:
Inter-Valley Hospital, Newhall, California
Cause of Death:
Combination of a ruptured ulcer, internal haemorrhage and heart failure
Cemetery Name:
Eternal Valley Memorial Park
More threatening than Elvis, wilder than Jerry Lee Lewis and sexier than Buddy Holley, Gene Vincent was the real thing. A swaggering, unrepentant rock 'n' roll singer and guitarist, he represented a dangerous embodiment of the defiant tension that gave birth to rock 'n' roll in the 1950s. While Presley made the transition from a defiant, rebellious rock icon to a bloat Vegas lounge singer, Gene Vincent was, remained, and died a rocker.
---
Fun Facts
And then there was the infamous car crash that took the life of Eddie Cochran and severely injured Sharon Sheeley and Gene Vincent. Eddie Cochran was in the back seat of the cab with his fiancee, Sharon Sheeley, Gene Vincent was in the front passengers seat. Eddie saved Sharon's life. He grabbed her and pulled her down when the cab was out of control, shielding her from the impact and was thrown out of the cab, he suffered massive head injuries and died 8 hours later at St. Martins Hospital in Bath. Sharon has stated that fact herself that Eddie saved her life. Gene Vincent suffered an injury to his leg that had already been severely injured previously in a motorcycle accident years before, he suffered with agonizing pain in that leg for the rest of his life and it was the primary reason for his alcoholism . Sharon was serious injured as well but recovered and passed away in 2002.
After the accident Vincent was back on the road, shuttling between England and Los Angeles, falling further and further into the same predictable, self-destructive life-style. While in Los Angeles, Vincent would find company with a young singer named Jim Morrison, and together they could be seen drinking heavily at the Shamrock on Santa Monica Blvd. It was also Morrison, lifting the singer's leather-clad outfit and rock star swagger, who insisted Vincent open for the Doors at the 1969 Toronto Rock and Roll Festival. Vincent was backed that night by the Alice Cooper band.
Cemetery Information:
Final Resting Place:
Eternal Valley Memorial Park
23287 Sierra Highway
Newhall, California, 91321
United States
North America
Map: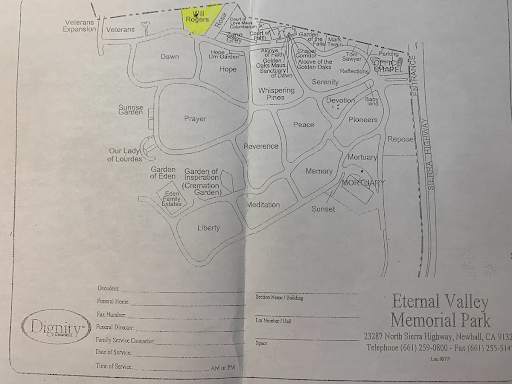 Grave Location:
Repose, Lot 91, Grave A
Grave Location Description
As you enter the cemetery turn left at the first intersection. Continue up the hill past the historic horse-drawn hearse and park at the Repose section. Gene Vincent's permanent address is located six rows from the curb on the left, just below the intersection.
Grave Location GPS
34.36181510488, -118.50773263159
---
Visiting The Grave:
Photos:
Read More About Gene Vincent:
Videos Featuring Gene Vincent:
See More:
Back to Top