Jam Master Jay
AKA:
DJ Jazzy Jase, Jam Master Fun
Birth Name:
Jason William Mizell
Birth Date:
January 21, 1965
Birth Place:
Brooklyn, New York
Death Date:
October 30, 2002
Place of Death:
Hall of Fame Studios, 9010 Merrick Blvd, Queens, New York
Cause of Death:
Homicide - gunshot wounds
Cemetery Name:
Ferncliff Cemetery
Jam Master Jay was a musician and the DJ of the influential hip hop group Run-D.M.C. During the 1980s, Run-D.M.C. became one of the biggest hip hop groups and are credited with breaking hip hop into mainstream music. On October 30, 2002, Jam Master Jay was fatally shot by an unknown person in New York City in a recording studio on Merrick Boulevard in Jamaica, Queens.
---
Update
It was no secret that the shooting of Jam Master J was an inside job with the perpetrators known to everyone in the neighborhood. However it took 18 years before Karl Jordan, Jr. was charged with busting into the DJ and hip-hop icon's studio in October 2002 and shooting Jam Master Jay at point-blank range while his co-defendant Ronald Washington, 56, pointed a gun at others in the room.
In an interesting turn of events in December 2003, Playboy magazine published an article by investigative journalist Frank Owen, "The Last Days of Jam Master Jay", which traced the murder to a drug deal gone bad. Owen said he uncovered evidence Mizell, not normally involved in crime as an adult, had turned to cocaine distribution to pay mounting bills, including substantial debts to the Internal Revenue Service, after his music career stalled in the late 1990s. According to Owen, several sources indicated Mizell traveled to Washington, D.C., on July 31, 2002, to obtain ten kilograms of cocaine valued at about a quarter million dollars from a trafficker known as "Uncle", with an agreement to pay for the drugs in about a week. However, Mizell failed to repay Uncle, who allegedly arranged to have Mizell murdered.
Cemetery Information:
Final Resting Place:
Ferncliff Cemetery
280 Secor Road
Hartsdale, New York, 10530
USA
North America
Map: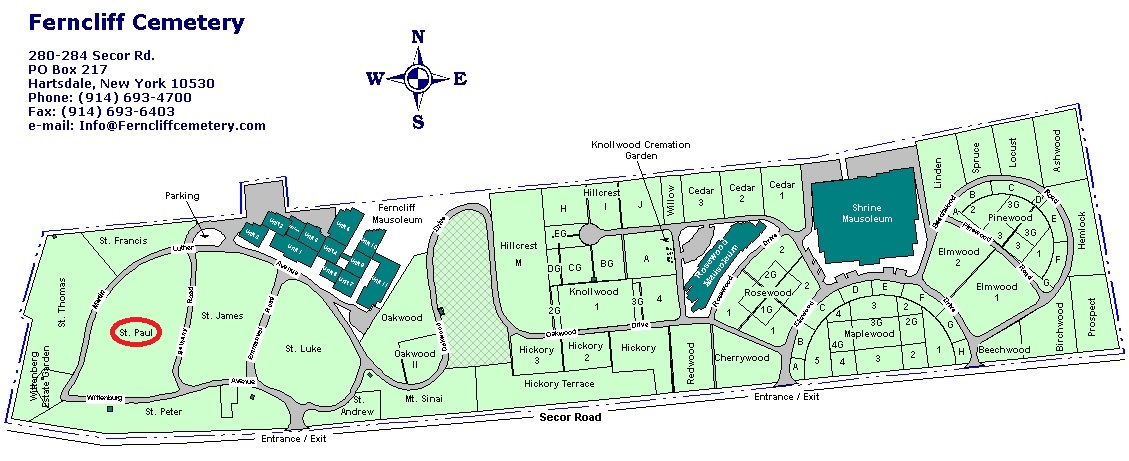 Map of Ferncliff Cemetery in Hartsdale, New York
Grave Location:
Hillcrest, Section CG, Lot C, Grave 1120
Grave Location Description
After entering the entrance between Cherrywood and Maplewood, take the first left and head straight. Turn right at the second intersection which will take you behind Rosewood Mausoleum. Drive past the Knollwood Cremation Garden and then turn left. Drive all the way to the cul-de-sac and you can park you car along the road. Section CG is southwest of the cul-de-sac. Jam Master Jay's final resting place is in the exact center of Hillcrest Garden CG and is 12 spaces from the path bordering Sections CG and BG.
Grave Location GPS
41.02775361, -73.83240668
---
Visiting The Grave:
Photos:
Read More About Jam Master Jay:
Videos Featuring Jam Master Jay:
See More:
Back to Top