James Booker
AKA:
The Piano Prince of New Orleans
Birth Name:
James Carroll Booker III
Birth Date:
December 17, 1939
Birth Place:
New Orleans, Louisiana
Death Date:
November 8, 1983
Place of Death:
New Orleans' Charity Hospital, New Orleans, Louisiana
Cause of Death:
Renal failure related to chronic abuse of heroin and alcohol
Cemetery Name:
Providence Memorial Park
Booker was a New Orleans rhythm and blues keyboardist whose unique style combined rhythm and blues with jazz standards. Musician Dr. John described Booker as "the best black, gay, one-eyed junkie piano genius New Orleans has ever produced." Flamboyant in personality and having an extraordinary technical facility, he was known as "the Black Liberace" as well as "The Piano Prince of New Orleans". Booker's two-fisted, syncopated keyboard style was a major influence on New Orleans rhythm-and-blues in the 1950's and 1960's, and he was known in New Orleans as a flamboyant pianist who was likely to toss a Chopin etude into the middle of a boogie-woogie. He had a hit with ''Gonzo,'' an organ instrumental, in 1960, and played on stage and in recording sessions for Wilson Pickett, Lloyd Price, Aretha Franklin, Bobby ''Blue'' Bland, B. B. King, Ringo Starr, the Coasters, the Doobie Brothers and others. But his career was largely confined to New Orleans. And despite his legendary consumption of drugs and alcohol (he lost his left eye to drug abuse) he is considered by most the finest, wildest and most unpredictable pianist of his time.
---
Fun Fact
One time James Booker appeared on stage at Tipitina's in New Orleans wearing a nappy fastened by a huge gold pin. Musician David Torkanowsky recalls the moment: "From behind the nappy, he pulls out a .357 Magnum, puts it to his own head and announces to the audience, 'If somebody doesn't give me some cocaine right now, I'm going to fucking pull the trigger.'" Good times, good times …
At one point in his short life, Booker paid his bills by holding down a job at City Hall in the Department of Economic Analysis. Seems he had a photographic/mathematical mind where you could show him a column of figures, and he'd scan it down and add them all up like a calculator. A highly functioning mind in some ways but also a very secretive facade about the man.
Cemetery Information:
Final Resting Place:
Providence Memorial Park
8200 Airline Drive
Metairie, Louisiana, 70003
USA
North America
Map: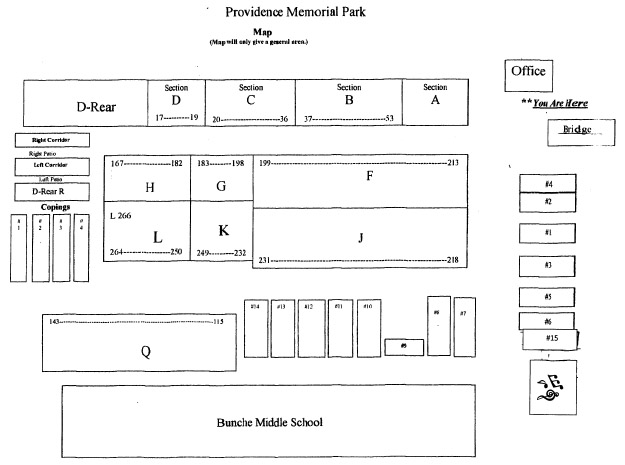 Cemetery map of Providence Memorial Park outside New Orleans, Louisiana
Grave Location:
Booker Family Crypt
Grave Location Description
As you enter the cemetery drive straight back to the outdoor mausoleum. Walk to the far left outside wall and the Piano Prince of New Orleans crypt is on the fourth row to the left.
Grave Location GPS
29.975436908059113, -90.22926272987796
Photos:
Read More About James Booker:
Videos Featuring James Booker:
See More:
Back to Top