Jim Morrison
Birth Name:
James Douglas Morrison
Birth Date:
December 8, 1943
Birth Place:
Melbourne, Florida
Place of Death:
17 Rue Beautreillis, Paris, France
Cause of Death:
Heart failure due to chronic alcohol abuse (disputed)
Cemetery Name:
Cimetière du Père Lachaise
Jim Morrison was a legendary American singer, songwriter and poet, and best known for being the lead singer for the popular rock band The Doors. Morrison is regarded by music critics and fans as one of the most iconic and influential frontmen in rock history. He was known for his wild personality, distinctive voice, and erratic performances. Of course the Doors were never part of the peace and free love movement exemplified by the Jefferson Airplane or Donavon. They really didn't fit the mold of acid rock, electric folk music or that of the Grateful Dead. And they certainly wouldn't be confused with the pop stylings of the Beatles. No the Doors were an anomaly in the world of sixties rock. Raw and powerful, dark and explosive, Jim Morrison's Dionysian lyrics and vocal energy were not an act and Jim Morrison was no rock star. Jim Morrison is now and will always be remembered as The Lizard King. Sadly at age 27, he was found dead in his bathtub by his girlfriend Pamela Courson. It was official listed as heart failure, but no autopsy was performed. It is suspected that his death might have been the result of an accidental heroin overdose.
---
Fun Facts
Many still believe that when Jim died in Paris, France, he died without a will and that his estate was transferred illegally to Pamela Courson. The truth of the matter is that there was a will, it was filed in California and it named Courson as the sole beneficiary of his estate (including 25% of the Doors recording and publishing concern). When she died three years later of an overdose at 108 North Sycamore Avenue in Hollywood, California her estate went to her parents. However a legal dispute between the Morrison Family and the Courson Family lasted for several more years. By 1980, the litigation between the two families was settled out of court with an agreement that each would split the royalties of Morrison's share of the Doors music catalog 50-50.  However the actual handling of the estate went to her father, Columbus Courson, who by all accounts did a pretty good job as administrator of Jim's interests.
When Jim died Pamala paid a total of $200 for the casket and the plot – the cheapest the cemetery had to offer.
Cemetery Information:
Final Resting Place:
Cimetière du Père Lachaise
16 Rue du Repos, 6ème division, Chemin Lesseps
Paris, , 75020
France
Europe
Map: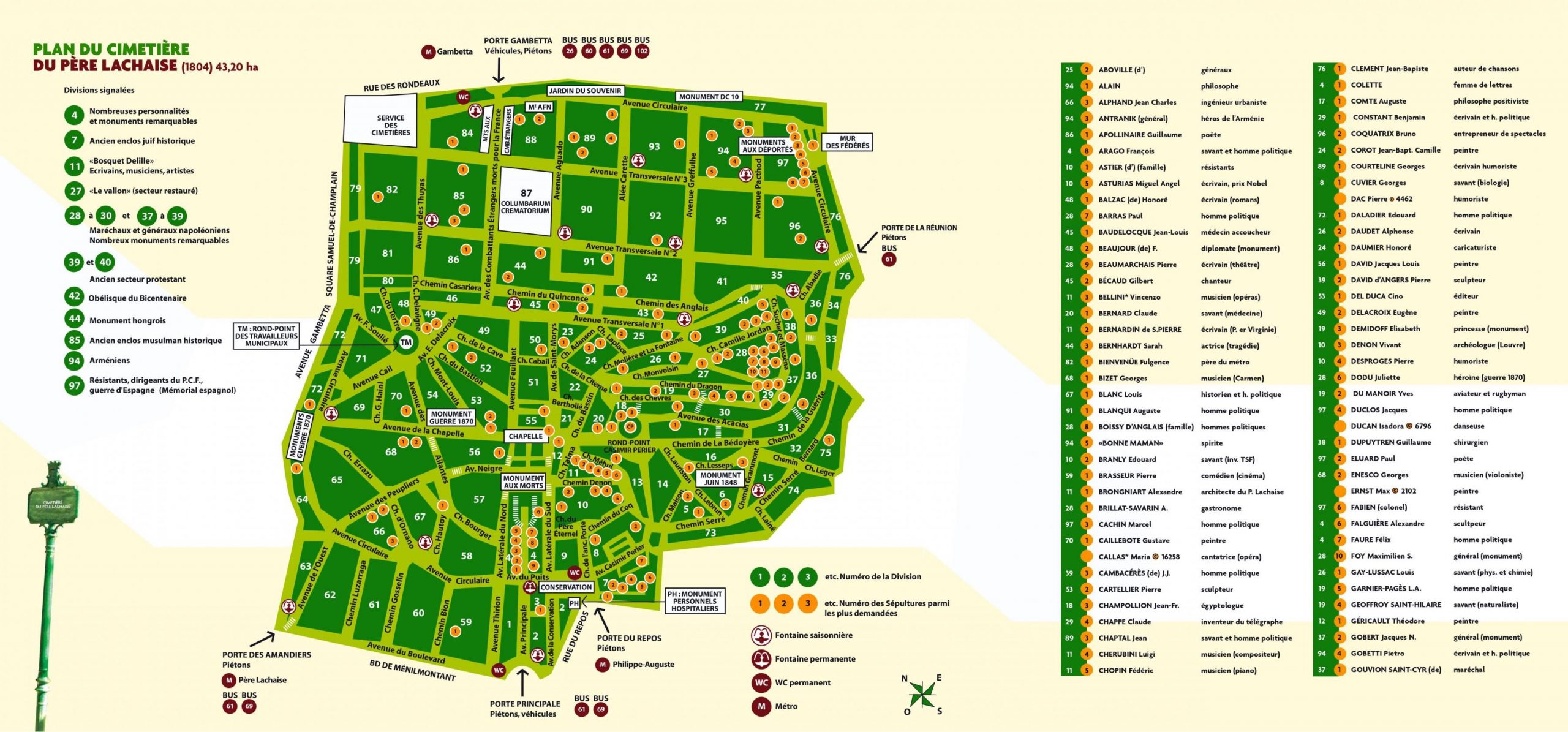 Grave Location:
Division 6, Plot 30
Grave Location Description
This is the shortest and most simple route to locate the grave of Jim Morrison. If arriving via the PERE LACHAISE METRO STATION, take the exit on to BOULEVARD DE MENILMONTANT and proceed straight ahead. You will already see the outer wall of Père Lachaise Cemetery bordering your path. After a short walk you will reach the PORT PRINCIPALE, the main entrance to Père Lachaise Cemetery. On entering, proceed up AVENUE PRINCIPALE until you reach AVENUE DU PUITS, then turn right. Keep going straight along AVENUE DU PUITS, which soon changes its name to AVENUE CASIMIR PERIER. After following AVENUE CASIMIR PERIER some distance, you will come to a junction where a number of routes converge. Take CHEMIN MAISON, which is almost directly opposite. Continue along CHEMIN MAISON until it ends at a junction with CHEMIN LAURISTAN, then turn left. A few short steps, and to your right you will find the tomb of Jim Morrison. Or just follow the horde of white, fanny-pack wearing Americans.
Grave Location GPS
48.859266, 2.393784
Photos:
Read More About Jim Morrison:
Videos Featuring Jim Morrison:
See More:
Back to Top