Karen Carpenter
Birth Name:
Karen Anne Carpenter
Birth Date:
March 2, 1950
Birth Place:
New Haven, Conneticut
Death Date:
February 4, 1983
Place of Death:
9828 Newville Street, Downey, California
Cause of Death:
Heart failure due to anorexia nervosa
Cemetery Name:
Pierce Brothers Valley Oaks Memorial Park
Karen Carpenter was an American singer and drummer, who formed half of the sibling duo the Carpenters alongside her older brother Richard. With a distinctive three-octave contralto range, she was praised by her peers for her vocal skills and was named Rolling Stone's Top 100 Vocalists. Carpenter's struggle with and eventual death of heart failure related to her years-long struggle with anorexia would later raise awareness of eating disorders and body dysmorphia and their possible causes. On February 1, 1983, Carpenter saw her brother for the last time and discussed new plans for the Carpenters and for resumed touring. Three days later, on February 4, Carpenter was scheduled to sign final papers making her divorce official. Shortly after waking up on that day, she collapsed at her parents' home in Downey. Paramedics found her heart beating once every 10 seconds (6 bpm). Carpenter was pronounced dead at Downey Community Hospital at 9:51 a.m. The vocalist and drummer behind three number-one singles, five number-two singles on the Billboard Hot 100, 15 number-one hits on the Adult Contemporary chart and 12 top-10 singles was only 32 years old.
---
Fun Facts
Karen Carpenter confided to Olivia Newton-John that she longed for a happy marriage and family. She later dated several notable men, including Mike Curb, Tony Danza, Terry Ellis, Mark Harmon, Steve Martin, and Alan Osmond. After a whirlwind romance, she married real-estate developer Thomas James Burris on August 31, 1980, in the Crystal Room of The Beverly Hills Hotel. The marriage lasted 14 months.
When Karen collapsed at her parents Downey home, Agnes asked the paramedics to claim she was found in her closet getting dressed. She was actually found in the kitchen. Agnes wanted to avoid all the cruel jokes that would be made in the aftermath.
At a Beverly Hills restaurant John Lennon walked over to Karen Carpenter and said, "I want to tell you, love, that you've got a fabulous voice."
Cemetery Information:
Final Resting Place:
Pierce Brothers Valley Oaks Memorial Park
5600 Lindero Canyon Road
Westgate Village, California, 91362
USA
North America
Map: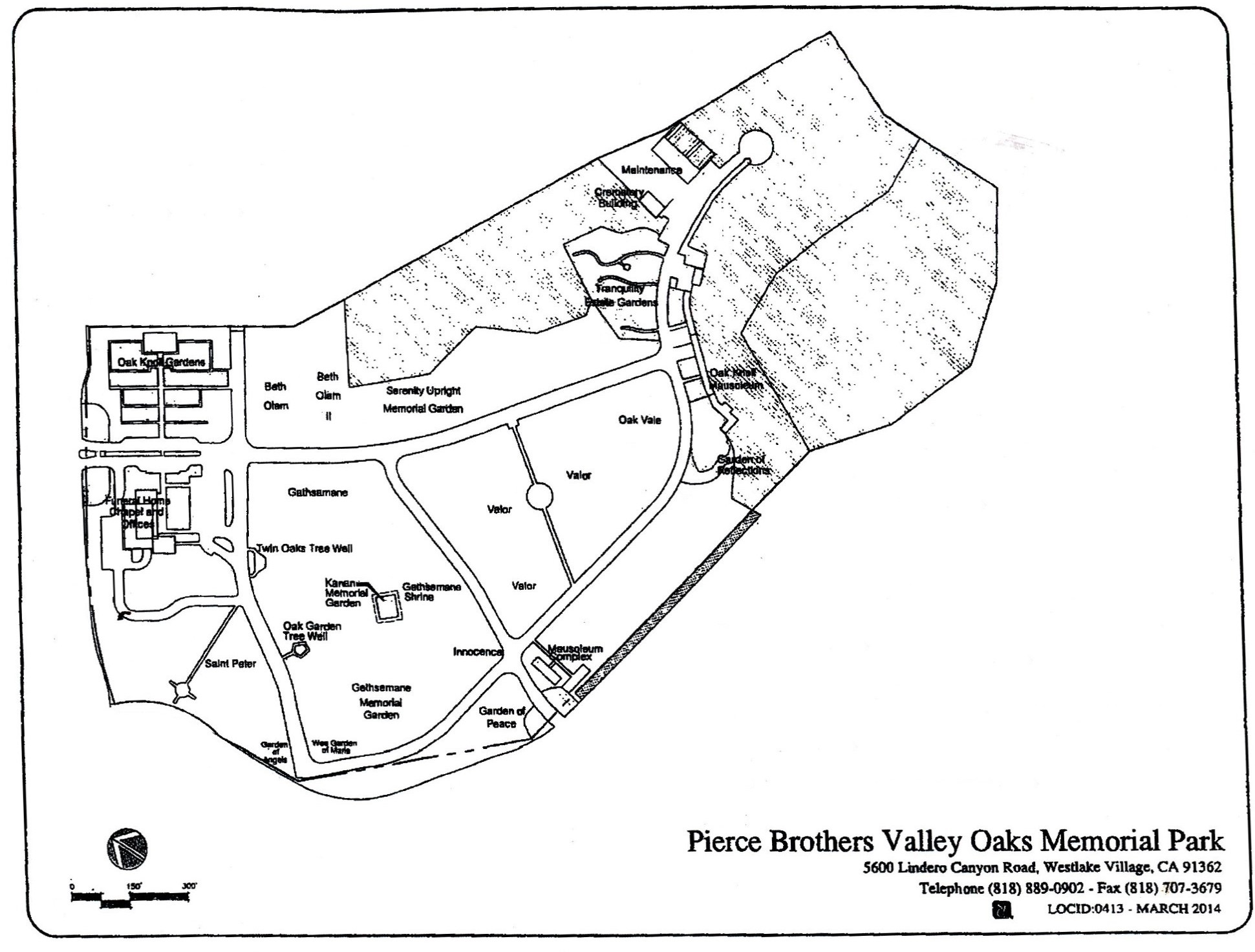 Map of Pierce Brothers Valley Oaks Memorial Park in Westlake Village, California
Grave Location:
Carpenter Family Mausoleum
Grave Location Description
From the entrance drive straight ahead all the way to the end. Turn left when the road ends and drive 80 feet and park at the entrance to the 2nd path on the left. The Carpenter Family mausoleum can be found a short distance from the road just past the water feature.
Grave Location GPS
34.1504097,-118.7972717
---
Visiting The Grave:
Photos:
Read More About Karen Carpenter:
Videos Featuring Karen Carpenter:
See More:
Back to Top