Lester Young
Birth Name:
Lester Willis Young
Birth Date:
August 27, 1909
Birth Place:
Woodville, Mississippi
Death Date:
March 15, 1959
Place of Death:
The Alvin Hotel, Manhattan, New York, New York
Cause of Death:
Internal bleeding due to the effects of alcoholism
Cemetery Name:
The Evergreens Cemetery
Lester Young, nicknamed "Pres" or "Prez", was an American jazz tenor saxophonist who is considered by many to be the greatest, most influential tenor sax player in the jazz idiom. Lester rose to prominence with the Count Basie Orchestra. His playing in the Basie band was characterized by a relaxed style which contrasted sharply with the more forceful approach of Coleman Hawkins, the dominant tenor sax player of the day. After his dismissal from the Basie organization, Lester accompanied the singer Billie Holiday in a couple of studio sessions (during 1937 - 1941 period) and also made a small set of recordings with Nat "King" Cole (their first of several collaborations) in June 1942. From around 1951, Young's level of playing declined more precipitously as his drinking increased. His playing showed reliance on a small number of clichéd phrases and reduced creativity and originality. On December 8, 1957, Young appeared with Billie Holiday, Coleman Hawkins, Ben Webster, Roy Eldridge, and Gerry Mulligan in the CBS television special The Sound of Jazz, performing Holiday's tune "Fine and Mellow." It was a reunion with Holiday, with whom he had lost contact over the years. She was also in physical decline, near the end of her career, yet they both gave moving performances. Young made his final studio recordings and live performances in Paris in March 1959 with drummer Kenny Clarke at the tail end of an abbreviated European tour during which he ate next to nothing and drank heavily. On a flight to New York City, he suffered from internal bleeding due to the effects of alcoholism and died in the early morning hours of March 15, 1959, only hours after arriving back in New York, at the age of 49.
---
Fun Facts
Following his parents' divorce in 1919, Young moved with his father and siblings to Minneapolis, where his father remarried a woman saxophone player. The new family formed a traveling band in which Young first played drums, but he switched to alto saxophone — a much less cumbersome instrument to carry around — at age 13. "Quit them because I got tired of packing them up," Young said in an interview reprinted in Down Beat. "I'd take a look at the girls after the show, and before I'd get the drums packed, they'd all be gone."
Lester Young was married 3 times and has 2 children – Lester W. Young Jr. (born 1947) and Yvette Young (born 1957) – who both hold a PhD in Education.
Cemetery Information:
Final Resting Place:
The Evergreens Cemetery
1629 Bushwick Avenue
Brooklyn, New York, 11207
USA
North America
Map: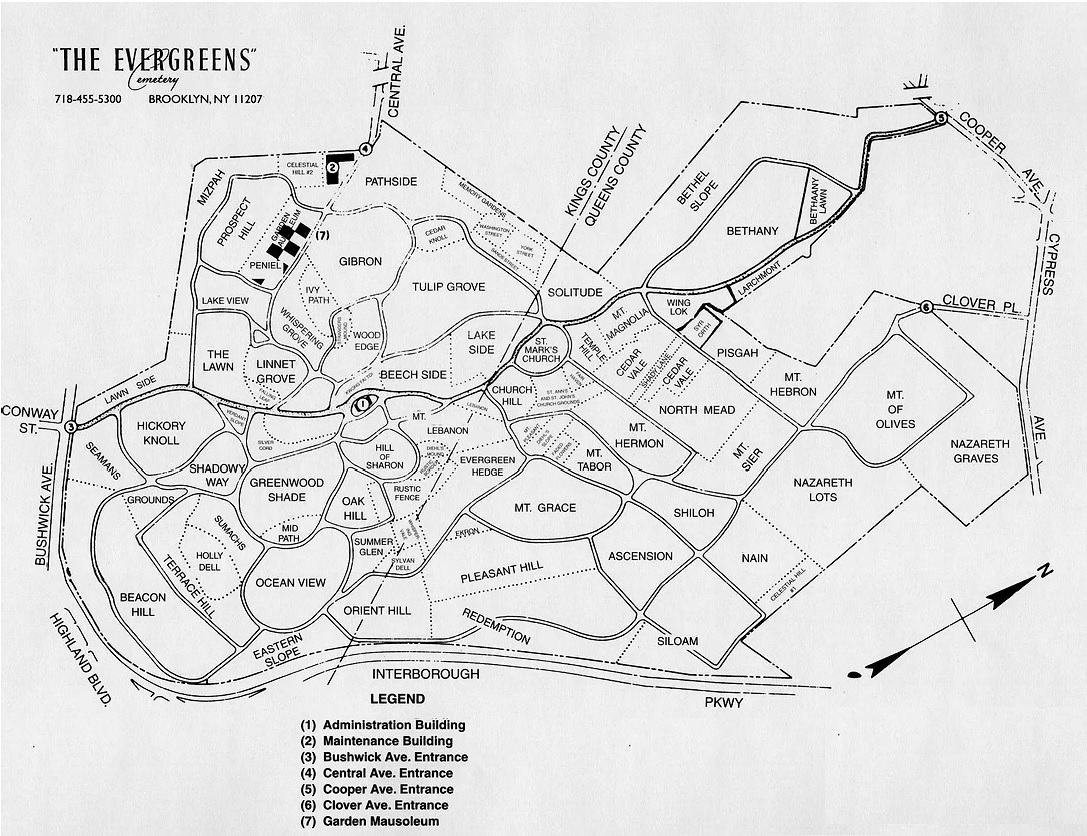 Grave Location:
Redemption, Grave 11418
Grave Location Description
As you enter the cemetery from Bushwick Avenue, take the first right and continue to take right turns to stay along the border of the cemetery. Between the Orient Hill and Ascension sections you will find Redemption. Drive about halfway through the Redemption section and park. Walk to your right to the fence that borders the cemetery with Interborough Parkway and then look 13 spaces in the angled row facing the fence line to find the final resting place of jazz legend Lester Young.
Grave Location GPS
40.68488966636, -73.8949134872
Photos:
Read More About Lester Young:
Videos Featuring Lester Young:
See More:
Back to Top