Mahalia Jackson
AKA:
The Queen of Gospel Music
Birth Name:
Mahala Jackson
Birth Date:
October 26, 1911
Birth Place:
New Orleans, Louisiana
Death Date:
January 27, 1972
Place of Death:
Little Company of Mary Hospital, Evergreen Park, Illinois
Cause of Death:
Post surgical complications to remove a bowel obstruction
Cemetery Name:
Providence Memorial Park
Known as the Queen of Gospel Music, Mahalia Jackson was an American gospel singer, widely considered one of the most influential vocalists of the 20th century. With a career spanning 40 years, Jackson was integral to the development and spread of gospel blues in black churches throughout the U.S. During a time when racial segregation was pervasive in American society, she met considerable and unexpected success in a recording career, selling an estimated 22 million records and performing in front of integrated and secular audiences in concert halls around the world. Nationwide recognition came for Jackson in 1947 with the release of "Move On Up a Little Higher", selling two million copies and hitting the number two spot on Billboard charts, both firsts for gospel music. Jackson's recordings captured the attention of jazz fans in the U.S. and France, and she became the first gospel recording artist to tour Europe. She regularly appeared on television and radio, and performed for many presidents and heads of state. In January 1972, she received surgery to remove a bowel obstruction and died in recovery. Although news outlets had reported on her health problems and concert postponements for years, her death came as a shock to many of her fans. She received a funeral service at Greater Salem Baptist Church in Chicago where she was still a member. Fifty thousand people paid their respects, many of them lining up in the snow the night before, and her peers in gospel singing performed in her memory the next morning. The day after, Mayor Richard Daley and other politicians and celebrities gave their eulogies at the Arie Crown Theater with 6,000 in attendance. Her body was returned to New Orleans where she lay in state at Rivergate Auditorium under a military and police guard, and 60,000 people viewed her casket.
---
Fun Facts
Until 1946, Jackson used an assortment of pianists for recording and touring, choosing anyone who was convenient and free to go with her. As her career progressed, she found it necessary to have a pianist available at a moment's notice, someone talented enough to improvise with her yet steeped in religious music. Jackson found this in Mildred Falls (1921—1974), who accompanied her for 25 years. Falls is often acknowledged as a significant part of Jackson's sound and therefore her success.
Always on the lookout for new material, Jackson received 25 to 30 compositions a month for her consideration. Falls played these so Jackson could "catch the message of the song". Once selections were made, Falls and Jackson memorized each composition though while touring with Jackson, Falls was required to improvise as Jackson never sang a song the same way twice, even from rehearsal to a performance hours or minutes later. Falls found it necessary to watch Jackson's mannerisms and mouth instead of looking at the piano keys to keep up with her. At the beginning of a song, Falls might start in one key and receive hand signals from Jackson to change until Jackson felt the right key for the song in that moment. Falls remembered, "Mahalia waited until she heard exactly what was in her ear, and once she heard it, she went on about her business and she'd tear the house down."
Despite working together for many years, the relationship between Mahalia and Mildred Falls eventually soured. This occurred when Mildred asked for a raise. At the time, Mahalia Jackson was making around $3,000 per night while only paying Mildred Falls $100 a week (about $52,000 a year in today's money) to perform. Mahalia fired Mildred and the two never spoke again.
Cemetery Information:
Final Resting Place:
Providence Memorial Park
8200 Airline Drive
Metairie, Louisiana, 70003
USA
North America
Map: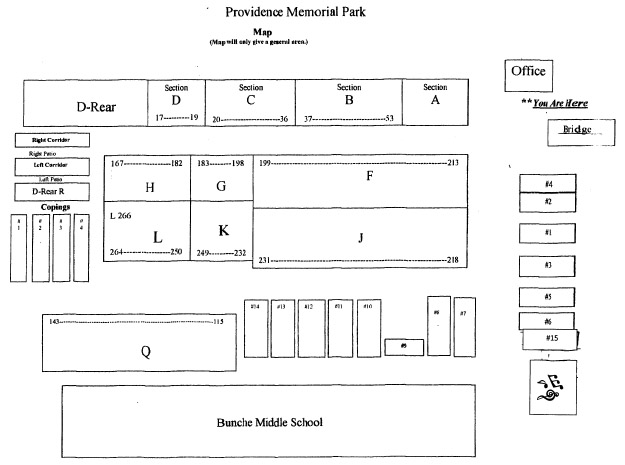 Cemetery map of Providence Memorial Park in Metairie, Louisiana
Grave Location:
Mahalia Jackson Private Crypt
Grave Location Description
As you enter the cemetery the office will be on your right and you will take the first left turn. Drive to the end and Mahalia Jackson's gated tomb is easy to see on your left just around the corner from the large mausoleum.
Grave Location GPS
29.978077988057095, -90.22647647465132
---
Visiting The Grave:
Photos:
Read More About Mahalia Jackson:
Videos Featuring Mahalia Jackson:
See More:
Back to Top