Marion Davies
Birth Name:
Marion Douras
Birth Date:
January 3, 1897
Birth Place:
New York, New York
Death Date:
September 22, 1961
Place of Death:
Hollywood, California
Cause of Death:
Malignant osteomyelitis (bone cancer) of the jaw
Cemetery Name:
Hollywood Forever Cemetery
Claim to Fame:
Show Business
In the Roaring Twenties, Marion Davies was a superstar. By 1923, Davies was the #1 female box office star in Hollywood due to the popularity of "When Knighthood Was in Flower" and "Little Old New York", which were among the biggest box-office hits of their respective years. Appearing in nearly four dozen films, both silent and "talkies," Davies was everywhere. But many didn't believe that she achieved her fame due to talent alone. Infamous for her 34-year relationship with business tycoon William Randolph Hearst, actress Marion Davies was maligned as a talentless gold-digger after "Citizen Kane" came out. After she retired to care for the ailing Hearst, even writer-director Orson Welles, defended Davies' record as a gifted actress and comédienne to whom Hearst's patronage did more harm than good. In his final years, Welles attempted to correct the widespread misconceptions which the film had created about Davies' popularity and talents as an actress.
---
Fun Fact
By all accounts, Davies was a handful. She lived nocturnally and drank like a fish, refusing to let Prohibition get in the way. Though Hearst frowned upon alcoholic excess, he financed her indulgences. When she toured the country with the musical "Oh, Boy," Davies stayed in suites and threw at least one bash with bottomless champagne and caviar.
And why did she stay with William Randolph Hearst? Marion Davies in her own words:
God, I'd give everything I have to marry that silly old man. Not for the money and security—he's given me more than I'll ever need. Not because he's such cozy company, either. Most times, when he starts jawing, he bores me stiff. And certainly not because he's so wonderful behind the barn. Why, I could find a million better lays any Wednesday. No, you know what he gives me, sugar? He gives me the feeling I'm worth something to him. A whole lot of what we have, or don't have, I don't like. He's got a wife who'll never give him a divorce. She knows about me, but it's still understood that when she decides to go to the ranch for a week or a weekend, I've got to vamoose. And he snores, and he can be petty, and has sons about as old as me. But he's kind and he's good to me, and I'd never walk out on him.
Cemetery Information:
Final Resting Place:
Hollywood Forever Cemetery
6000 Santa Monica Blvd
Los Angeles, California, 90038
USA
North America
Map: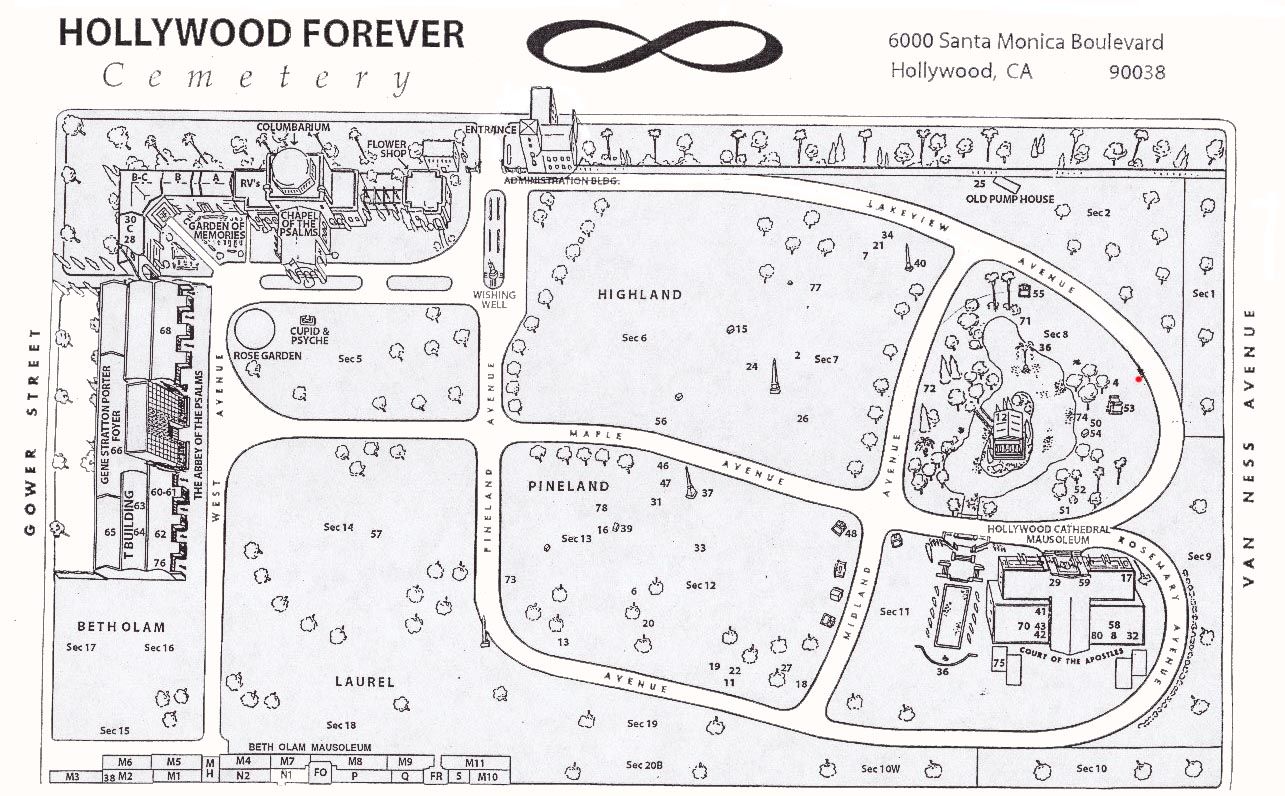 Grave Location:
Garden of Legends
Grave Location Description
As you enter the cemetery take the first left and drive all the way to the far side of the lake. Marion Davies has a rather large private mausoleum on the east side of the lake about 20 feet from the water and 20 feet from Tyrone Power.
Grave Location GPS
34.089001, -118.316597
---
Visiting The Grave:
Photos:
Read More About Marion Davies:
Videos Featuring Marion Davies:
See More:
Back to Top