Mary E. Hart
Birth Date:
December 16, 1824
Birth Place:
New Haven, Connecticut
Death Date:
October 15, 1872
Place of Death:
New Haven, Connecticut
Cemetery Name:
Evergreen Cemetery
Claim to Fame:
The Odd and the Interesting
As the story goes, at 48 years old Mary E. Hart, as she was known in life, "just drops to the floor" one day at midnight. Believing her dead, her family had her buried at Evergreen Cemetery the very next day. However, one night her aunt has a terrible nightmare that Mary's not actually dead. The aunt eventually convinces the family to exhume the body, and when they open the coffin, they find Mary's nails bloodied from scratching and a petrified look on her face as if she died of asphyxiation. Legend has it that she may of just suffered a stroke when she fell to the floor, her family not realizing she was still alive. So now urban legend has it that Midnight Mary haunts Evergreen Cemetery and will curse anyone with certain death if they are found in the graveyard at midnight or caught desecrating her grave.
---
Fun Facts
While there is evidence that some people have been buried alive, there is absolutely no evidence that Mary Hart suffered this fate during the mid 1800s. But hey … who am I to pee on your corn flakes and ruin a perfectly good haunted grave.
There is no known photograph or drawing of Mary E. Hart.
Cemetery Information:
Final Resting Place:
Evergreen Cemetery
769 Ella T Grasso Blvd
New Haven, Connecticut, 06519
USA
North America
Map: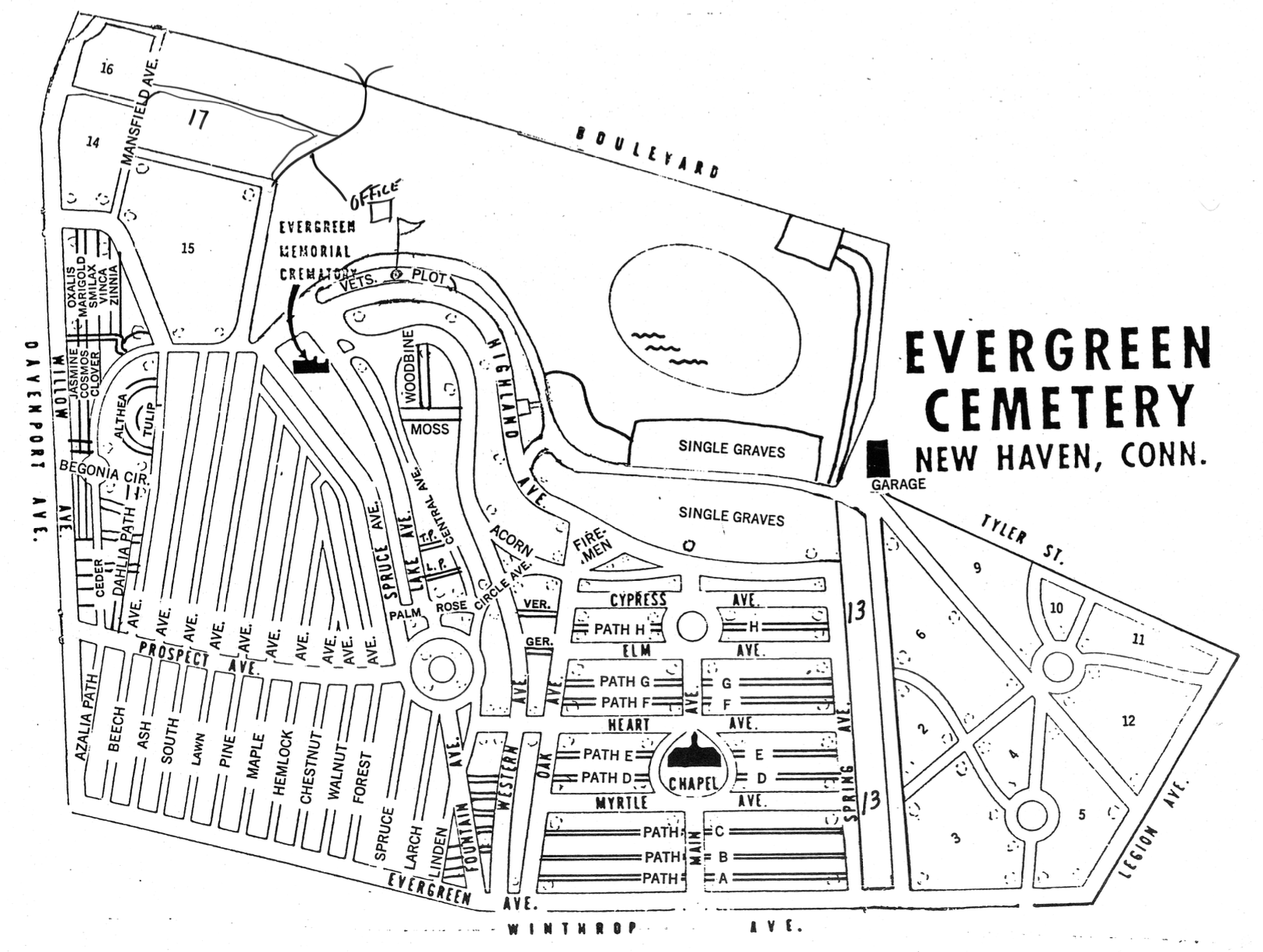 Map of Evergreen Cemetery in New Haven, Connecticut
Grave Location:
Section 50, Plot 4
Grave Location Description
As you enter the cemetery off Hwy 10, drive straight until the road ends and then turn left. Continue following this road through the cemetery and follow it around to the right until you come to Winthrop Avenue. Continue with the black metal fence on your left. Drive about 200 feet and look for "50" engraved on a stone on the curb. Park here and walk to the second row of memorials for the allegedly haunted gravestone of Midnight Mary.
Grave Location GPS
41.3034853,-72.9453110
---
Visiting The Grave:
Photos:
Read More About Mary E. Hart:
Videos Featuring Mary E. Hart:
See More:
Back to Top