Oscar Levant
Birth Date:
December 27, 1906
Birth Place:
Pittsburgh, Pennsylvania
Death Date:
August 14, 1972
Place of Death:
905 Roxbury Drive, Beverly Hills, California
Cause of Death:
Heart attack
Cemetery Name:
Pierce Brothers Westwood Village Memorial Park Cemetery
Oscar Levant was a brilliant composer and pianist who originally studied seriously with Zygmunt Stojowski and later with Arnold Schoenberg. After New York he moved to Los Angeles where he met and befriended George Gershwin. From 1929 to 1948 he composed the music for more than twenty movies and began making the rounds on TV games shows and quickly gained notorioty for his acerbic "wit." When Greshwin passed away Levant became the leading interpreter and virtuoso performer of the Gershwin catalog. Appearing in films (such as American in Paris; usually as himself or as the host pianist) he could always be counted on for his stoic and sarcastic on-screen persona. In later years he became increasing dependent on alcohol, chain smoking and prescription drugs so much so he was committed multiple times to a mental institution.
---
Some of his best one-liners and prime examples of his acerbic "wit" include:
A politician is a man who will double cross that bridge when he comes to it.
There are two sides to every question: my side and the wrong side.
I don't drink. I don't like it. It makes me feel good.
Now that Marilyn Monroe is kosher, Arthur Miller can eat her.
When asked by Jack Paar what he does for exercise, he replied, "I stumble, then fall into a coma."
Stop! You're killing me. No really – just stop. I guess the bar for wit and witticism was very low during the Golden Age of Hollywood.
Cemetery Information:
Final Resting Place:
Pierce Brothers Westwood Village Memorial Park Cemetery
1218 Glendon Avenue
Los Angeles, California, 90024
USA
North America
Map: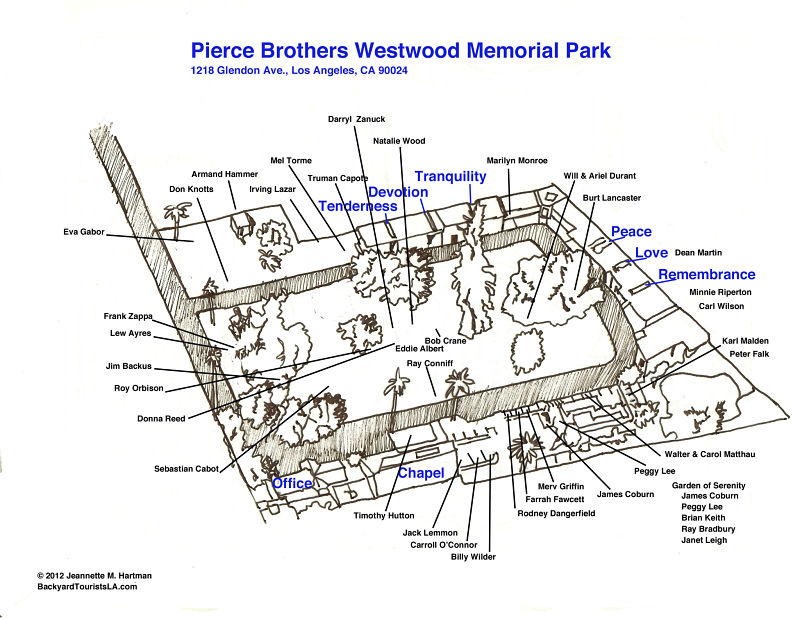 Copyright 2012 Jeannette M. Hartman
Grave Location:
Sanctuary of Love, Crypt 26-A
Grave Location Description
The Sanctuary of Love Alcove is on the opposite end of the cemetery as the entrance. The ever so "witty" Levant can be found in the bottom right corner of the small alcove. After your visit turn around and head to the lawn area where you will find his wife June in the lawn area directly next to the road.
Grave Location GPS
34.058595, -118.440528
Photos:
Read More About Oscar Levant:
Videos Featuring Oscar Levant:
See More:
Back to Top