Siné
Birth Name:
Maurice Sinet
Birth Date:
December 31, 1928
Birth Place:
Paris, France
Place of Death:
Paris, France
Cause of Death:
Surgery for lung cancer
Cemetery Name:
Cimetière de Montmartre
Siné was a controversial French cartoonist and caricaturist whose early successes in this arena led him into the fields as a book illustrator and designer of posters, stage decors, animated cartoons and publicity films. Siné began his professional career as a retoucher for pornographic magazines and published his first cartoon in France Dimanche in 1952 which won the Black Humour Award for his cartoon collection 'Complainte sans Paroles' in 1955. Siné became especially famous for his wordplay cartoons about cats. Until 1962, he made political cartoons for L'Express, some of which were refused or caused heavy criticism. He subsequently published his anti-colonial, anti-zionist, anti-capitalist and anti-clerical worldviews in his own publication, Siné Massacre. Siné's anarchistic and anti-colonial cartoons have caused controversy on several occasions during his career, especially during the Algerian war. He was fired from Charlie-Hebdo in 2008, following a antisemitic cartoon on Jessica Sebaoun-Darty, the wife of Jean Sarkozy. In August of 2008 he announced his own satirical weekly, called Siné Hebdo, launched with his wife Catherine Sinet and about 15 contributors. The publication ran until April 2010, but was continued as Siné Mensuel in September 2011. Siné has additionally made many drawings for books about jazz music, as well as CD covers.
---
Fun Facts
In 1965 Siné became involved in a power struggle at Penguin Books. During an attempt by chief editor Tony Godwin and the board of directors to remove the company founder Allen Lane, Lane stole and burned the entire print run of the English edition of Siné's book Massacre, which was reportedly deeply offensive.
Siné received the Prix de l'Humour noir in 1955 for his collection Complainte sans Paroles.
Cemetery Information:
Final Resting Place:
Cimetière de Montmartre
20 Avenue Rachel
Paris, , 75018
France
Europe
Map: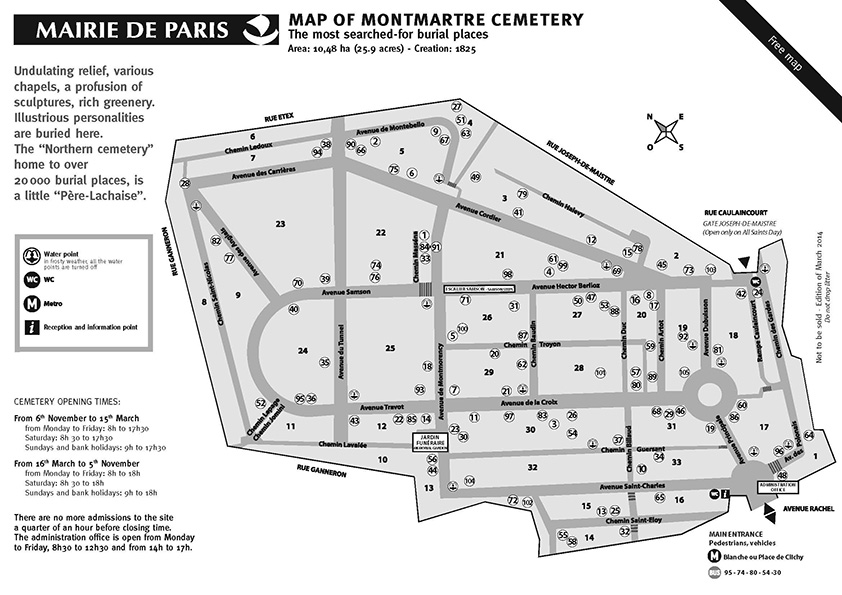 Map of Cimetière de Montmartre in Paris, France
Grave Location:
Division 30
Grave Location Description
As you walk down Avenue de la Croix which runs the length of the cemetery, look for the intersection of Chemin Duc and Chemin Artot. Between these two intersections and about 30 feet off of Avenue de la Croix look for the green cactus sculpture behind the large mausoleum that marks the final resting place of Siné.
Grave Location GPS
48.886217, 2.331101
Photos:
Read More About Siné:
Videos Featuring Siné:
See More:
Back to Top