Sonny Bono
Birth Name:
Salvatore Phillip Bono
Birth Date:
February 16, 1935
Birth Place:
Detroit, Michigan
Death Date:
January 5, 1998
Place of Death:
150 feet off Upper Orion ski trail of the Heavenly Ski Resort, South Lake Tahoe, California
Cause of Death:
Massive head injuries caused by skiing into a tree
Cemetery Name:
Desert Memorial Park
Singer, songwriter, actor and entertainer Sonny Bono began his career struggling to write songs while working as a waiter, a construction worker, a truck driver and a butcher's helper. In his 20's he immersed himself in the music business as a songwriter and singer with Specialty Records, where he worked with Sam Cooke and Little Richard. Soon he teamed up with the legendary record producer Phil Specter, where he wrote songs (''You Bug Me, Baby,'' and ''Needles and Pins'') and sang background for groups like the Righteous Brothers. The turning point of his career took place when the exotically beautiful 16-year-old named Cherilyn Sarkisian, who called herself Cher, drifted into his life. The pair first achieved fame with two hit songs in 1965, "Baby Don't Go" and "I Got You Babe". The couple's career as a duo ended in 1975 following their divorce. In the decade they spent together, Sonny and Cher were nominated for two Grammy Awards and sold over 40 million records worldwide. Rolling Stone ranked them No. 18 on its list of the 20 Greatest Duos of All Time. Sadly, it was on January 5th, 1998 when Sonny took off alone snow skiing and later slammed into a tree. Bono's body was found late Monday afternoon in a narrow, wooded area between two ski runs at the Heavenly Ski Resort. He died instantly from massive head trauma.
---
Fun Facts:
The Award For Worst Wife goes to Mary Bono who told an interviewer that Sonny had been addicted to and was seriously abusing prescription drugs, mainly Vicodin and Valium. She further claimed that Sonny's drug use caused the accident. "I am 100 percent convinced that is why he died," she said. "What he did showed absolute lack of judgment." Important note: Sonny Bono's autopsy showed no indication of any substances or alcohol. None. Zero. Nothing.
More fun facts …
When Bono worked as a songwriter at Specialty Records, Bono would go one to co-write "She Said Yeah" with his partner Larry Williams for the B-side of the 1959 single, "Bad Boy". Although the single was not a hit, six years later in 1965, "She Said Yeah" was covered by the Rolling Stones and "Bad Boy" was covered by the Beatles.
When Bono first met Cher Sarkisian, she was a 16-year-old runaway 11 years his junior. She moved in with him platonically while he tried to secure a record deal.
Sonny pressed Spector to do a record with Cher, but he didn't see her as a solo act. However, she can be heard singing backup on a number of Spector classics including the Crystals' "Da Doo Ron Ron", the Ronettes' "Be My Baby", and the Righteous Brothers' "You've Lost That Lovin' Feeling".
His last residence in Palm Springs, California has two entrances for your viewing pleasure: 287 W Crestview Drive and 301 W El Camino Way.
And I know the question you want to ask – the tree that Bono hit at an estimated 30 mph at Heavenly ski resort has been removed. However, you can recreate his final run by starting on the Dipper Bowl (which is a black diamond trail), then make a right turn on Orion. At this point it is pure speculation, but he probably realized he meant to go down Dipper Bowl and headed through the trees.
Cemetery Information:
Final Resting Place:
Desert Memorial Park
31-705 Da Vall Drive
Cathedral City, California, 92262
USA
North America
Map: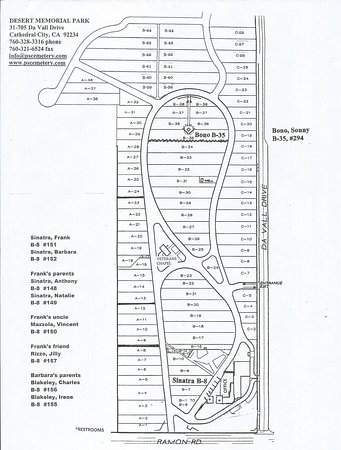 Grave Location:
Section B-35, Grave 294
Grave Location Description
As you enter through the gates on Ramon Road drive straight back until the road begins to curve to the right. Park you car and walk to the right towards the flag pole and you should have no problem finding one-half of Sonny and Cher.
If you stop by the office they always have a map available that shows the location of his grave.
Grave Location GPS
33.819890665, -116.441851019
---
Visiting The Grave:
Photos:
Read More About Sonny Bono:
Videos Featuring Sonny Bono:
See More:
Back to Top