Tom Carvel
Birth Name:
Athanasios Karvelas
Birth Date:
July 14, 1906
Birth Place:
Athens, Greece
Death Date:
October 21, 1990
Place of Death:
Pine Plains, New York
Cause of Death:
Heart attack
Cemetery Name:
Ferncliff Cemetery
Claim to Fame:
Business and Finance
Tom Carvel was the creator of soft serve ice cream and one of the founding fathers of the franchise system in America. When his ice cream truck suffered a flat tire in New York in 1934, he sold his melting ice cream from a parking lot. A self-made success story, his name is synonymous with the product he created—soft-serve ice cream. He was also the first chief executive officer of a company who served as his own spokesperson/commercial announcer for radio and television. He proved that movie-star looks and a professional "announcing voice" were not necessary for building product sales. Carvel's gravelly voice did just fine in creating effective commercials. "Thinny thin ice cream for your fatty fat friends" may perhaps be the most memorable (if not most offensive) of his ad lines. Those humble beginnings eventually grew into the Carvel ice cream chain with 850 locations and a fortune conservatively estimated at around $80 million at the time of his death. Soon after the legal fighting started and it hasn't stopped yet.
---
Just Days Before He Died …
Weekends would generally find the Carvels at their home in Pine Plains. Tom loved to play golf on the course he built there.  Journalist Joel Siegel wrote in Condé Nast's Portfolio magazine (August 2008) that in October of 1990, Carvel arrived for the weekend. He was pre-occupied, because he heard that two of his long-time employees, corporate attorney Robert Davis and personal assistant Mildred Aracadipane, were scheming behind his back.  Siegel indicates that Carvel may have intended to deal with the issue the following Monday.
He played a round of golf Saturday afternoon and went to bed that night and never woke up.
While Agnes Carvel was at the wake, attorney Robert Davis, who was also on the Carvel Foundation board, hired a locksmith to help him break into the Carvel home to search for the will.
In October 2009, Carvel's niece Pamela Carvel filed court papers to have Carvel's body exhumed and an autopsy performed, stating she suspected he was drugged or suffocated by employees whom Carvel suspected of embezzlement. Her petition was denied, and she later became a fugitive from justice in a personal bankruptcy case. She had been vying for control of his $67 million estate.
Cemetery Information:
Final Resting Place:
Ferncliff Cemetery
280 Secor Road
Hartsdale, New York, 10530
USA
North America
Map: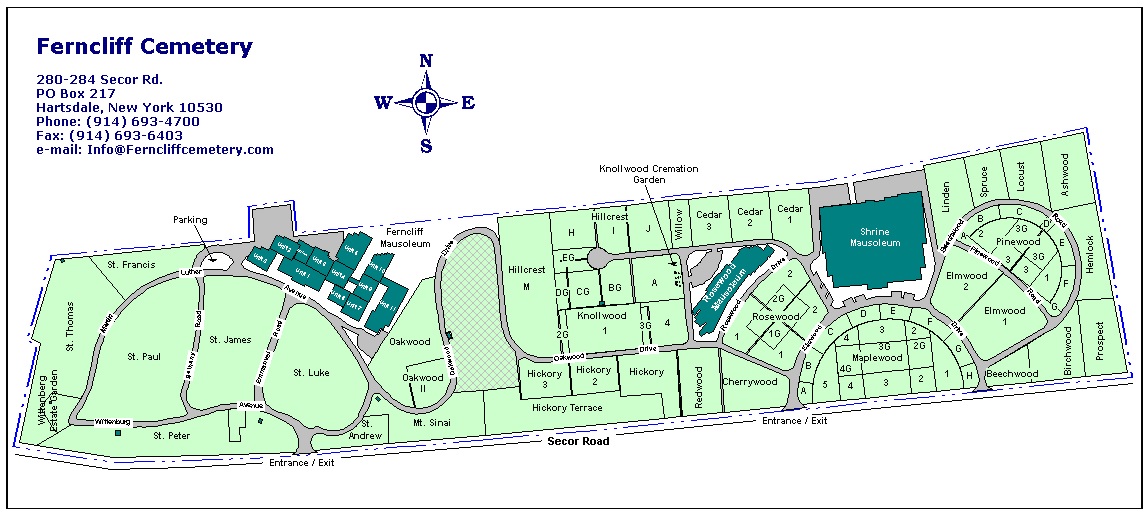 Grave Location:
St Paul, Plot 188, Grave 2
Grave Location Description
As you enter through the main gate St. Paul section is the open lawn area on the left as you approach the Ferncliff Mausoleum. Circle back around and park at the "Wik / Wefer" gray above-ground monument on the road (close to Secor Road). Walk to the left and three rows in and you will find Mr. and Mrs. Carvel resting together.
Grave Location GPS
41.02660391, -73.8375925
---
Visiting The Grave:
Photos:
Read More About Tom Carvel:
Videos Featuring Tom Carvel:
See More:
Back to Top