Victor Borge
AKA:
The Clown Prince of Denmark
Birth Name:
Børge Rosenbaum
Birth Date:
January 3, 1909
Birth Place:
Copenhagen, Denmark
Death Date:
December 23, 2000
Place of Death:
110 Field Point Circle, Greenwich, Connecticut
Cause of Death:
Natural causes
Cemetery Name:
Putnam Cemetery
Victor Borge was a Danish-American comedian, conductor, and pianist who achieved great popularity in radio and television in both North America and Europe. His blend of music and comedy earned him the nickname "The Clown Prince of Denmark". Borge played his first major concert in 1926 at the Danish Odd Fellow Palæet (The Odd Fellow's Lodge building) concert hall. After a few years as a classical concert pianist, he started his now famous stand-up act with the signature blend of piano music and jokes. Borge appeared on Toast of the Town hosted by Ed Sullivan several times during 1948. He started the Comedy in Music show at John Golden Theatre in New York City on October 2, 1953. Comedy in Music became the longest running one-man show in the history of theater with 849 performances when it closed on 21 January 1956, a feat which placed it in the Guinness Book of World Records. Continuing his success with tours and shows, Borge played with and conducted orchestras including the Chicago Symphony Orchestra, the New York Philharmonic and London Philharmonic. Always modest, he felt honored when he was invited to conduct the Royal Danish Orchestra at the Royal Danish Theatre in Copenhagen, Denmark, in 1992. His later television appearances included his "Phonetic Punctuation" routine on The Electric Company in a filmed sketch. He would also use this sketch on The Electric Company's subsequent LP record, during its "Punctuation" song. In addition, he appeared several times on Sesame Street, and he was a guest star during the fourth season of The Muppet Show. Victor Borge continued to tour until his last days, performing up to 60 times per year when he was 90 years old.
---
Fun Facts
Victor Borge almost single-handedly, developed the Rock Cornish game hen industry in America. He owned a very large farm where he raised Rock Cornish hens.
December 23, 2000, Borge died in Greenwich, Connecticut at the age of 91 after 75 years of entertaining. Barely a week before he had recorded what would be his final televised interview with Danish television, later aired on New Year's Eve. In a poetic coincidence, when asked where he would be spending his Christmas and New Year's, Borge responded "somewhere completely different".
In accordance with Borge's wishes, his connection to both the United States and Denmark was marked by having part of his ashes interred at Putnam Cemetery in Greenwich, with a replica of the iconic Danish statue The Little Mermaid sitting on a large rock at the grave site, and the other part in Western Jewish Cemetery (Mosaisk Vestre Begravelsesplads) in Copenhagen.
Cemetery Information:
Final Resting Place:
Putnam Cemetery
35 Parsonage Road
Greenwich, Connecticut, 06830
USA
North America
Map: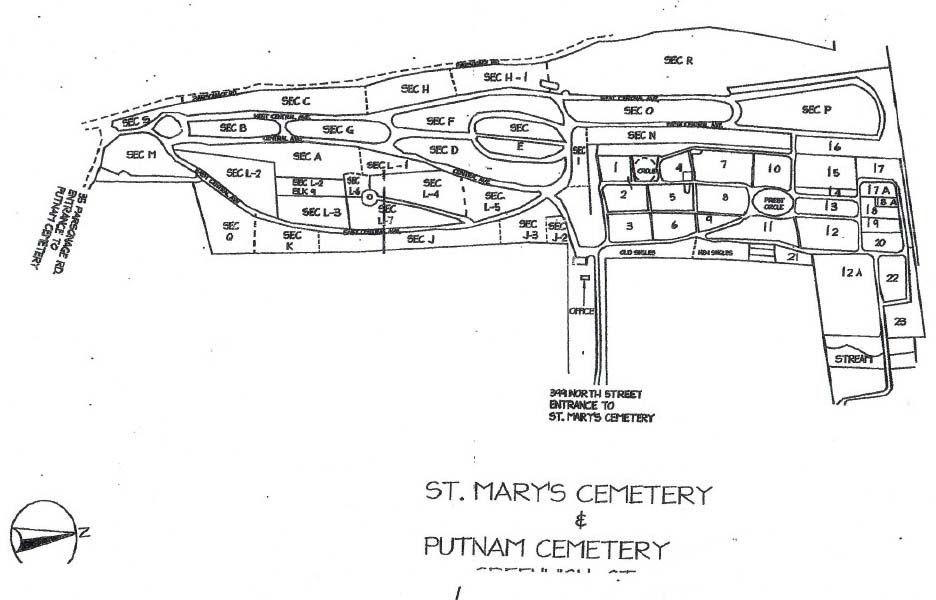 Map of Putnam Cemetery in Greenwich, Connecticut
Grave Location:
Section A
Grave Location Description
As you enter the cemetery turn left heading down the road that is second from the top of the cemetery (Avenue B). Look for the Finney Mausoleum on your left along the road and stop. Look to your right and walk back 5 graves and continue walking 12 rows down the hill. Look for the expansive garden hedge and a replica of the iconic Danish statue The Little Mermaid sitting on a large rock at the grave site. You can also park on the flat area at the end of the road with the turnaround and walk straight ahead 200 feet.
Grave Location GPS
41.05722938367492, -73.62170322852643
Photos:
Read More About Victor Borge:
Videos Featuring Victor Borge:
See More:
Back to Top