Alan Freed
Birth Name:
Albert James Freed
Birth Date:
December 15, 1921
Birth Place:
Windber, Pennsylvania
Death Date:
January 20, 1965
Place of Death:
Desert Hospital, Palm Springs, California
Cause of Death:
Kidney failure and cirrhosis of the liver
Cemetery Name:
Lake View Cemetery
Alan Freed was an American disc jockey and Rock and Roll's first great evangelist and martyr. Freed became associated with the genre on July 11, 1951, when he started hosting a radio show with the purpose of exposing white teenagers to the music. Sponsored by record retailer Leo Mintz, the show was originally called "Freeditorium," but its host soon adopted the goofy on-air nickname "Moondog" and the show was re-titled "Moondog House." The playlist featured what was known as "race music" before Billboard magazine renamed it "rhythm and blues" in 1949. The tunes had a heavy beat conducive to dancing but were rarely enjoyed by white audiences prior to Freed. It was not just the music that Freed introduced to the wider world. Freed also produced and promoted large traveling concerts with various acts including Frankie Lymon and the Teenagers, Bill Haley and the Burnette Brothers helping to spread the importance of rock and roll music throughout North America. Sadly in the early 1960s, Freed's career was destroyed by the payola scandal that hit the broadcasting industry (even thought his fine was a mere $300). A downward spiral began with the legal fees from the scandal that forced him into bankruptcy, chain smoking, heavy drinking, unemployment, tax evasion charges and internal injuries from a car accident in 1953. Moving to Palm Springs, California Freed died alone at the young age of 43.
---
Fun Facts
Contrary to popular belief even to this day, Alan Freed did not coin the term "Rock and Roll". The term has been around since the 1930s. Alan Freed merely used it effectively during his radio shows and the term caught on.
Initially Alan Freed was credited, along with Chuck Berry, as the co-writer of the hit song "Maybellene". Chuck Berry eventually was awarded 100% of the songwriting credits. However, The Moonglows' Harvey Fuqua insisted that Freed actually co-wrote the song "Sincerely" as well.
The internet and journalism is sorely lazy when it comes to Alan Freed and the Payola Scandal. The actual truth is in 1957 ABC, which aired both Dick Clark's American Bandstand and Alan Freed's radio program and TV show The Big Beat, required all of their disc jockeys to sign an affidavit to the effect that they were in no way involved in the exchange of cash for playing favored records. Freed refused to sign as it was worded, pointing out that Dick Clark was able to edit and reword his affidavit. Freed was fired from WABC and shortly after his television show Rock 'n' Roll Dance Party was cancelled. In short many believe Dick Clark orchestrated the termination of Freed's contract to control the emerging market of rock and roll.
And another note about Dick Clark – it has been written that Dick Clark visited Alan Freed during his final days in Palm Springs, paid for his hospital stay and paid for his funeral. None of this is true. Dick Clark was and always has been, to quote George Harrison of the Beatles, a self-centered greedy vulture. Many believe George was being too kind.
Cemetery Information:
Final Resting Place:
Lake View Cemetery
12316 Euclid Avenue
Cleveland, Ohio, 44106
USA
North America
Map: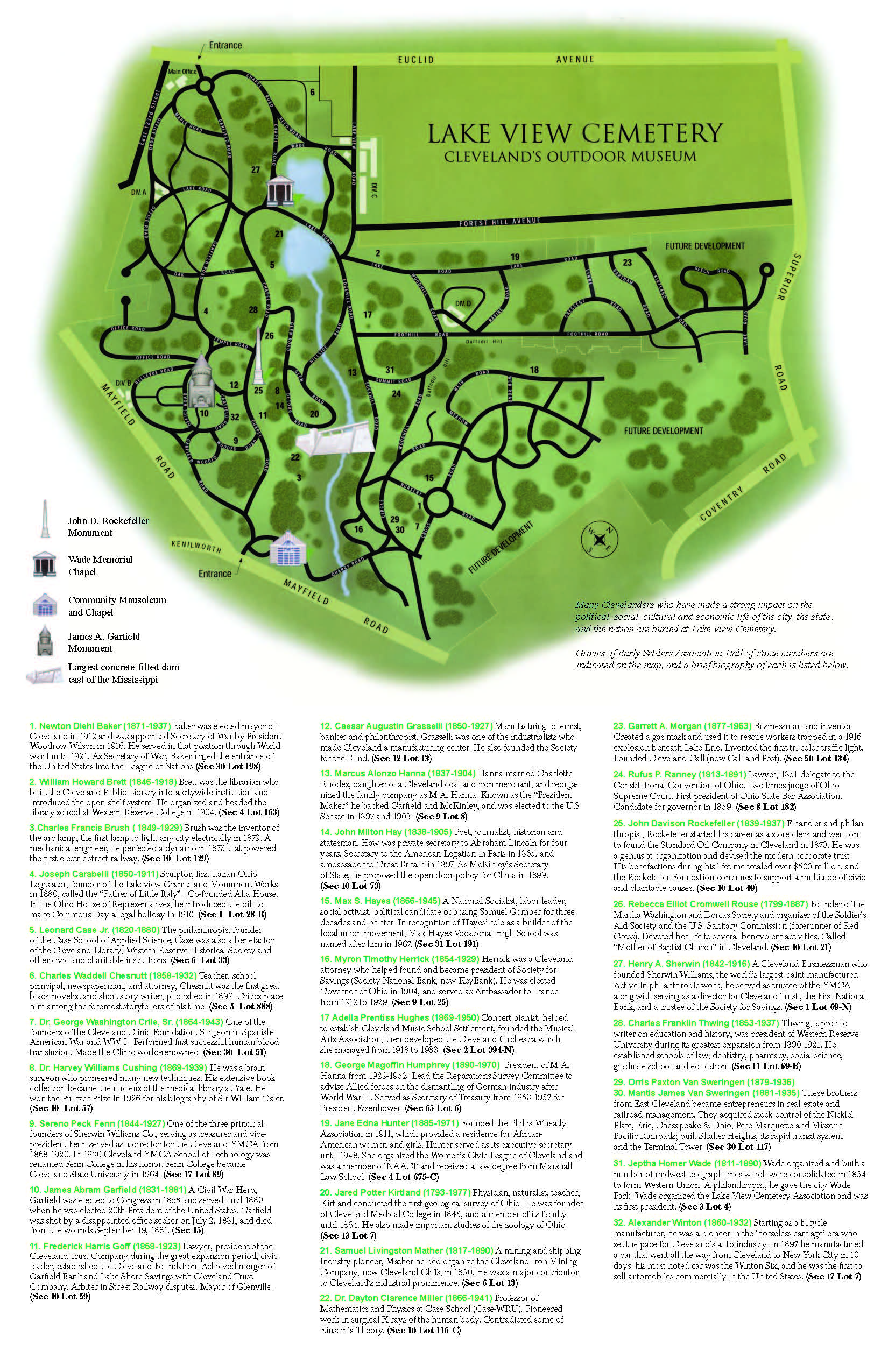 Map of Lake View Cemetery in Cleveland, Ohio
Grave Location:
Section 5E, Lot 383, Grave 1
Grave Location Description
As you enter the cemetery make your way towards Wade Chapel that oversees the lake. Proceeding straight ahead on Lake road with With Chapel on your left. Drive forward 200 feet to the next intersection. Park and on your left in Section 5E (bordered by Sections 5 and 6) you will see Alan Freed's large black monument about 100 feet from the road.
Grave Location GPS
41.51418885586676, -81.59342266707715
---
Visiting The Grave:
Photos:
Read More About Alan Freed:
Videos Featuring Alan Freed:
See More:
Back to Top