WARNING: EXPLICIT MATERIAL
Barbara La Marr
AKA:
The Girl Who Is Too Beautiful
Birth Name:
Reatha Dale Watson
Birth Date:
July 28, 1896
Birth Place:
Yakima, Washington
Death Date:
January 30, 1926
Place of Death:
1234 Boston Avenue, Altadena, California
Cause of Death:
Tuberculosis and nephritis
Cemetery Name:
Hollywood Forever Cemetery
Claim to Fame:
Show Business
The woman dubbed "The Girl Who Is Too Beautiful" was silent-film actress and screenwriter Barbara La Marr who once said, "I take lovers like roses . . . by the dozen." And she was hardly exaggerating: By age 19 she had been married three times, divorced and widowed and added two more marriages into her twenties. In addition to acting, she Barbara wrote scripts for The Mother of His Children, Rose of Nome, The Little Grey Mouse, The Land of Jazz, and Flame of Youth. But it was Mary Pickford that told Barbara her beauty was made for the camera, not behind it. In 1921, Barbara was given roles with Douglas Fairbanks in The Nut and The Three Musketeers and she also acted in a John Ford western, Desperate Trails. Sadly her lifestyle caught up to her - her son Don Gallery confessed that La Marr lived with abandon, keeping a container of cocaine on her piano and binging on heroin and highballs while consuming large quantities of alcohol and developing an eating disorder. While filming her final feature, The Girl from Montmartre, La Marr collapsed on the set and lapsed into a coma. Several months later she died at age 29 at her parent's home.
---
Fun Fact
Husbands … yes she had a few. In 1913 she married rancher Jack Lytell. Tragically he died of pneumonia just a few weeks after their wedding. She then married Lawrence Converse in 1914 but it was annulled when she found out he already had a wife. Barbara moved to New York City and began writing screenplays for Fox where she met and married Phil Ainsworth, a dancer, in 1916. The marriage ended badly when he was sent to prison for writing bad checks. Her fourth marriage, to actor Ben Deeley, also ended in divorce. Barbara married husband #5 in 1923 and soon after they announced they had adopted a son. The couple separated in 1924 but remained legally married. Add to the count that she had an ill-fated romance with act John Gilbert and a thing with Paul Bern.
Her funeral was attended by thousands with five fans fainting during the viewing. But not to worry, for producer Louis B. Mayer, a longtime admirer of Barbara La Marr named an up & coming actress after her – meet Hedy Lamarr.
Years after her death it was revealed that she had secretly given birth to her "adopted" son in 1922. Barbara's close friend Zasu Pitts raised him.
Cemetery Information:
Final Resting Place:
Hollywood Forever Cemetery
6000 Santa Monica Blvd.
Los Angeles, California, 90038
USA
North America
Map: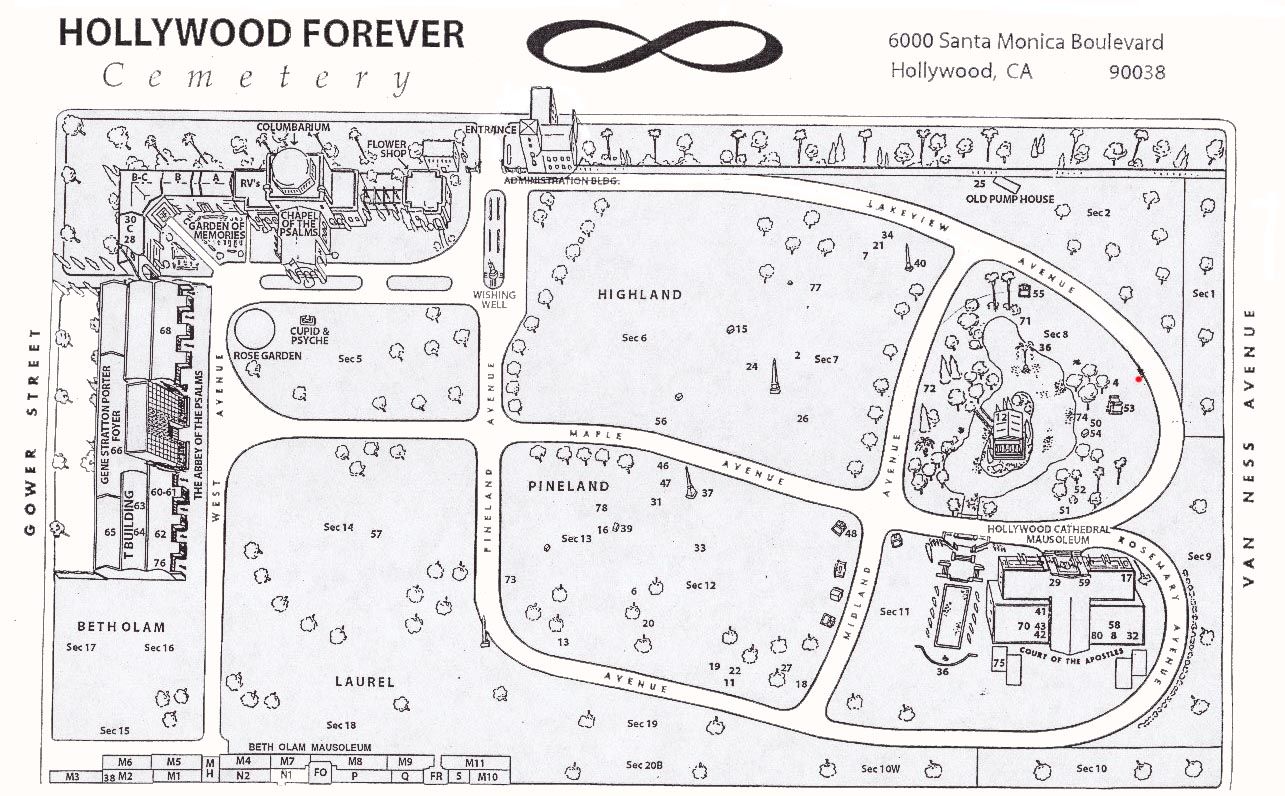 Map of Hollywood Forever Cemetery in Hollywood, California
Grave Location:
Hollywood Cathedral Mausoleum, Alcove CA/A, Crypt 1308
Grave Location Description
As you enter the cemetery make your way to the left to the lake and the entrance of the Cathedral Mausoleum. As you walk in take the second left and walk down and take the second right and to the right of the stain glass, second row from the bottom is the final resting place of Barbara La Marr. Please note that while his name is not on the name plate, she shares this crypt with her father.
Grave Location GPS
34.0881079223, -118.3163911127
Photos:
Read More About Barbara La Marr:
Videos Featuring Barbara La Marr:
See More:
Back to Top