Glenn Quinn
Birth Name:
Glenn Martin Christopher Francis Quinn
Birth Place:
Dublin, Ireland
Death Date:
December 3, 2002
Place of Death:
11115 Acama #8, North Hollywood, California
Cause of Death:
Drug overdose - heroin
Cemetery Name:
Forest Lawn Memorial Park
Claim to Fame:
Show Business
Irish actor Glenn Quinn acquired a small, but devoted, following from appearances in the television situation comedy Roseanne, and as the half-demon Doyle, in Angel, the spin-off from Buffy, The Vampire Slayer. Quinn was less successful on the big screen. His first role was as a drummer in the John Travolta rock musical Shout (1991), in which he shared a kiss with Gwyneth Paltrow, but later parts - in the horror movies Dr Giggles (1992) and Campfire Tales (1997), and Live Nude Girls (1995) - were forgettable. Ironically, his most recent film, the noir drama RSVP (2002), was voted the best of the film festivals in its category, and was released to good reviews last autumn.
---
The Rest of the Story …
In many obituaries online, they repeat the story that "…with his television money, he bought a half-share in the Los Angeles nightclub Goldfingers, and would visit it quietly every week without patrons realising he was the co-owner" Sadly these publishers could not be more wrong. It was true that he was a co-owner of the now defunct Goldfingers in Hollywood, unfortunately he showed up quite often, drunk and stoned, hitting patrons up of money and being a general nuisance. His partners quickly bought out his share.
And all that money he made from Roseanne and Angel? It was all gone by the time he died from drug and alcohol abuse. His family even had to raise money for his funeral and grave marker.
Cemetery Information:
Final Resting Place:
Forest Lawn Memorial Park
4471 Lincoln Avenue
Cypress, California, 90630
USA
North America
Map: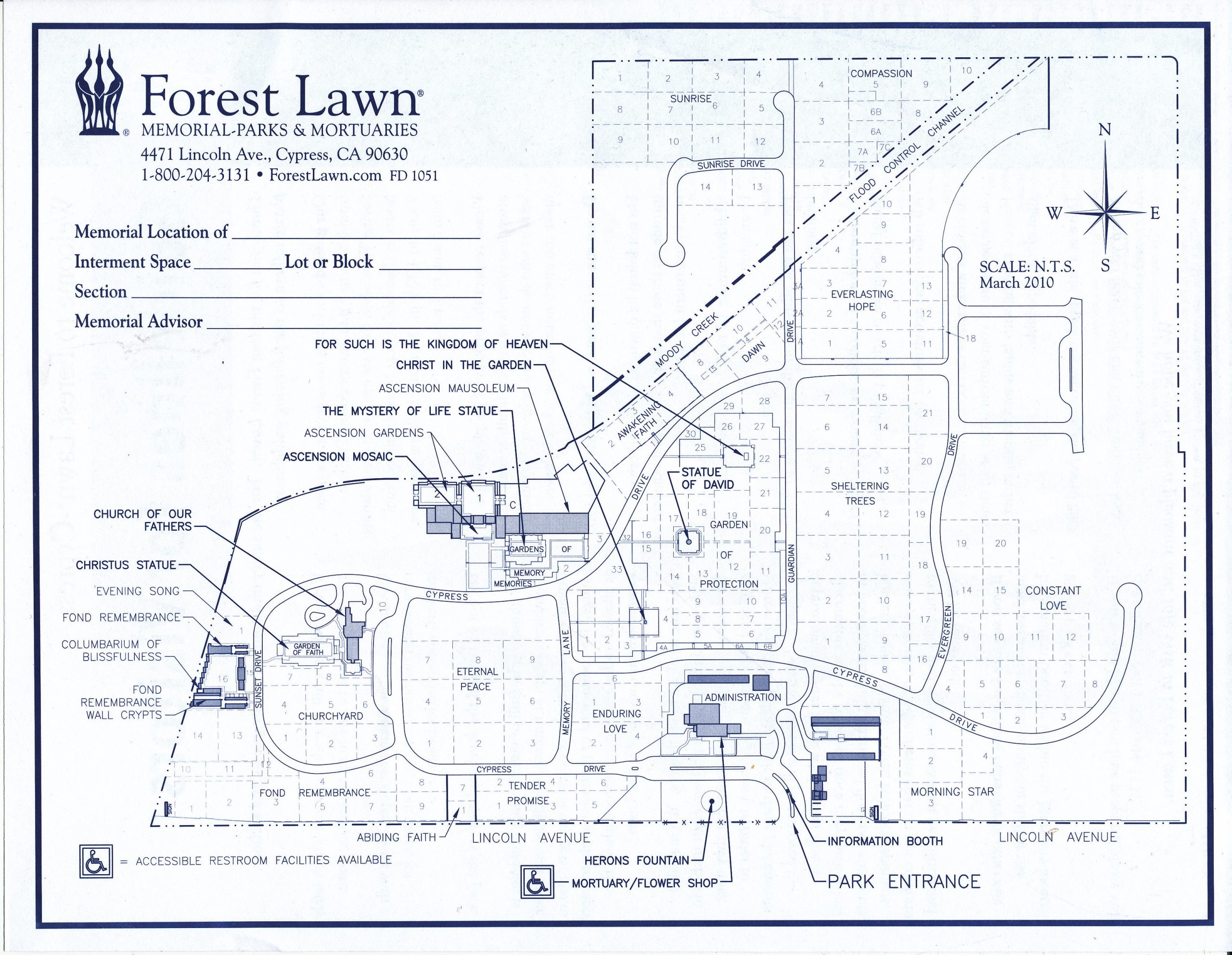 Map of Forest Lawn Memorial Park in Cypress, California
Grave Location:
Garden of Protection, Lot 7324, Space 2
Grave Location Description
As you enter the cemetery veer to the left and make the first right onto Memory Lane just after the massive entry gates. Drive 75 feet past Cypress Drive and park at the concrete path on the right. Take this concrete path all the way up to the statue of Christ in the Garden. Walk around the statue and another 8 or so rows to the wall. Now walk approximately 5 rows past the wall and the final resting place of Glenn Quinn can be found with the new, larger flat monument.
Grave Location GPS
33.833683598925525, -118.05600002339345
---
Visiting The Grave:
Photos:
Read More About Glenn Quinn:
Videos Featuring Glenn Quinn:
Back to Top