Jimmie Lunceford
Birth Name:
James Melvin Lunceford
Birth Place:
Fulton, Mississippi
Death Date:
July 12, 1947
Place of Death:
Callahan's Radio and Record Shop, 411 Broadway, Seaside, Oregon
Cause of Death:
Coronary occlusion
Cemetery Name:
Elmwood Cemetery
Jimmie Lunceford was one of the most underrated American jazz alto saxophonist and bandleaders in the golden years of the Swing Era. Any list of the greatest bands of the swing era usually starts with those of Count Basie, Benny Goodman and Duke Ellington. Except in select circles, Jimmie Lunceford's orchestra is apt to be farther down the list. Yet the Lunceford band, for a few brief years in the 1930's, was one of the most exciting big jazz bands that ever played. The Lunceford band managed to be both tightly rehearsed and loose enough to swing with a tangible swagger, and its arrangements constantly took listeners by surprise, both with its original compositions and in its unexpected treatment of pop songs. But the Lunceford Orchestra didn't last as long as Basie, Goodman or Ellington simply due to the fact that Jimmie Lunceford was tight with a dollar. For the rest of the 1930's the Lunceford band rolled along on a seeming stream of success. But toward the end of the decade the cozy family began to disintegrate. The band spent months on the road playing endless one-night stands because that brought in more money than longer engagements. The money came in, but it did not filter down. There were occasional days off (without pay) and even vacations were unpaid. ''When you're young, you can go a long way on ambition,'' Ed Wilcox said afterward. ''But when you get older you want some of the things older people have, and Jimmie didn't want to give enough money. Jimmie was used to treating us like little boys who left Memphis with him, but we had become grown men and we needed more.''
---
Not-So-Fun Fact
While on tour on the west coast, Jimmie Lunceford was about to autograph Callahan's record store wall, reserved for musical celebrities who came to Seaside, Oregon when owners Edward and Walter Hill noticed the bandleader looking weak and ill. A moment later Lunceford collapsed and was seized by severe convulsions, according to the newspaper's report. The owners called the police and an ambulance, but Lunceford died. The show, despite Lunceford's death, went on that night,
Within a day of Lunceford's passing, the myth surrounding Lunceford's death was in full swing. The Clatsop County Coroner declared Lunceford died of "coronary occlusion, due to thrombosis of anterior coronary artery due to arteriosclerosis" — in other words a heart attack caused by a blockage. Just recently a Lunceford biographer resurrected the age old unsubstantiated rumor that Lunceford was poisoned by the owner of a local diner due to racism and was insulted when Lunceford demanded that he and his band be served lunch. Controversy lingers but Seaside residents and jazz historians completely disagree. Seaside's residents at the time believe it's not plausible Lunceford and his bandmates were sickened or worse, or even turned away. "Oh, he was served," longtime Seaside resident Gloria Stiger Linkey said. "There was no animosity. No racism at all. At least growing up in Seaside, I didn't feel it." As a tourist town, the goal was to sell as many tickets as possible, she said. "Because if you can serve tourists, you can serve an African-American." Linkey added the biographer "took giant leaps" in suggesting a racial incident was a factor in Lunceford's death. Linkey said while there "weren't many blacks in the area," there were no segregated dances. "We did have African-Americans in the summer from Portland. There was an influx during World War II. They worked in the shipyards."
Cemetery Information:
Final Resting Place:
Elmwood Cemetery
824 S. Dudley Street
Memphis, Tennessee, 38104
USA
North America
Map: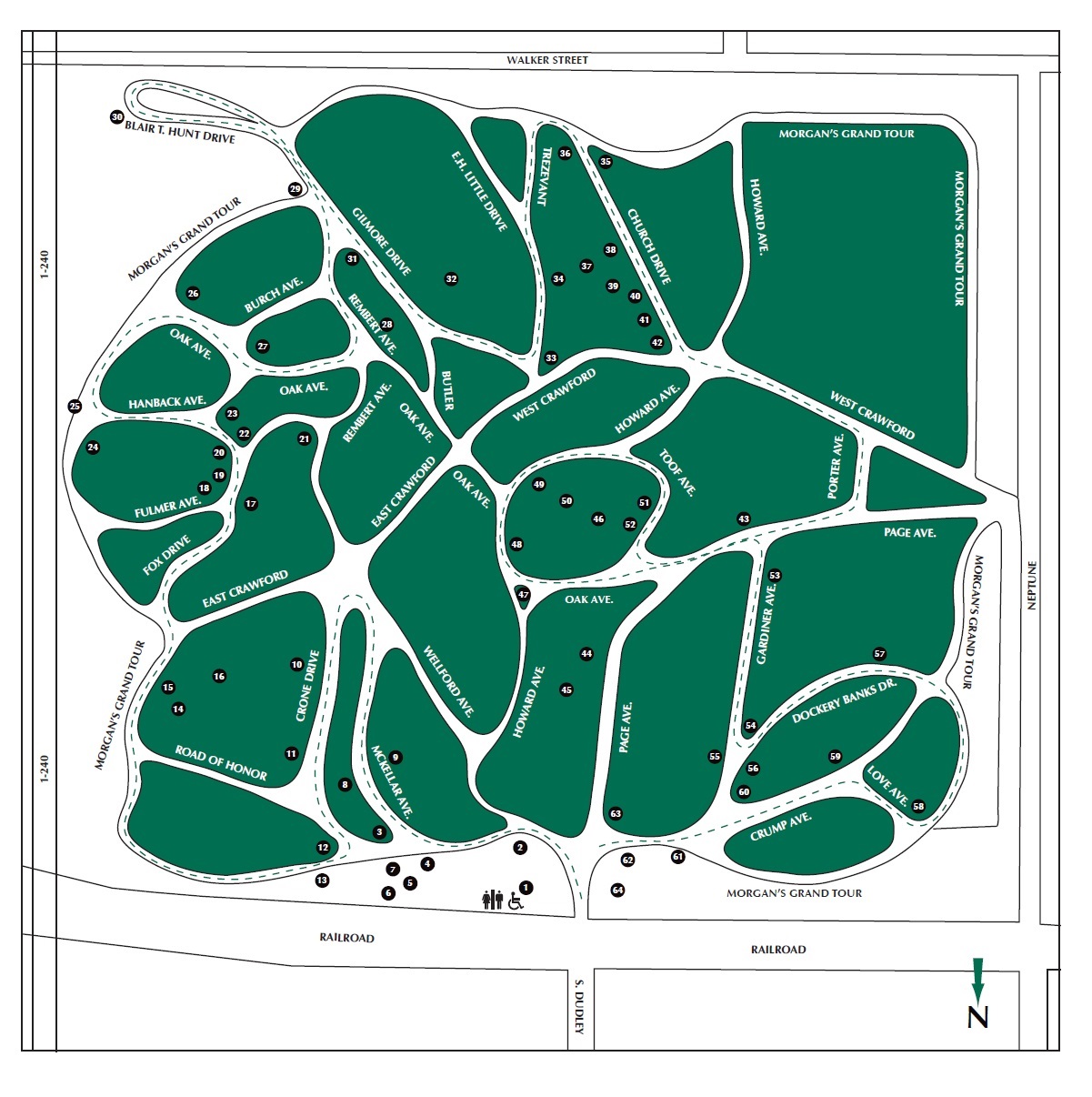 Grave Location:
South Grove 10, Plot 427
Grave Location Description
As you enter the cemetery drive straight though to the very back of the cemetery and park at the corner of Morgan's Grand Tour and Church Drive. Jazz legend Jimmie Lunceford is buried 4 rows from Church Drive in the South Grove section.
Grave Location GPS
35.11978998229852, -90.02950581452582
Photos:
Read More About Jimmie Lunceford:
Videos Featuring Jimmie Lunceford:
See More:
Back to Top