Richard Street
Birth Name:
Richard Allen Street
Birth Date:
October 5, 1942
Birth Place:
Detroit, Michigan
Death Date:
February 27, 2013
Place of Death:
St. Rose Dominican Hospital, Las Vegas, Nevada
Cause of Death:
Pulmonary embolism
Cemetery Name:
Forest Lawn Memorial Park
Richard Street was an American soul and R&B singer, most notable as a member of Motown vocal group The Temptations from 1971 to 1993. Street was the lead singer of an early Temptations predecessor, Otis Williams & the Distants, and takes the spotlight on their local hit "Come On". The Distants also included future Temptations Otis Williams, Melvin Franklin and Elbridge "Al" Bryant. By the late-1960s, Street was being called upon to travel with The Temptations and sing Paul Williams' parts from off-stage, while Paul Williams, who suffered from both alcoholism and sickle-cell disease, danced and lip-synched onstage. Street officially replaced Paul Williams in mid-1971, after both he and Eddie Kendricks left the group. A number of the Temptations' best-selling hits feature Street's lead vocals, including "Superstar (Remember How You Got Where You Are)" (1971), "Papa Was a Rollin' Stone" (1972), "Masterpiece" (1973), and was featured solo on "Hey Girl (I Like Your Style)" (1973) as well as the album cuts "The First Time I Saw Your Face" and "Firefly" from the All Directions (1972) and A Song for You albums (1975), respectively. Street and Damon Harris traded leads on "1990"'s tune "Heavenly". At the time of his death, Street was completing his autobiography, Ball of Confusion. Completed by his co-author, Gary Flanigan, Ball of Confusion: My Life as a Temptin' Temptation was published in 2014.
---
Fun Facts
According to Street's own website, he left the group after the "family feeling" of the Temptations deteriorated. In 1993, Street entered the hospital to have seventeen kidney stones removed. Group leader Otis Williams was not informed of Street's condition, and angrily called Street, demanding to know why he missed his last performance. Street felt that Williams seemed to show a lack of concern, and decided to move on.
Street was featured on the following Temptations songs: (List not complete)
"Funky Music Sho' 'Nuff Turns Me On"
"Run Charlie Run"
"Papa Was a Rollin' Stone"
"The First Time Ever I Saw Your Face" (SOLO)
"Do Your Thing"
"Firefly" (SOLO)
"Hey Girl (I Like Your Style)" (SOLO)
"Snake in the Grass" (SOLO)
"If I Don't Love You This Way"
"Law of the Land"
"Masterpiece"
"Plastic Man"
"Ma" (SOLO)
"Standing on the Top"
"Take A Look Around"
"Bareback"
"What It Is"
"Superstar"
"The End of the Road" (SOLO)
"Friends"
Cemetery Information:
Final Resting Place:
Forest Lawn Memorial Park
4471 Lincoln Avenue
Cypress, California, 90630
USA
North America
Map: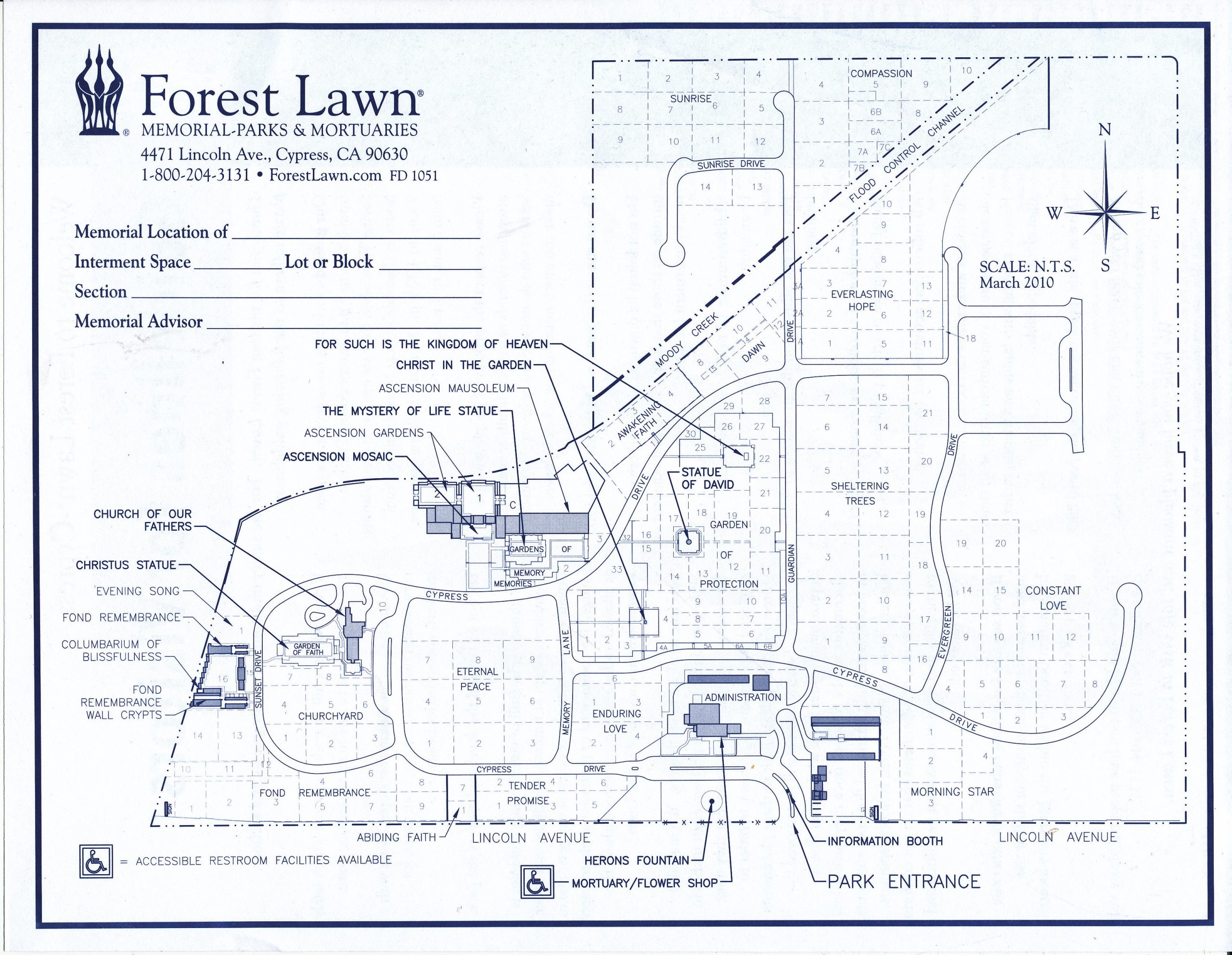 Map of Forest Lawn Memorial Park in Cypress, California
Grave Location:
Garden of Protection, Subsection 3, Lot 757, Space 3
Grave Location Description
As you enter the cemetery turn right on Memory Lane and park on the west side of Garden of Protection near the Statue of David. Follow the sidewalk that leads to David's penis (come on, we're certainly not looking at his eyes!). Go to the fourth row on the right, look for Maxima Dela Cruz Torres next to the sidewalk, follow this row to the right. Former Temptation Richard Street is the 16th marker.
Grave Location GPS
33.8342366, -118.0562233
Photos:
Read More About Richard Street:
Videos Featuring Richard Street:
See More:
Back to Top